Tegan Nusser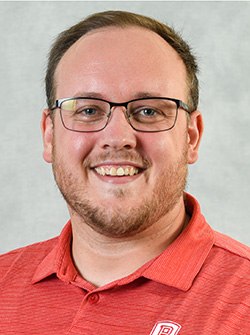 Assistant Professor
Westlake Hall 238
(309) 677-3412
tnusser@bradley.edu
Ph.D., Philosophy, Kansas State University, 2022
M.S., Kansas State University, 2018
B.S., Kansas State University, 2013
Biography
I am proud to be a member of a family of educators. I taught high school mathematics for nine years in Kansas, and for the last six of those nine years I pursued and earned my Masters and Doctoral degrees from Kansas State University. The Fall of the 2022-2023 school year marks the beginning of my career in both higher education and here at Bradley University.
Teaching
ETE 107 - Conceptualizing Math for Teachers I
ETE 108 - Conceptualizing Math for Teachers II
ETE 339 - Methods of Teaching Mathematics Grades 1-6
ETE 357 - Methods of Teaching Middle School Mathematics
ETE 373 - Methods of Teaching High School Mathematics
I'm passionate about teaching mathematics and about teaching mathematics pedagogy. My philosophy of teaching aligns with the National Council of Teachers of Mathematics efforts in developing ambitious mathematics teachers who serve as facilitators of student learning.
Scholarship
My scholarship centers around the math teaching practice of supporting productive student struggle. I have presented findings from my research at AERA and NCTM. Additionally, I have contributed or am contributing to research on math teacher recruitment and retention in high needs schools, and math teacher vision and identity work.
Service
Here at Bradley I serve on various Teacher Education Program Committees and the University Core Practices Committee. I'm passionate about working with local schools to help math teachers with professional development. I also review for various mathematics education journals including the Mathematics Education SIG for AERA. In my time as a high school teacher, I served on committees for school redesign, school scheduling, and as a part of the Math Advisory Team for the Kansas State Department of Education.
Hobbies
I love disc golfing for relaxation on weekends. On a more daily basis, I prioritize quality time with my wife, son, and our two Miniature Schnauzers.
Licensures and Certifications
Mathematics 5-12 Licensure, Kansas