Cecile Arquette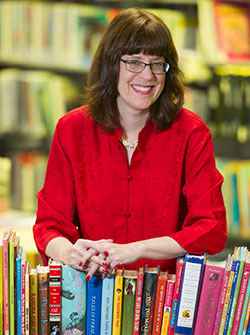 Professor
Westlake Hall 242
(309) 677-2614
carquette@bradley.edu
Ph.D., Curriculum and Instruction, Literacy and ESL from New Mexico State University
M.A., TESOL from Columbia University
B.A, Dramatic Arts from Mary Washington College
Teaching
Dr. Arquette teaches a variety of undergraduate and graduate courses in the areas of early childhood and elementary education. These include Methods of Teaching Language Arts, Emergent Literacy, Reading and Writing across the Curriculum, and Methods of Teaching English Language Learners (ELLs).
Dr. Arquette believes it is very important for future teachers to learn by using practical methods, thus her courses are project based. Her students practice effective instruction via participatory lessons in class, and produce work individually, in pairs, and in small groups. She also emphasizes assignments that enable her students to work with early childhood, elementary and ELL students at school sites in the Peoria area.
Scholarship
Because of her interest in best practices in teaching, Dr. Arquette's research has focused on effective classroom methodology and peer and cross-age interactions in classrooms. She has been able to link her research to her teaching and service in such projects as a three-year journal-writing project between her methods students and children in a local primary school. This research culminated with a Special Emphasis Grant that enabled her to hire and work with two undergraduate students who assisted her with interviewing study participants. She and her research assistants presented their findings at a national research conference and published a book chapter based on this work. One of her current research projects focuses on how early elementary students view their reading abilities, and has interviewed several hundred Peoria area children. Dr. Arquette is the recipient of a Fulbright award to teach English to future English teachers at Pontificia Universidad Católica de Valparaiso, Chile.
Service
Dr. Arquette is active in, and has served on many university committees including: University Senate, the University Sabbatical Committee, the University Strategic Planning Committee, and the EHS 120 advisory board. She was the Whittier Primary School Coordinator for the College of Education and Health Sciences Kemper project for four years. In addition, Dr. Arquette is active in many departmental committees such as: the Academic Review committee, the Elementary Education and Early Childhood committees, the Teacher Education Scholarship, and ESL committees. She is the faculty advisor for the Bradley Student Education Association, and serves as the liaison for the Department of Education's part-time faculty.