Chad Clark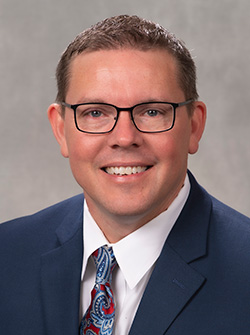 Doctor of Education - Educational Technology Program Director
Westlake Hall 339
(309) 677-3226
cclark2@bradley.edu
Biography
Dr. Clark comes to Bradley University via Indiana State University. Dr. Clark began work at ISU in 2013 where he was appointed faculty and simultaneously served administratively as the first Digital Media manager for Student Media. While serving in the Student Media Department, Dr. Clark founded Syc Creations (pronounced "sick") - an abbreviation of the ISU mascot, Sycamores, to be the university's student digital design and creative team. He served in that role until the 2018-19 school year when he joined the Department of Communication. At ISU Dr. Clark taught graduate and undergraduate courses for both the College of Education and College of Arts and Sciences (Dept of Communication). His course load ranged from advanced media production (in a graduate as well as undergraduate capacity) to Introduction to Film, The Internet as Cultural Communication, and his perennial favorite, Digital Storytelling.
Through Syc Creations, Dr. Clark encouraged students to pursue experiential learning opportunities via a real-world simulation which integrated career interests and educational goals. Syc Creations flourished as a "student version" of ISU's Office of Communications and Marketing, serving clients on campus as well as off, while producing a wide-range of videos, designing and developing websites, and at the behest of the Office of the President, delving into strategic communication projects. In the first year of existence (2015) Syc Creations, won the ISU award for most outstanding work group and repeated the win in 2016 and 2018. In March of 2018, the team's commercial video project for a private pay client earned first place as awarded by the Indiana Association of School Broadcasters in the category for Television Spot Production. Dr. Clark is particularly proud that the team was also noted for attracting students from majors beyond communication, including art and design, computer sciences, information technology, business, marketing, public relations, and education.
Though originally from a small town in Southern Illinois, Dr. Clark spent much of his career in Seattle freelancing for various media outlets, via his digital media creative company, Shining Productions, before spending nearly a decade as the Online Initiatives Lead and Webcast Production Manager for the Washington State Bar Association.
Dr. Clark is happily married to Dr. Jessica Clark, also of Bradley University and with whom he spends his free time, primarily in the company of their children, Madi and Mia, 5 and 3, respectively and their French Bulldogs, Hector and Hazel, 5 and a few months, respectively. An enthusiast of good storytelling, no matter the media, Dr. Clark devotes his remaining free time to seeking entertaining tales. When not in the classroom or with family, he is likely to be found with an open book before him, pen in hand.