Rajesh Iyer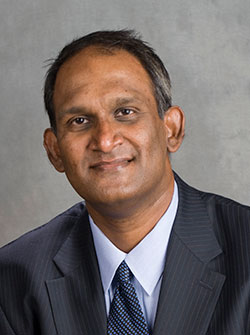 Caterpillar Professor of Marketing and Department Chair; Director of International Business
Business and Engineering Convergence Center 4137
(309) 677-2991
riyer@bradley.edu
Ph. D., Business Administration (Marketing), Southern Illinois University at Carbondale
Biography
Raj Iyer has been a member of the Marketing faculty at Bradley University since 2007.
Teaching
Raj feels that his greatest strength as a teacher is his openness and sincerity toward his students. Students have found him to be not only accessible but also someone with whom they feel comfortable discussing their course and career related concerns. He feels that student involvement with topics taught in the classroom is enhanced considerably when they can see how various concepts are applied in the real world. He tries to make all of his classes highly interactive and participative. Dr. Iyer's classes blend lectures, projects, and case studies that have a global focus.
Courses Currently Teaching
BUS 647: Global Environment and Issues
I B 656: International Business Administration
I B 446: Global Marketing Management
MTG 346: International Marketing
I B 204: Business in Chinese Culture
I B 205: Business in Indian Culture
I B 206: International Business
I B 658/660: Doing Business in China
I B 658/660: Doing Business in India
I B 658/660: Doing Business in Brazil
Scholarship
Dr. Iyer's research is focused in the area of consumer information search and decision making, customer relationship marketing, societal issues in the business environment and global marketing. The bulk of Dr. Iyer's research involves lab or field studies that showcase empirical analyses with primary or secondary data. The majority of his research work is inter-disciplinary: it integrates the marketing perspective with other disciplines such as psychology, sociology, communications, medicine, or economics.
Raj is best recognized for his work in customer relationship marketing where his research focuses on how different types (cohorts) respond/react and form attitudes toward marketing communications. His research focuses on how to effectively reach these consumers and develop relationships with them.
Corporate and Organizational Board Memberships
Member, American Marketing Association. (December 2009 - Present)
Member, Academy of International Business (August 2014 - Present)
Service
Professional
Editorial Review Board Member, Marketing Education Review
Editorial Review Board Member, Marketing Management Journal