Demetrice Worley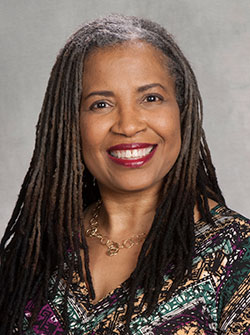 Professor
Bradley Hall 364
(309) 677-2481
daw@bradley.edu
D.A., English, Illinois State University
M.A., English, University of Illinois, Urbana
B.A., English, Bradley University
Teaching
Dr. Worley's special fields are composition theory and pedagogy, African American literature, and creative writing. Her teaching pedagogy focuses on the social construction of knowledge, which she incorporates into both her face-to-face and online courses. At the undergraduate level, she teaches composition, exposition, technical writing, creative writing, introduction to African American literature, 19th century African American writers, the Harlem Renaissance, 20th century African American women playwrights, contemporary black women writers, and African American verbal/visual texts in black and white/color. At the graduate level, she has taught the theory and practice of English, workshop for writers (creative writing), writing theory, professional writing, Harlem Renaissance novels, and theories and methods of teaching composition.
Dr. Worley has been honored for her teaching at the University level, New (Untenured) Faculty Achievement Award for Teaching (1994) and at the Department level, Outstanding English Faculty Member Award (1993), Sigma Tau Delta (English Honorary Society).
Scholarship
As a teacher/scholar, Dr. Worley's scholarship/creative production is closely related to the courses she teaches. She is co-editor of Language and Image in Reading-Writing Classroom: Teaching Vision (LEA, 2002); African-American Literature: An Anthology, 2nd edition (McGraw-Hill, 1997); and Reflections on a Gift of Watermelon Pickle . . . And Other Modern Verse (ScottForesman, 1995). In addition, she has published articles and essays and has presented numerous conference papers.
In spring 2011, Dr. Worley's debut poetry book, Tongues in My Mouth (Main Street Rag Publishing, 2011), was published. Her poetry has appeared in literary journals such as Reverie, Permafrost, The Spoon River Poetry Review (where she was a finalist for the 2002 Editor's Prize), Clackamas Literary Review, and Rambunctious Review. Also, her poetry appears in several anthologies including Women. Period. (Spinster Ink Press, 2008); Temba Tupu! (Walking Naked) Africana Women's Poetic Self-Portrait (Red Sea Press, 2008); Risk, Courage, and Women: Contemporary Voices in Prose and Poetry, (North Texas U P, 2007); and Spirit & Flame: Contemporary African American Poets (Syracuse University Press, 1997).
Dr. Worley's crown of sonnets, "Femicide/Femicidio: The Murdered and Disappeared Women of Ciudad Juarez, Mexico" was the Third Place Winner in the Split This Rock 2009 Poetry Contest. In addition, she is a Cave Canem Poetry Fellow. Currently, she is working on a poetry manuscript; a memoir; co-editing "Black & Blue and Taboo," a poetry and prose anthology focusing on African American women and depression; and co-editing "Three Black Barbies," a poetry, fiction, and drama anthology focusing on socially constructed concepts of beauty.
Service
Dr. Worley has served on numerous English department committees, including serving as Coordinator of Composition; College of Liberal Arts and Sciences committees, including the Women's Studies and Sabbatical Leave Committees; and University-wide programs and committees including serving as director of the Office for Teaching Excellence and serving on the Intercollegiate Athlete Committee. She is an active member of a number of professional organizations including the National Council of Teachers of English, the Conference on College Composition and Communication, the Association of Writers and Writing Programs, and the Modern Language Association.
Within the Peoria Community, Dr. Worley not only served on the Tri-County (Peoria) Urban League's and the Peoria Planned Parenthood's boards of directors, but also volunteered her services to mentoring primary and secondary students, voter registration/education, and mental health awareness.