Seth Katz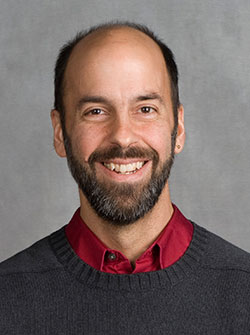 Associate Chair and Professor
Bradley Hall 383
(309) 677-2479
seth@bradley.edu
http://hilltop.bradley.edu/
Ph.D., English, University of Chicago
M.A., General Studies in the Humanities, University of Chicago
B.A., English; Russian and East European Area Studies, University of North Carolina at Chapel Hill
Teaching
Linguistics:
ENG 311 Introduction to Language
ENG 313 Grammar for Writing and Speaking
Composition:
Literature:
ENG 368 Science Fiction and Fantasy
Liberal Arts and Sciences:
LAS 101 Arts and Ideas Seminar: Why are we here?
Honors seminars on various topics in popular culture
The Graduate School:
Supervision of undergraduate and graduate independent projects on various topics in linguistics and fantasy writing.
Scholarship
Dr. Katz's recent scholarship has focused on composing a textbook in English grammar that covers both Standard and non-Standard varieties. He has also edited a collection of scholarly articles on the word ain't, and published research on the word relatable. Other fields of interest include linguistic politeness, critical discourse analysis, and writing across the curriculum.
Publications:
American English Grammar: An introduction. New York: Routledge, 2020
Ain'thology: The History and Life of a Taboo Word. Co-edited with Patricia Donaher. Newcastle-on-Tyne, UK: Cambridge Scholars Publishing, 2015
"Teaching about Language Change: The Case of relatable." The Assembly for Teaching English Grammar (ATEG) Journal. 24:1 (Summer, 2015): 44-57
"Literary Ain't: A Survey Based on the Examples in the Oxford English Dictionary." Patricia Donaher and Seth Katz, eds. Ain'thology: The History and Life of a Taboo Word. Newcastle-on-Tyne, UK: Cambridge Scholars Publishing, 2015
"Our Love/Hate Relationship with 'Proper' English." Barbarians at the Gates: Language Attitudes and Popular Linguistics, ed. by Dr. Patricia Donaher, Dept. of English, Missouri Western State University. Cambridge Scholars Press, 2010. 263-287
Review of Artful Sentences: Syntax as Style by Virginia Tufte. ATEG Journal (Assembly for the Teaching of English Grammar). 22:1 (Fall 2006): 13-14
"Innovative Hypermedia ETDs and Employment in the Humanities." Electronic Theses and Dissertations: A Sourcebook for Educators, Students, and Librarians. Edward Fox, Shahrooz Feizabaldi, Joseph Moxley, and Christian Weisser, eds. New York: Marcel Dekker, 2004. 9-18
Peoria Journal Star, "Faith and Values: Guest Reflections" columns, 2004-2007
Conference Presentations:
"Writing Intensive Courses: How one university developed multi-disciplinary cross-campus approach to teaching writing." Panel presentation with Cecile Arquette, Tricia Dahlquist, Francesca Armmer, Michelle Edgcomb Friday, Aurea Toxqui. International Writing Across the Curriculum (IWAC) Conference, Ann Arbor, MI, June 23–25, 2016
"The Relatable History of 'Relatable.'" With Mara Katz, Simon Fraser University. Language Attitudes and Popular Linguistics area of the Popular Culture Association/American Culture Association (PCA/ACA) Conference, Seattle, WA, March, 2016
"'A millennia': The Propagation of an Error in English Usage." College English Association (CEA) Conference, Indianapolis, IN, March, 2015
"The Rise and Fall of Phrasal Verbs in English." Language Attitudes and Popular Linguistics area of the PCA/ACA, Chicago, IL, April, 2014
"Living on the Language Horizon: Teaching Students about Language Change." CEA, Baltimore, MD, March, 2014
"Are Prepositional Idioms in English Changing?" Language Attitudes and Popular Linguistics area of the PCA/ACA, Washington, DC, April, 2013
"Is That a Word? Two Paths to Lexicalization in Written English." Popular Linguistics area of the PCA/ACA, Boston, MA, April, 2012
"The Design of Uncivil Discourse; or, Why the Internet Is so Good at Making People Mad." CEA, Richmond, VA, March, 2012
"The roles of first mention definite reference in discourse processing." National Popular Culture Association/American Culture Association (PCA/ACA) Conference, San Antonio, TX, April, 2011
"The roles of first mention definite reference in discourse processing." College English Association (CEA) Conference, St. Petersburg, FL, March, 2011
"Literary ain't: a survey." National Popular Culture Association/American Culture Association (PCA/ACA) Conference, St. Louis, March 2010
"The Reader's Role in Designing the Text." College English Association (CEA) Conference, Pittsburgh, March, 2009
"'I paid for this class, so I deserve a better grade': The Development of a Conceptual Blend." Poster presentation. Critical Approaches to Discourse Analysis Across Disciplines (CADAAD). University of Hertfordshire, Hatfield, Hertfordshire, UK, July 2008
"Correctness versus Correction: Proper English, Politeness, and Social Position." College English Association (CEA) Conference, St. Louis, March, 2008
Service
Editor for University 10-year Report to the Higher Learning Commission, 2018-2020
LAS First-year Seminar Committee, 2015-present
Faculty Grievance Committee, 2016-2018
Search Committee, Marketing and Publications—Executive Editor, Summer 2015
Center for Teaching Excellence and Learning (CTEL) New Faculty Mentorship Committee, 2014-present.
Bradley Core Curriculum, Core Practices Committee, 2015-present
With Tricia Dahlquist, facilitator for Writing Intensive Course Workshops, 2015-2018
Bradley University Hillel, Executive Director, 1998-2020
Bradley Fencing Club, Faculty Advisor, 1993-present
Lectures and Discussions:
"Writing Intensive Course Discussion." Oct. 2018. Helped facilitate conversation about best practices in WI courses
"The First Year Seminar Program in the College of Liberal Arts and Sciences." Panel member, Fall Faculty Forum. Aug. 2018
"Writing Assignments and Assessment." New Faculty Mentorship Series Presentation with Tricia Dahlquist, March 24, 2017
"Why (and How) We Should Require Western Civ (or Something a Whole Lot Like It." Core Curriculum Club, March 23, 2017
Designing, Proposing, and Implementing Writing Intensive (WI) Courses. Session facilitator with Tricia Dahlquist, Aug. 22, 2016
Tenure and Promotion: Information for New Faculty. Panel member, Spring Faculty Forum, Jan, 2016
Writing Intensive: Promoting a Culture of Inquiry and Exploration, Fall Faculty Forum Workshop. Aug, 2015
Surviving the First Two Weeks, Fall Faculty Forum Workshop. Aug, 2015
"More than Tenure: How Getting Along with Colleagues and Balancing your Time Is Just as Important as Research." Spring Faculty Forum Workshop. Jan, 2015
"Hate to Write?" Bradley Learning Assistance Program Workshop. Sept, 2014
"Embedded Assessment in CIV 101." Fall Faculty Forum Workshop. Aug, 2014
Academic Service to the Department:
Acting Department Chair, May, 2018; May, 2017; May-June 2016; May and July, 2015
Associate Department Chair, Jan, 2015-present
Coordinator of Composition, 2016-2017
Assessment Committee, 2018-present
Undergraduate Studies Committee, 2011-present
Composition Committee, 2014-present
Community Service
Scholastic Bowl Moderator: Annual Fall Peoria Area World Affairs Council (PAWAC) International Scholastic Bowl, 2007-2019; Regular Season Team Meets, Illinois Valley Central High School, 2017; Morton High School, 2002-2018; Peoria Central High School, 2015-2019; Annual Winter Limestone High School Peoria-Area Tournament, 2011-2019
Led discussion of Parshat Pinchas (Num 25:10-30:1). Adult education, Congregation Anshai Emeth, Peoria, IL. July 7, 2018
"Tarter Source #21: Wordplay with Bradley English professor Seth Katz." Peoria Journal Star podcast interview with Steve Tarter. Posted online Aug. 8, 2016. http://podcasts.pjstar.com/2016/tarter-source-21-wordplay-with-bradley-english-professor-seth-katz
"Buzzwords: here today, gone tomorrow...sometimes." Interview with Steve Tarter, Peoria Journal Star. Posted online July 15, 2016 at http://www.pjstar.com /news/20160715/buzzwords-here-today-gone-tomorrow-sometimes
ACT English Test Preparation Course, Morton High School, Morton, IL, 2016, 2015, 2001, 2000