Melinda McBee Orzulak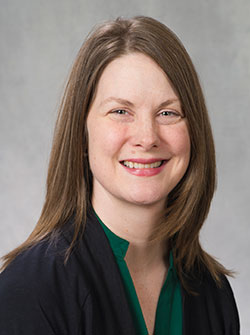 Associate Professor and Coordinator of English Education
Bradley Hall 352
(309) 677-2466
mmcbeeorzulak@bradley.edu
Ph.D., English and Education, University of Michigan
Biography
Melinda McBee Orzulak earned her Ph.D. as part of the Joint Program in English and Education at the University of Michigan, with a dissertation that offered ways to support new teachers in enacting linguistically informed principles that promote equitable learning.

Before graduate school at the University of Michigan, Dr. McBee Orzulak worked as a classroom teacher and department chair at secondary schools in Chicago, Boston, and Kansas City where she was inspired to explore the intersections between power and language in effective teaching interactions. She earned her master's degree from Tufts University as an Urban Teacher Training Collaborative intern and a bachelor's degree from Gordon College in English language, literature, and gender studies as a Kenneth L. Pike interdisciplinary honors scholar. She also holds a current Illinois standard secondary teaching certificate in English language arts, journalism, and sociology.
Teaching
Dr. McBee Orzulak's fields of interest include English education methods, writing teacher education, supporting linguistically diverse students in ELA classrooms and young adult literature.
She teaches courses in English and education, including English education methods, young adult literature, the teaching of writing, Grammar for Teachers, composition theory, and professional writing. She also has experience supervising student teaching and field-based seminars.
Scholarship
Dr. McBee Orzulak's scholarship focuses on the intersections of linguistic and interactional awareness in English education, specifically in effective writing pedagogy.
To share her scholarship, Dr. McBee Orzulak values writing for both scholarly and practitioner audiences. She coauthored Taking Initiative on Writing: A Guide for Instructional Leaders (NCTE and NASSP, 2010). She also has published in English Journal, Reading Research Quarterly, and The Cambridge Guide for Second Language Teacher Education. As a writer for the James R. Squire Office of Policy Research of the National Council of Teachers of English, she contributed to eight policy briefs published in the Council Chronicle, including Adolescent Literacy, English Language Learners, and 21st-Century Literacies: http://www.ncte.org/policy-research/briefs.
Dr. McBee Orzulak shares her scholarship at regional, national and international meetings and conferences, including the Conference on English Education, the National Council of Teachers of English (NCTE), Illinois Association of Teachers of English, and American Educational Research Association. She especially enjoys working with English-Teaching majors as they share their research at conferences and colloquia.
Service
Dr. McBee Orzulak coordinates English Education Committee. Off campus, she serves on the Board of Program Reviewers for the National Council for the Accreditation of Teacher Educator Preparation (CAEP/NCTE). An active member of NCTE and CEE, she has conducted webinars for instructional leaders focused on writing initiatives and contributed as a member of the CEE Commission on Writing Teacher Education.