Alexander Lalama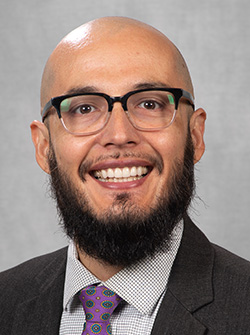 Assistant Professor
Bradley Hall 369
(309) 677-2476
alalama@bradley.edu
PhD, English, Claremont Graduate University
MA, English, Claremont Graduate University
BA, Psychology, University of Southern California
Biography
Alexander Lalama earned his PhD in English with a concentration in Latinx Literature from Claremont Graduate University in Claremont, California. He also holds an MA in English from Claremont Graduate University, and a BA in Psychology from the University of Southern California. Before coming to Bradley, Dr. Lalama held teaching appointments at Wellesley College and the University of Rhode Island. He is originally from the Inland Empire region of Southern California. As the son of immigrants from Peru and Ecuador, his experience makes him especially interested in mentoring students who, like him, are also first-generation college students.
Teaching
Dr. Lalama's teaching interests include Latinx Literature, 20th and 21st Century Hemispheric American Literature, Gender and Sexuality in Literature, Music Subcultures and Literature, and the American Gothic.
Scholarship
Dr Lalama's most recent publication is a chapter titled "'The child is bewitched': Punk, Santería, Syncretism and Self-Making in Cristina Garcia's Dreaming in Cuban" in the collection Latina Outsiders: Remaking Latina Identity (Routledge, 2019) He has published articles on punk as a critical social movement across the globe. In addition, his work appears in a variety of studies in American literature and culture, including All Things Dickinson: An Encyclopedia of Emily Dickinson's World and Hollywood Heroines: The Most Influential Women in Film History. He is currently completing an article titled "Can't I be both?": Biculturality, Punk, and Authenticity in Celia C. Pérez's The First Rule of Punk" to be included in Contemporary Young Adult Literature and the Fashioning of Black & Brown Youth (University Press of Mississippi, forthcoming).