Amanda Newell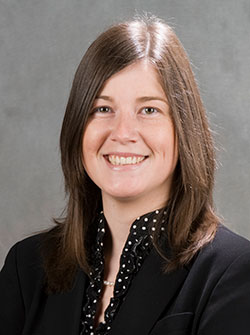 Assistant Professor and Dietetic Internship Director
Bradley Hall 21
(309) 677-3736
anewell@bradley.edu
Ph.D. Higher Education Administration, Illinois State University
Dietetic Internship, OSF Saint Francis Medical Center
M.S. Nutritional Sciences, University of Illinois
B.S. Dietetics, Western Illinois University
Biography
Dr. Newell is the founding Director of the Dietetic Internship program. She is a registered and licensed dietitian/nutritionist (RDN, LDN).
Teaching
Dr. Newell teaches courses for undergraduate and graduate dietetic students including Nutrition Counseling, Lifecycle Nutrition, Advanced Medical Nutrition Therapy, and Nutrition and Wellness.
Scholarship
Dr. Newell's current research is focused on the research involvement of dietetic educators.
Service
Dr. Newell serves on a variety of committees including the EHS Internationalization Committee and the Intercollegiate Athletic Committee. She is also involved with the Central Illinois Academy of Nutrition and Dietetics, most recently serving as the Public Policy Chairperson.