Amanda Newell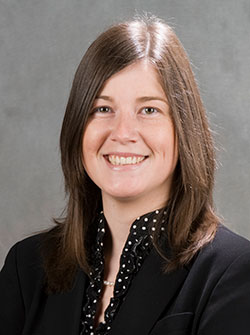 Assistant Professor and Dietetic Internship Director
Bradley Hall 21
(309) 677-3736
anewell@bradley.edu
Ph.D. Higher Education Administration, Illinois State University
Dietetic Internship, OSF Saint Francis Medical Center
M.S. Nutritional Sciences, University of Illinois
B.S. Dietetics, Western Illinois University
Biography
Dr. Newell is the founding Director of the Dietetic Internship program. She is a registered and licensed dietitian/nutritionist (RDN, LDN).
Teaching
Dr. Newell teaches courses for undergraduate and graduate dietetic students including Nutrition Counseling, Lifecycle Nutrition, Advanced Medical Nutrition Therapy, and Nutrition and Wellness.
Scholarship
Dr. Newell's current research is focused on the research involvement of dietetic educators, cultural competence, and interprofessional education.

Newell, A.M.B., Antola Crowe, H., Erickson, D., Pratt, B., Davison Aviles, R. (2020). Cross-cultural competencies in a scholarship of teaching and learning process. Journal of Transformative Learning. 7(1), 71-80.
Newell, A.M.B, Troxel, W., Schumacher J.R. (2019). Research involvement continuum level of dietetic internship directors. Journal of Critical Dietetics. 4(2), 28-37.
Dallmeyer, M. A., Davidson, J., Randall, G. K., & Newell, A. (2012). College student snacking behavior pilot study. International Journal of Home Economics, 5, 130-143.
Randall, G. K., Brandes, K. A., Choi, C., Collins, N. R., Dallmeyer, M. A., Davidson, J., Newell, A. (2010). From the family and consumer sciences classroom to its constituent communities: Examples of how one FCS department makes a difference. Journal of Family and Consumer Sciences, 102, 34-40.
Newell, A. M. B., Yousef, G. G., Lila, M. A., Ramirez-Marces, M. V., Gonzalez de Mejia, E. (2010). Comparative in vitro bioactivities of tea extracts from six species of Ardisia and their effect on growth inhibition of HepG2 cells. Journal of Ethnopharmacology, 130, 536–544.
Newell, A. M. B.; Chandra, S.; Gonzalez de Mejia, E. (2007). Ethnic teas and their bioactive components from Hispanic Foods: Chemistry and Flavor; Tunick, M.H., Gonzalez de Mejia, E., Editors; ACS Symposium Series 946, Chapter 11; American Chemical Society: Washington, DC; pp 127-142.
Service
Dr. Newell serves on a variety of committees including the EHS Internationalization Committee and the Intercollegiate Athletic Committee. She is also involved with the Central Illinois Academy of Nutrition and Dietetics, most recently serving as the Public Policy Chairperson.