Brad McMillan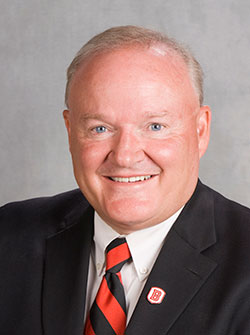 Coordinator, Master's in Nonprofit Leadership (NPL) & Executive Director, Institute for Principled Leadership in Public Service (IPL)
Westlake Hall 202A
(309) 677-4408
bmcmillan@bradley.edu
J.D. – Southern Illinois School of Law
B.A. – Illinois Wesleyan University; Political Science
Biography
I practiced law for ten years in central Illinois, serving as a senior staff attorney for an Illinois Supreme Court Justice, serving as an associate attorney for the largest downstate law firm, and becoming a partner in my own law firm.
I served as District Chief of Staff for Congressman Ray LaHood for ten years.
I came to Bradley in 2007 to become the inaugural Executive Director of IPL and in 2015 I additionally became the Coordinator for NPL. I also serve as the point person for the President for government relations at the federal, state, and local levels.
Professional Experience
Brad served as chief of staff for former Congressman and U.S. Secretary of Transportation Ray LaHood. In 2009 Brad was named to the Illinois Reform Commission tasked by Governor Quinn to find ways to clean up state government.
Teaching
I have taught Bipartisan Leadership, Ethical Leadership, and Collaborative Leadership as a part of the Leadership Studies undergraduate minor. In the NPL program, I have taught graduate courses in Survey in Nonprofit Leadership, Strategic Planning for Nonprofits, Effective Leadership for Nonprofits, and have overseen the capstone Field Experience internships.
Service
CHANGE Illinois, Co-Chair of statewide board
The Nature Conservancy, Illinois Chapter
Legal Studies Advisory Board
Heartland Health Services, Chair of Board for three terms