Teresa Drake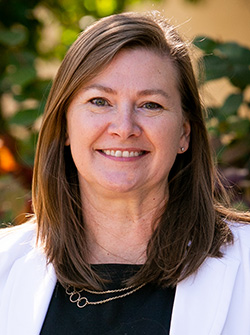 Department Chair and Associate Professor
Westlake Hall 248
(309) 677-3879
tdrake@bradley.edu
Ph.D., Health Education, Southern Illinois University Carbondale
M.S., Family and Consumer Sciences: Dietetics, Eastern Illinois University
B.S., Chemistry, Illinois State University
Biography
Dr. Drake is a registered dietitian (RD) and certified health education specialist (CHES). She joined the department in 2013 and is the coordinator for the Public Health Education program.
Teaching
Dr. Drake teaches public health education and dietetics courses including Community Program Planning, Evaluation and Research Methods, and Public Health Intervention Strategies.
Scholarship
Dr. Drake's research interests include worksite wellness, community program planning and evaluation, Health At Every Size® and non-dieting approaches to health, and scholarship of teaching and learning.
Chan, T., Drake, T., & Vollmer, R. (2020). Qualitative comparison of nutrition advice from registered dietitian and non-registered dietitian bloggers. Journal of Communication in Healthcare, 13(1), 55-63.
Vollmer, R.L. & Drake, T. (2020). Exploration of dietetics graduate students' experience in a flipped course using learning reflections. Journal of Nutrition Education and Behavior, 52(4), 407-414.
Hansen, S., Drake, T., & Vollmer, R.L. (2019). Perceptions of cooking education among high school students. Family and Consumer Sciences Research Journal, 47(4), 359-374.
Drake, T., Hunzicker, J.L., Schwend, K., & Rumba, P. (2018). Health-focused PDS partnerships: Putting the WSCC model into practice. PDS Partners: Linking Research to Practice, 13(4), 5-9.
Drake, T. & Ogletree, R.J. (2018). Development of the Health and Weight Attitudes Scale. Journal of Nutrition Education and Behavior, 50(5), 506-510.
Bartello, M., Couri, E., Grey, C., Owdom, J., & Drake, T. (2017). Reigniting the spark: Development and evaluation of a worksite wellness program to prevent and reduce emotional burnout. Health Education Monograph Series, 34(2), 5-8.
Service
Dr. Drake serves on multiple committees at the department, college and university levels including FCS Curriculum, EHS Strategic Planning, University Senate, Health Professions Advisory Board, and is the faculty adviser for Bradley's local chapter of Eta Sigma Gamma, a national health education honorary. She also reviews manuscripts and abstracts for the Society of Nutrition Education and Behavior and the Society for Public Health Education.