Rachel Vollmer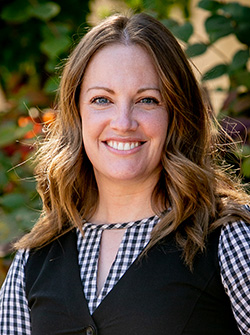 Assistant Professor
Bradley Hall 03
309-677-4182
rvollmer@fsmail.bradley.edu
Ph.D., Nutritional Sciences - University of Connecticut
M.S., Family and Consumer Sciences - Eastern Illinois University
B.S., Foods, Nutrition, and Dietetics - Bradley University
Biography
Dr. Vollmer is a Registered Dietitian (RD). She completed her dietetic internship at the University of Iowa Hospitals and Clinics. She earned her Doctorate from the University of Connecticut where she worked as Research Graduate Assistant and a Graduate Teaching Assistant for community nutrition. Prior to working at Bradley University, Dr. Vollmer taught Lifecycle Nutrition, Food Science, Advanced Metabolism and Medical Nutrition Therapy classes at Illinois State University.
Teaching
Dr. Vollmer teaches a variety of undergraduate and graduate classes for dietetics students, including Nutrition, Advanced Metabolism, Research Methods, and Community Nutrition Intervention.
Scholarship
Dr. Vollmer's main research expertise includes the relationships between food parenting and children's eating behavior, diet quality, and risk for obesity, with a special emphasis on the interactions between fathers and their preschool age children. Dr. Vollmer has experience in developing, implementing, and evaluating nutrition interventions for preschool age children and their parents. Dr. Vollmer also engages in the Scholarship of Teaching and Learning.
Service
Dr. Vollmer serves on the College and Department Curriculum and Regulations Committees, College Recruitment Committee, thesis committees, and on the executive board for the Children's Division of the Society for Nutrition Education and Behavior. Dr. Vollmer also manages the Department's Facebook page, reviews abstracts for professional conferences, and reviews manuscripts for peer-reviewed journals.
Licensures and Certifications
Ph.D., RD