Jessica Nigg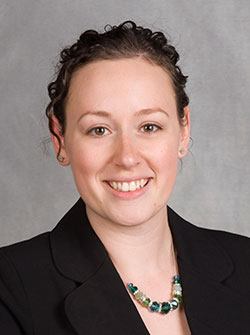 Director of Didactic Program in Dietetics
Westlake Hall 235
(309) 677-3737
jnigg@bradley.edu
M.S., Family and Consumer Sciences - Dietetics, Eastern Illinois University
B.S., Family and Consumer Sciences - Dietetics, Eastern Illinois University
Biography
Jessica Nigg is a Registered Dietitian (RD) with previous work experience in long-term care. She joined the FCS department in 2013. She is the director of the Didactic Program in Dietetics. She is a PhD Candidate in Hospitality Management at Iowa State University.
Teaching
Jessica Nigg teaches a variety of courses in the FCS department including foods and food science, medical nutrition therapy, and consumer issues.
Scholarship
Ms. Nigg's research interests include the intersection of hospitality and healthcare, foods and foodservice, and geriatric nutrition.
Nigg, J.K & Arendt, S. W. (2020). Hospitality and tourism research from an FCS perspective: A 10-year review. Journal of Family & Consumer Sciences, 112(2), 7-16. doi: 10.14307/JFCS112.2.7.
Service
She has held leadership positions in both the Central Illinois and Illinois Academy of Nutrition & Dietetics.