Arnold/Wheeler Scholarships
If you are interested in finding out what you are passionate about, exploring big questions, and being a part of a community of student researchers, you have what it takes to be an Arnold/Wheeler Scholar! The Arnold/Wheeler scholarship provides $4,000 each year, renewable for 4 years ($16,000 total). As part of the scholarship, you get to develop relationships with faculty and other students during your very first semester. As a scholar, you will get a faculty mentor that will help guide you throughout your 4 years as a Bradley student. You and your mentor will work together on a project that is important and interesting to you. At the end of the 4 years, you will have completed a project that will help prepare you for the career and the life that you want.
Scholars have presented their projects that national conferences that are attended by professionals in their fields and published in scholarly journals. The experience as a scholar has prepared them to lead and manage projects, think critically through big problems, and has improved their written and oral communication skills. Our scholars have completed projects on a diverse array of topics: hair discrimination in the workplace, traffic light labels in dining halls, mental health on college campuses, cultural intelligence and study abroad, using insects as a protein source to improve sustainability, portrayal of relationships in Disney films, and many more! What can we help you discover?
If you are interested in learning more about the scholarship or talking to a current scholar, please fill out the scholarship application.
Mildred Arnold '32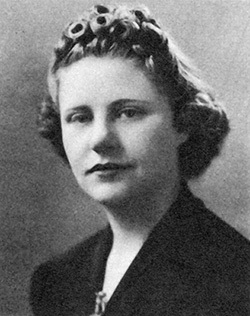 Cecelia Wheeler '42