Arnold/Wheeler Scholarships
The Department of Family and Consumer Sciences (FCS) at Bradley University is pleased to announce that two FCS incoming freshmen are awarded Arnold/Wheeler scholarships in the fall semester. Each awardee becomes either a C. C. Wheeler Scholar or a Mildred Arnold Scholar, termed Arnold/Wheeler or A/W Scholar, with an accompanying annual scholarship of $4,000. Each scholarship award may be renewed annually for up to four years, provided the student maintains a minimum GPA of 3.00 and completes the scholarship requirements each semester.
Freshman and sophomore scholars develop research ideas with faculty and complete components of the scientific research process. In addition to regular contact with their faculty mentors, all scholars benefit from consultation from the C.C. Wheeler Institute and monthly research meetings with FCS faculty and student researchers. Upper class scholars are expected to initiate a research or service project with an FCS faculty member no later than their junior year. Students must present their results at the Bradley Student Scholarship EXPO and submit their project to a peer-reviewed journal or other professional forum during their final semester.
Mildred Arnold '32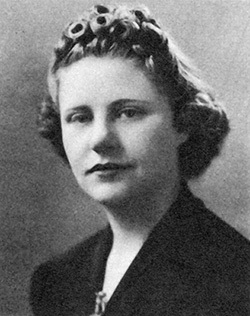 Cecelia Wheeler '42
A/W Scholarship Application Packet Checklist
Please include the following in your application packet
a letter of intent containing

your reasons for choosing Bradley FCS and intended major
summary of an exemplary project OR sample of an academic paper
brief description of research experience or research interests you have
discussion of your strengths as a student
example of one of your weaknesses and how you address it

a resume which includes

your name, phone number, address, email address, GPA and ACT/SAT scores
a list of leadership positions and/or extracurricular activities during high school

one letter of recommendation addressing potential for independent scholarly work
an official copy of your high school transcript
The application deadline is January 22, 2021.
Your application packet containing the items above must be emailed to fcs@fsmail.bradley.edu OR postmarked by the deadline and mailed to:
Bradley University
FCS A/W Scholarship Committee
1501 W. Bradley Ave – BR 18
Peoria, IL 61625
On-campus interviews for scholarship finalists are tentatively scheduled for February 12, 2021.