Rustin Gates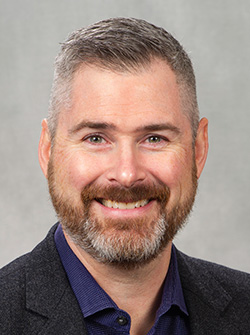 Associate Professor
Bradley Hall 327
(309) 677-4872
rgates@bradley.edu
Ph.D., History and East Asian Languages, Harvard University
M.A., Regional Studies – East Asia, Harvard University
B.A., History, Occidental College
Biography
Rustin Gates, Associate Professor of History at Bradley University, Peoria, Illinois, holds an MA and PhD from Harvard University in Modern Japanese History. A specialist in the history of Japanese international relations, his research has appeared in a variety of outlets, including scholarly journals, edited volumes, and online postings. His current research project examines Japan's Self-Defense Forces in the context of US-Japan relations during the Cold War.
Teaching
Honors 101: Japanese Pop Culture
History 207: Modern Japan, 1860 to the Present
History 314: Japan and World War II
History 330: Modern China: Revolutions
History 331: Samurai in Japanese History
History 337: Modern Non-Western World History
History 350: Historical Methods Seminar
History 452: Area Studies Senior Research Seminar: The Cold War in Asia
Scholarship
"The Dōjinkai and the Promotion of Japanese Modernity in China, 1902–1937," Studies on Asia, Series V, vol. 1, no. 1 (Spring 2016): 72–95.
"Out with the New and in with the Old: Uchida Yasuya and the Great War as a Turning Point in Japanese Foreign Affairs." In The Decade of the Great War: Japan and the Wider World in the 1910s. Edited by Tze-ki Hon, et al. Leiden: Brill, 2014, 64–82.
"Meiji Diplomacy in the early 1930s: Uchida Yasuya, Manchuria, and Post-withdrawal Foreign Policy." In Tumultuous Decade: Empire, Society, and Diplomacy in 1930s Japan. Edited by Masato Kimura and Tosh Minohara. Toronto: University of Toronto Press, 2013, 189–214.
"Solving the 'Manchurian Problem': Uchida Yasuya and Japanese Foreign Affairs before the Second World War," Diplomacy and Statecraft 23, no. 1 (March 2012): 23–43.
"Pan-Asianism in Prewar Japanese Foreign Affairs: The Curious Case of Uchida Yasuya," Journal of Japanese Studies 37, no. 1 (Winter 2011): 1–27.
Service
Contributing Editor. Adam Matthew Archives Direct, "Foreign Office Files for Japan, 1919–1952," 2017
Associate Editor. Studies on Asia (An Interdisciplinary Journal of Asian Studies), 2015-present
Mediterranean History Search Committee Chair, History Department, Bradley University, 2016-2017
Senate Committee on Curriculum and Regulations Member, Bradley University, 2015-present
Tenure and Promotion Committee Member, History Department, Bradley University, 2015-present
Book Proposal Reviewer

.

Palgrave Macmillan Press. 2015.
Journal Referee. Diplomacy and Statecraft, 2011-12.
Asian Studies Program Committee Member, Bradley University, 2008–present
Transfer Student Advisor, History Department, Bradley University, 2008–present