Aurea Toxqui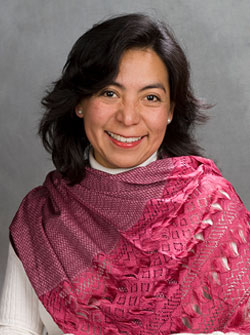 Associate Professor
Bradley Hall 345
(309) 677-2393
atoxqui@bradley.edu
Ph.D., History, University of Arizona
M.A., History, Universidad Iberoamericana, Santa Fe, Mexico City
B.A., History, Universidad Iberoamericana, Santa Fe, Mexico City
Biography
Aurea Toxqui began teaching at Bradley University in 2008 following a year as a lecturer at the University of Tennessee-Knoxville. She was born and raised in Mexico City. Before coming to the U.S. to get her Ph.D., she worked for several museums in Mexico, including the National Museum of History. There, she was the head researcher for the museographical renovation, as well as the head of the Education Services Department. While pursuing her Ph.D., she discovered her calling as a college professor. She enjoys outdoor activities such as kayaking, disc golf, and hiking – particularly in the snow – all of which she has discovered in Peoria. She also takes pleasure in swimming, dancing, traveling, cooking, and spending time with family and friends.
Teaching
HIS 105 History of Latin America
HIS 332 Modern Latin American History
HIS 335 Modern Mexico
HIS 339 Women in Global Perspective
Scholarship
Professor Toxqui studies popular culture to understand processes of identity and state-building formation, power, and resistance in Mexico. She focuses particularly in the analysis of tavern culture, social interaction, gender roles, drunkenness, and crime in response to urbanization and industrialization during the nineteenth and twentieth centuries.
"Taverns and Their Influence in the Suburban Culture of Late-Nineteenth Century Mexico City" in The Growth of Non-Western Cities: Primary and Secondary Urban Networking, c. 900-1900, ed. Kenneth R. Hall (Rowman & Littlefield, 2011).
"Pulque," "Fruit Liquors," "Cerveceria Cuahtemoc-Moctezuma," and "Grupo Modelo" in Alcohol and Drugs in North America: A Historical Encyclopedia, ed. David Fahey and Jon Miller (ABC Clio-Encyclopedia, 2012).
Service
Women's Studies Committee
Criminal Justice Studies Committee.
Co-founder of Bradley Anti-Slavery Coalition
Faculty advisor of the Bradley Chapter of the National Society of Leadership and Success
Involvement in activities promoting diversity and cultural heritage in and outside Bradley, such as events organized by the National Center of Agricultural Utilization Research (NCAUR)