Scott Cavanah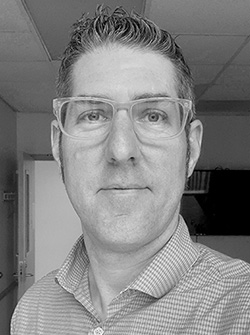 Associate Professor, Animation and Associate Chair
Caterpillar Global Communication Center 325A
309-677-4147
spcavanah@bradley.edu
@scottcavanah
http://www.scottcavanah.com
A.A. - Southeastern Community College, Burlington, IA (1993)
B.S. - Iowa State University, Ames, IA (1996)
M.F.A. - Bradley University, Peoria, IL (2004)
Biography
Scott Cavanah was born in Burlington, Iowa into a family of educators. During high school he first developed a love for photography, shooting images of his friends on skateboards and mountain bikes. He graduated from Iowa State University and then worked as assistant photographer in Des Moines, IA. He returned to school to earn his Master of Fine Arts in 2004 from Bradley University in Peoria, IL with a concentration in photography.
Since 2008, Scott has been teaching classes in the Department of Interactive Media. His areas of expertise cover a wide array of subjects ranging from animation to digital imaging to storytelling. His current research centers around augmented reality and large-scale data-driven LED installations.
He exhibits his work nationally and has won awards from The Texas Photographic Society and The Photography Hall of Fame. Scott is a member of The Society of Photographic Educators and the College Art Association. As a working professional photographer, he is the owner and principal of Studio Cavanah, Inc. The studio does editorial and advertising work for regional and national clients. He also lectures regionally on photography and digital imaging and serves as a consultant for several corporations and non-profit organizations. In his spare time he rides motorcycles and is a root beer snob.
Teaching
Fall 2023
IM 140 - Storytelling for Animation
IM 440 - Animation Capstone I
Office Hours:
Monday and Wednesday: 11:00 am - 12:00 pm