Mark Brown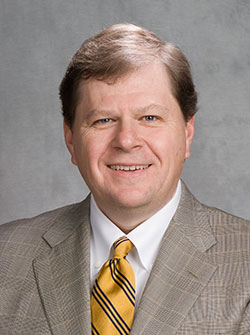 Associate Professor, Management and Leadership, Program Coordinator
Business and Engineering Convergence Center 3127
(309) 677-2308
mpb@bradley.edu
Ph.D., Business Administration, Louisiana State University
M.B.A., Louisiana State University
B.A., Economics, The University of the South
Biography
Mark P. Brown is an Associate Professor of Management at Bradley University. Prior to entering academia, he trained as a hospital administrator at Our Lady of the Lake Regional Medical Center in Baton Rouge, Louisiana.
Teaching
Mark teaches classes in the areas of leadership, compensation, and human resource management.
Scholarship
Research interests include strategic compensation issues, the performance effects of human resource practices in hospitals, and health care management. Mark's research has appeared in publications including Health Care Management Review, Advances in Health Care Management, and the Academy of Management Journal.
Selected Peer-Reviewed Journal Articles in the Last Five Years
Brown, M. P., Fink, R. L. (2012). Human Resource Outsourcing in Health Care Organizations: Strategic, Cost, and Technical Considerations. Southern Business Review, 37(1), 51-60.
Brown, M. P., Fink, R. L. (2011). Performance Implications of Contract Nurse Staffing in the Context of Nurse Staffing Strategies. Southern Business Review, (Winter, 2011), 1-9.
Presentations
Brown, M. P. (Presenter and Author), Academy of Management, "Development of a Social Media Plan for Entrepreneurs." (August, 2012).
Research Awards
"Best Conference Manuscript", International Industrial Relations Human Resource Management Conference, 2011
"Best Published Manuscript", Emerald Insight – Advances in Health Care Management, 2011
Practice in Field
Corporate and Organizational Board Memberships
Officer, Secretary, Children's Home Association of Illinois, 2013 - Present
Board Member, City of Peoria Human Resource Advisory Committee, 2013 - Present
Board Member, Children's Home Association of Illinois, 2007 - Present
Service
Mark is currently the secretary of the board of trustees of Children's Home of Central Illinois and a commissioner on the city of Peoria's Advisory Commission on Human Resources. Mark is a past chair of Bradley University's United Way employee campaign. Mark was also the 2011 chair of the Peoria area Rotary clubs' Sterling Merit Banquet which recognizes the area's top high school graduates. Mark is a member of the Peoria Downtown Rotary club.