Jennifer Robin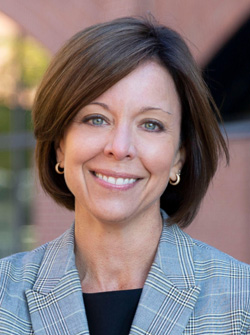 Associate Dean and Associate Professor, Management and Leadership
Campustown 192
(309) 677-2995
jrobin@bradley.edu
Ph.D., Industrial/Organizational Psychology, University of Tennessee
B.A., Management and Psychology, The University of Northern Iowa
Biography
Jennifer teaches in undergraduate, MBA, and executive programs in the areas of leadership, organizational culture, and strategic human resources management. She has coauthored three books; A Life in Balance: Finding Meaning in a Chaotic World, The Great Workplace: How to Build It, How to Keep It, and Why It Matters, and No Excuses: How You Can Turn Any Workplace Into A Great One. Her many research interests include the importance of values and stories to organizational culture, and shifts in the employee psychological contract.
Jennifer is a former Senior Consultant with Great Place to Work® Institute, leading the advisory practice and helping senior leaders align their organizational culture with its strategy to become a great place to work. A former Senior Consultant with the Institute, she led the Advisory Practice, helping senior leaders align their organization's culture with its strategy and aligning efforts to be a great workplace. Jennifer has experience working in diverse industries such as biotechnology, information technology, manufacturing, professional services, healthcare, and energy.
In her spare time, Jennifer can be found in airports and coffee shops if she is not swimming, biking and running.
Teaching
Jennifer's courses are theory based, but focus on the personal application of theory and each student's potential as a leader and successful professional. She has won several teaching and advising awards, including Bradley University's prestigious Caterpillar New Faculty Award for Teaching, Phi Chi Theta's Outstanding Faculty Award, and Foster College of Business awards for Outstanding Advisor and Outstanding Organization Advisor.
Currently Teaching
M L 350 Managing for Results in Organizations
M L 615 Interpersonal Relations
EMBA Modules Including: Attracting and Developing Talent, Dealing with Problem People, and Leading Successful Change
Scholarship
ProfMinute: "A Great Workplace"
Service
Professional Memberships
Society for Industrial and Organizational Psychology
American Psychological Association
Academy of Management