James Foley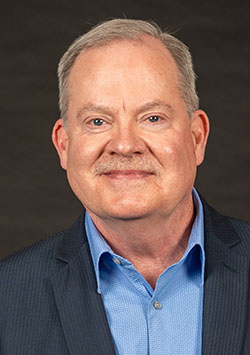 Director
Business and Engineering Convergence Center 1142
(309) 677-3471
jff@bradley.edu
Biography
SPANISH SPEAKER
At the Turner Center for Entrepreneurship, and the Illinois SBDC International Trade Center at Bradley University, Mr. Foley manages a program and related staff of counseling and training in international business planning, marketing, logistics, export finance, and entrepreneurship. The centers are a joint venture between the U.S. Small Business Administration, the Illinois Department of Commerce and Bradley University with a mission to promote business startup, growth, and international trade. He is also Director of International Programs for the Foster College of Business.
Mr. Foley is a frequent speaker on issues of international trade and teaches International Business courses at Bradley University. He is a Past President of NASBITE International, and has served as the Director for the NASBITE Certified Global Business Professional (CGBP) credential. He is past Chairman of IATTO – International Association of Trade Training Organizations and serves as national co-chair of the Association of Small Business Development Centers (ASBDC) International Trade Committee.
Mr. Foley is the author of the book The Global Entrepreneur discussing techniques to expand international trade for small to midsize companies. Numerous colleges and universities have adopted the text for undergraduate and MBA international business courses. He is also the co-author of the eleventh edition of International Marketing by Vern Tersptra, one of the landmark textbooks in international marketing.
In 2013 he was awarded the IATTO Lifetime Achievement Award at IATTO's annual forum in Thessaloniki, Greece. Previous awards include the ASBDC State Star award, NASBITE International Trade Educator of the Year Award, Illinois ITC Director of the Year Award, and the Illinois Governor's Export Award. Under his leadership, Bradley's International Trade Center was awarded the President's E Award in 2009 – the highest national honor for trade assistance programs.
Prior to joining the trade center in 1994, Mr. Foley lived and worked in Europe for seven years. His overseas business experience includes positions in marketing, sales, and corporate management in the computer industry. Mr. Foley received his MBA from the London Business School at the University of London, and his undergraduate degree from Knox College, Galesburg, Illinois. Before London, Jim worked in Los Angeles in the software industry, and also lived in Mexico City where he earned a Spanish proficiency certificate.
Teaching
IB101: Intercultural Issues
IB206: Introduction to International Business
IB302: Global Trade
IB446: International Marketing
EMBA: Global Module and International Trip to China & Vietnam
Scholarship
Textbooks
Foley, J. F. (2016). International Marketing, 11th Edition. Naperville, IL: Naper Publishing Group. [Published: 2016]
Foley, J. F. (2013), The Global Entrepreneur, 3rd Edition, Jamric Press International.
Other Research and Presentations
Foley, J. (Leader), FL Small Business Development Center Conference, "Advanced Training: Certified Global Busn Prof", Florida SBDC Network, Miami FL. (June, 2015).
Foley, J. F. (Leader), "Achieving Export Success--Rural Focus", Wenatchee, WA. (June, 2014).
Consulting
Works annually with over 75 companies developing international trade, or business start-up issues.
Corporate and Organizational Board Memberships
America's SBDC: International Trade Committee National Co-chair (September 2007 - Present).
Nasbite International: Past President (2001), Executive Board (April 1999 - Present).
Chairman, International Association of Trade Training Organizations. (October 2004 - October 2012).
Board Member, Chestnut Health Systems, 2014 - Present
Delivery of Executive Education
Caterpillar Powering Up, Executive Development, Bradley University EDC, 35 participants. (June 2015).
Management/Executive Development, Bradley University EDC, 35 participants. (February 2015).
Licensures and Certifications
Nasbite International Certified Global Business Professional (CGBP), 2015