Amanda Scott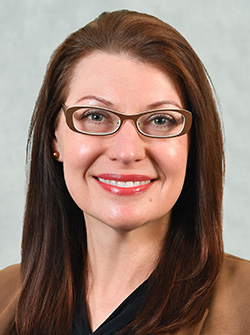 Department Chair, Associate Professor
Continuing Education Building
(309) 677-2790
alscott2@fsmail.bradley.edu
OTD - Rocky Mountain University of Health Professions
BSOT - University of Southern Indiana
Biography
Dr. Scott has been an Occupational Therapist since 2000 and earned her Clinical Doctorate in Occupational Therapy in 2013. She has expertise related to neurocognitive disorder management in the post-acute care setting. She has extensive experience in clinical management, denials/reimbursement, and program development.
Professional Experience
Areas of Specialization
Neurocognitive disorders
Seating and positioning
Lymphedema management
Post-acute care management/ reimbursement
Program development
Quality Assurance Process Improvement (QAPI)

Teaching
Dr. Scott teaches graduate level courses within the occupational therapy department. Dr. Scott takes pride in mentoring student evidence-based scholarly projects and assisting students in developing publications.
Scholarship
Dr. Scott's research interests include assessment development for neurocognitive disorders, emotional intelligence, interprofessional education, and quality assurance. Dr. Scott has published manuscripts on experiential learning in occupational therapy education and pelvic floor dysfunction. She has presented at numerous clinical conferences on various topics related to the post-acute care setting including quality assurance/improvement, employee engagement, emotional intelligence, fall reduction, and continence management. Dr. Scott has co-authored multiple chapters in textbooks related to leadership and management.
Service
Dr. Scott serves on a national level with the American Occupational Therapy Association (AOTA). She is a geriatrics board certification reviewer and Productive Aging Special Interest Section Policy and Advocacy Coordinator through AOTA.
Licensures and Certifications
Board Certification in Geriatrics- AOTA
Occupational Therapist Registered- NBCOT
Certified Dementia Practitioner- NCCDP
Certified Alzheimer's Disease and Dementia Certified Trainer- NCCDP
Certified Dementia Care Specialist- CPI
Areas of Specialization Certified Lymphedema Therapist