Christopher Jones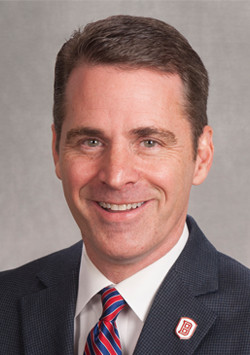 Biography
Christopher M. Jones currently serves as Vice President for Strategy and Innovation at Bradley University.
Dr. Jones is a tenured professor and international relations specialist within the Department of Political Science. Dr. Jones's teaching and scholarly specialties are U.S. foreign policy and national security policy with an emphasis on the domestic determinants of such policies. His 30-plus articles, chapters, and books and more than 50 presentations have examined a range of subjects, including bureaucratic politics, arms control, diplomacy, export control policy, leadership accountability, weapons procurement, intelligence, NATO enlargement, organizational change within the foreign policy bureaucracy, and the current and future state of American foreign policy.
Dr. Jones' overseas experience includes a NATO and EU-focused Atlantic Council Fellowship, offering a course on U.S.-British relations at Oxford University, studying counterterrorism in Israel, and serving as a member of an invited U.S. security studies delegation to Taiwan. Dr. Jones teaches U.S.-British relations as part of Bradley University's London Study Abroad Program. He is a two-term, past president of the Foreign Policy Analysis Section of the International Studies Association. The section has a membership of over 800 foreign policy scholars worldwide.
Dr. Jones is an accomplished teacher. At Northern Illinois University (NIU), he was a recipient of the Excellence in Undergraduate Teaching Award, the University Honors Great Professor Award, and the Outstanding International Educator Award. In 2013, he was named a Presidential Teaching Professor, NIU's most distinguished teaching honor. Dr. Jones has been recognized for teaching excellence by the American Political Science Association, the National Political Science Honor Society, and student organizations. In 2013, he received a national faculty award for excellence in international education from Phi Beta Delta: The Honor Society for International Scholars.
Dr. Jones earned his B.A. and M.A. in Political Science at Binghamton University, State University of New York where he was inducted into Phi Beta Kappa. He holds a Ph.D. in Political Science from The Maxwell School of Citizenship and Public Affairs at Syracuse University. He began his academic career at Whittier College as a visiting faculty member.