Steve Tippett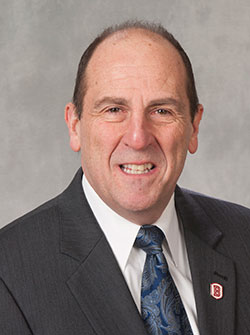 Interim Dean of EHS; Professor of Physical Therapy and Health Science
Westlake Hall 205
(309) 677-3185
srt@bradley.edu
Ph.D., Higher Education Administration from Illinois State University
M.S., Health, Physical Education, Recreation from Illinois State University
B.S., Physical Therapy from Saint Louis University
Biography
Steve began his teaching duties at Bradley University in 1995 following 17 years of full time clinical work. He has been the Chair of the Department of Physical Therapy and Health Science for 10 years. He continues to be involved in teaching in the undergraduate and graduate programs.
His area of expertise is musculoskeletal physical therapy, particularly in the area of sport injury evaluation and treatment.
Scholarship
Steve's present research interests include diagnostic ultrasound of the menisci, establishing the validity of physical therapy tests and measures, as well as functional gains of the shoulder following breast reconstruction in breast cancer survivors.
Service
Steve serves on numerous committees at the college and university levels and currently serves as Bradley's Faculty Athletic Representative to the NCAA. He is a regional board member of the Illinois Make-A-Wish organization. Steve also serves as the consulting physical therapist for the Bradley Athletic Department and Bradley Student Health Services.