Rob Bertram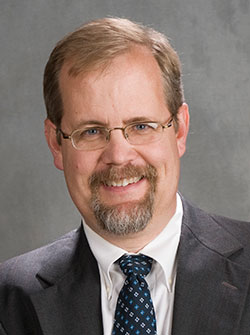 Regulatory Compliance Coordinator
Business and Engineering Convergence Center 2268
(309) 677-4948
rob@bradley.edu
Ph.D., Higher Education Administration, Illinois State University

M.A., Counseling, Bradley University

B.S., Communication, Bradley University
Biography
Rob began his career at Bradley in the Division of Student Affairs. He served as a residence hall director during the mid-1980s for Bradley's Office of Residential Life. After completing his master's degree in 1986, he was named director for the Center of Orientation, Testing and Advisement. After completing his Ph.D., he accepted a position to help start the newly formed health science major within the Department of Physical Therapy.
Rob lives just outside Peoria with his wife and three children. During many noon hours during the week Rob can be found playing racquetball at Bradley's Markin Center. Several weekends a month he plays bass guitar for a local band. He is also an active member of Holy Family Catholic Church.
Teaching
Rob teaches in many of the department's nonclinical areas. He teaches statistics/research methods at both the undergraduate and graduate levels, along with components of a teaching/learning and management course within the doctoral curriculum.
Scholarship
Rob's current research interests include pain perception and graduate student stress.
Service
Rob serves on a number of committees at the college and university levels. He has served as the college liaison to Bradley's Office of Undergraduate Admissions for many years. As a member of Holy Family Church he has served on numerous parish committees including: Education Commission, Parish Council, Home and School Association and the Heritage Days Festival Committee.