Stacie Bertram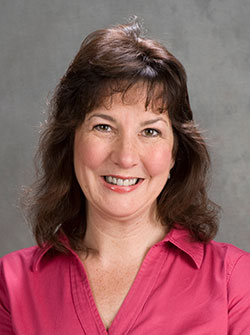 Assistant Professor
Olin Hall 343
(309) 677-3771
stacie@bradley.edu
Ph.D., Educational Administration, Illinois State University
M.S., Physical Therapy, University of Alabama at Birmingham
B.S., Psychology, Bradley University
Biography
As an undergraduate psychology major who took many basic science and math classes to fulfill my biology minor, I knew I wanted to work in healthcare. I was torn between continuing graduate school in psychology, attending medical school or pursuing physical therapy. My very wise undergraduate advisor suggested that I start shadowing clinicians in each of those areas to see where I felt I fit. I discovered that I loved the field of Physical Therapy and never looked back. After receiving my master's degree in PT, I worked in St. Louis and Peoria in outpatient and inpatient settings, taught part-time in the Illinois Central College Physical Therapist Assistant program and was fortunate to be the first faculty hired for Bradley's program in Physical Therapy. The Physical Therapy profession has treated me well, and I love it just as much now as when I first discovered it!
Teaching
KHS 210

Concepts in Personal Wellness and Fitness

KHS 320 Applied Physiology of Exercise

PT 630 Foundations of Physical Therapy

PT 666 The Research Process

PT 790 Cardiovascular, Pulmonary and Integumentary Physical Therapy

PT 810 Health and Wellness
PT 830 Physical Therapy Differential Diagnosis
PT 686, 716, 766, 816 Supervised Research I-IV
I thoroughly enjoy working side-by-side with students, engaging them in learning in meaningful, applicable ways. I especially love working with undergrads and first year PT studentsin my classes where they learn the beginnings of client/patient examination, evaluation and treatment. It is so much fun helping them begin to "put the pieces together" on their educational journey to becoming health care practitioners!
Scholarship
Most of my scholarship isin the area of women's health physical therapy. I am interested in factors that affect the diagnosis and treatment of the following: incontinence in women, osteoporosis, orthopedic issues and pregnancy related issues such as back pain and mobility. I am also interested in topics regarding physical therapist examination techniques and practices. I've authored and co-authored articles and presentations on these topics.
Service
On campus:
Chair of the PTHS Department Outcomes Assessment Committee

Chair of the PTHS Department Marketing and Alumni Relations

Committee

Member of Department Strategic Planning and Tenure and

Promotion

Committees

Faculty Advisor to Student Organizations: Wags for Mags Service Dog

Training Organization and Gamma Phi Beta Sorority
Off campus: ●
Member of the Board of Directors for the Maggie Bertram Foundation for

the Fine Arts

Volunteer

for Paws

Giving Independence Service Dog Training

Organization
Licensures and Certifications
Licensed Physical Therapist in the State of Illinois