Stacie Bertram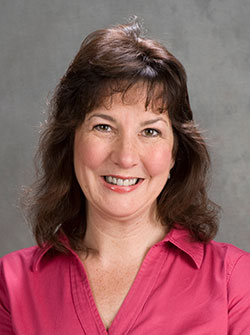 Assistant Professor
Olin Hall 343
(309) 677-3771
stacie@bradley.edu
Ph.D., Higher Education Administration from Illinois State University
MSPT from University of Alabama at Birmingham
B.S., from Bradley University
Biography
Stacie began her career in the department in 1991 as the first director of clinical education. She currently serves as a full-time faculty member with teaching responsibilities in both the physical therapy entry-level doctoral program and the kinesiology and health science program.
Stacie received a Bachelor of Science degree in psychology from Bradley University and a Master of Science degree in physical therapy from the University of Alabama at Birmingham. She received her Ph.D. in Educational Administrations and Foundations from Illinois State University. She loves spending time with her family and friends and her many pets. You'll find her performing in a local band, practicing guitar and photography, biking, training service dogs, gardening and traveling with her husband Rob when she's not in the classroom.
Teaching
Stacie's area of expertise is musculoskeletal physical therapy, particularly in the area of women's health. In the physical therapy doctoral program she teaches patient examination, differential diagnosis, wound examination, and intervention and electrotherapy. Stacie teaches exercise physiology in the undergraduate kinesiology and health science curriculum.
Scholarship
Stacie's research interests include topics in women's health and trends in physical therapy clinical practice. Current endeavors include research regarding pregnancy-related back pain and the use of maternity supports, the physical therapy management of osteoporosis, factors involved in urinary stress incontinence and physical therapist use of general health measures during patient examinations.
Service
Stacie serves on numerous committees at the college and university levels. She is a member of the American Physical Therapy Association and the Illinois Physical Therapy Association. She maintains professional memberships in the Orthopedic and Sports, Women's Health, and Clinical Electrophysiology and Wound Management sections of the American Physical Therapy Association. She is active in the community volunteering with Paws Giving Independence, a local organization that trains service dogs and as a founding member of The Maggie Bertram Foundation for the Fine Arts, a non-profit organization that funds fine arts activities for grade and high school aged children in the Central Illinois area.