Melissa Peterson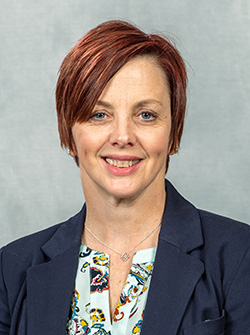 Department Chair, Professor of Physical Therapy
Olin Hall 349
(309) 677-3648
mpetersn@bradley.edu
Ph.D., Kinesiology from University of Illinois
MSHS University of Indianapolis
B.S., Physical Therapy from Bradley University
Biography
Melissa Peterson, PT, PhD, GCS, currently serves as a Professor in the Department of Physical Therapy. She has held this position since 2001. Dr. Peterson achieved Board Certification as a Geriatric Clinical Specialist in 2002.
Dr. Peterson resides in Eureka, IL, with her husband and three children, Olivia, Garrett, and Cooper. In her free time, she enjoys running, reading, and playing with her kids.
Teaching
Dr. Peterson teaches primarily in the Doctor of Physical Therapy program. Her teaching responsibilities include neurological physical therapy, human development across the lifespan, health and wellness, and research methods.
Scholarship
Dr. Peterson's research interests include women's health issues, including pregnancy-related back pain and the use of maternity supports, as well as physical therapy management of osteoporosis. She also studies gait in special populations, such as individuals following total joint replacement, older adult dancers, and individuals with Parkinson's disease. She serves as a reviewer for the Journal of Geriatric Physical Therapy.
Service
Dr. Peterson is involved with curriculum and regulation at the department and college level. She maintains professional membership in the Geriatrics and Neurology sections of the American Physical Therapy Association, including serving as secretary of the Bone Health Special Interest Group of the Geriatrics section. She is also a member of the Illinois Physical Therapy Association, where she serves on the editorial board of its publication, PT Priority.
Dr. Peterson currently practices physical therapy part-time for Professional Therapy Services in Peoria in the home health care division.