Melissa Peterson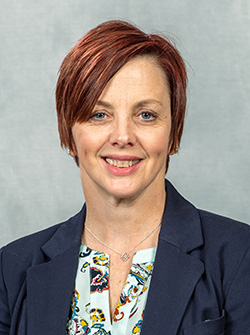 Department Chairperson, Professor
Olin Hall 349
(309) 677-3648
mpetersn@bradley.edu
Ph.D., Kinesiology from University of Illinois
MSHS, University of Indianapolis
B.S., Physical Therapy from Bradley University
Biography
Dr. Peterson received her BSPT degree from Bradley in 1995. She practiced in a variety of settings, including outpatient, long term care, and home health before returning to join the PTHS faculty in 2001.
Teaching
Dr. Peterson teaches in the undergraduate KHS program as well as in the DPT program. In the KHS major, she enjoys teaching KHS 345, Motor Control and Motor Learning, and KHS 380, Disability and Health in a Global Society. In the DPT program, she teaches the geriatric content in PT 670, Development Across the Lifespan and PT 830, Differential Diagnosis, as well as much of the research curriculum.
Scholarship
Dr. Peterson's research agenda focuses primarily around gait and balance in different patient populations, as well as public perception of physical therapists as resources for health and wellness. as well as Include topics, most important works, presentations, etc.
Service
In addition to serving as department chair, Dr. Peterson is active in service on campus as
a member of the
University
Strategic Planning Committee
as well as College Tenure and
Promotion and the Center for Research and Service Council.
She's provided pro
bono
physical therapy services on campus, in her community, and internationally.
Licensures and Certifications
Licensure/Certifications, if applicable

Licensed Physical Therapist

Geriatric Clinical Specialist Emeritus