Andrew Strubhar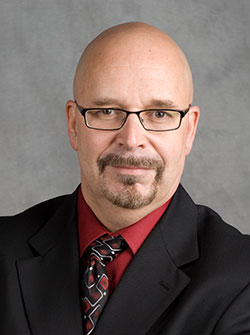 Associate Department Chairperson, Professor
Olin Hall 348
(309) 677-3489
ajs@bradley.edu
Ph.D., Higher Education Administration, Illinois State University, 2000
M.A., Human Service Administration, Bradley University, 1995
B.S., Physical Therapy, Northwestern University Medical School – Programs in Physical Therapy, 1982
B.S., Biology, Wheaton College, 1981
Biography
I developed a love of science, anatomy and neuroscience through my undergraduate degree in biology. This love combined with by desire to help people lead me physical therapy. After graduating from physical therapy school, I worked in a variety of settings including outpatient clinics, a pain clinic, acute care, home health and skilled nursing centers. I did some guest lecturing for the Illinois Central College and found that I loved teaching. I soon took a position as a fulltime instructor at ICC and 4 year later was hired at Bradley to teach Physical Therapy in the new program they were starting. While teaching full time I pursued a Masters and Doctoral degree. Though these degrees were not in my primary teaching area, I gained valuable knowledge and many research skills. Harkening back to my undergraduate days, I have gravitated to teaching anatomy, neuroscience. I of course, teach physical therapy skills. I have kept active in practice while teaching by working in long term care facilities and now in Bradley's pro bono clinic.
Teaching
KHS 3

45 Motor Control and Motor Learning

–

Introductory concepts and beginning

applications of motor behaviors in the context of motor control and motor learning.

PT 624 Gross Anatomy II. Gross anatomy and cadaver dissection of the

cardiopulmonary system, Gast

rointestinal system, genitourinary system and nervous

system

.

PT 655 Experiential Learning –Mentoring students as they work with clients in our Pro Bono clinic.

PT 662 Neurological Physical Therapy I. Applied neurological examination for clinical decision making and functional examination including gait and balance.

PT 680 Clinical Science II. Issues of medical physiology related the neuroscience and pharmacology.

PT 830 Differential Diagnosis. This is a case based cap-stone course wherestudents work though difficult patient cases. I teach the neuromuscular component.

PT 686, 716, 786, 816 Supervised research. Students are mentored through a research project.
PT The best thing about teaching is working with students, seeing then develop and become professionals. I am excited to be in class everyday with my students
Scholarship
My scholarly agenda is mostly concerned with measures of gait and balance and factors that affect the motor control of gait and balance, including motor control of those with and without neurological impairments. Three publications related to this area include:
Strubhar AJ, Tan P, Jarrett L, Peterson, M. Concurrent Validity of the VirtuSense®

Gait Analysis System for the Quantification of Spatial and Temporal Parameters of

Gait.

International Journal of Exercise Science,

11(1)934

-

940, 2018.

Strubhar AJ, Rapp B, Thomas D. Changes in Gait and Texting ability during

Progressively Difficult Gait Tasks.

International Journal of Exercise Science

10(5)743

-

753, 2017.

Strubhar AJ, Peterson M, Chestnut J, Whitthoft, J, Gaske, J, Schulte, H. The Effec

t of

Text Messaging on Reactive Balance Ability and the Temporal and Spatial

Characteristics of Gait in Unimpaired Individuals.

Gait and Posture

42 (2015) 580

-

583.
Three recent presentations related to my scholarship agenda
Strubhar A, Leguillon M, Brunton

, C. Reliability of Tandem Gait as an Outcome

Measure in Healthy Participants. (Poster presentation accepted for the IPTA

Revitalize Conference, Virtual: March 2022)

Strubhar AJ, Knight A, Wong A. Capturing Changes in Tandem Gait for individual with

Neu

rological impairment: A Case Series.

(

Poster

presentation accepted for the IPTA

Revitalize Conference. Virtual: March 2021).

Strubhar AJ, Prosek T, Miles E. Neurostatus changes in patient with multiple sclerosis

following an exercise program: A retrospecti

ve analysis. (

Poster

presentation

accepted for the IPTA Revitalize Conference. V

irtual: March 2021)
Service
On
-
campus service areas include: Chair of the Committee on the Use of Human Subjects
in Research, Associate Department Chair Physical Therapy and
Health Science, Graduate
Program Coordinator DPT Program, College of Education and Health Scien
ce Strategic
Planning Committee and working in the Department of Physical Therapy and Health Science Pro Bono Clinic
Off-campus service: Member Calvary Community Church Washington, IL -former deacon. Former School Board Member District 52 Washington, IL
Licensures and Certifications
Licensed Physical Therapist, State of Illinois