David Dominguese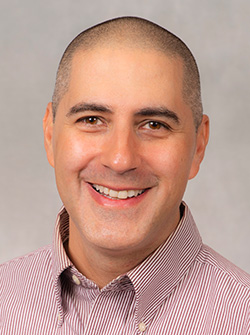 Biography
David J. Dominguese, PhD, MS, ATC, CSCS has worked in the academic and clinical setting since 1996 with focus areas in anatomy, biomechanics, orthopedic assessment, and teaching and learning theory and application.
Dr. Dominguese has worked as the director of anatomy and director of the gross anatomy laboratory at several universities and a hospital before his tenure at Bradley University. He was also a Visiting Scholar/Professor in Taiwan in 2012. He likes to spend his time with his family traveling, biking, and running.
Teaching
Dr. Dominguese will begin his academic appointment at Bradley University for the 2019-2020 school year where he will teach classes centering on Kinesiology, Functional Anatomy, and Teaching and Learning Applications.
Scholarship
Dr. Dominguese's research interest is on using technology tools for teaching and learning and investigating biomechanical and physiological factors to understand common orthopedic and sports medicine injuries. He has particular interest and expertise in using VR/AR technologies for teaching and learning.
Service
Dr. Dominguese likes to provide education opportunities to high school students and the community on medical education and STEM content. He has developed and provided many programs, workshops, and continuing education opportunities for students of all ages and background throughout the country and abroad.