Jamie Way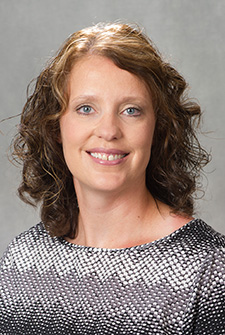 Biography
Jamie Way, PT, DPT is a licensed physical therapist in the state of Illinois. She currently serves as an Assistant Professor in the Department of Physical Therapy and Health Science. She has completed a certification in pelvic floor physical therapy.
Jamie and her husband, Chad, live near Knoxville with their three children. She enjoys watching her children play sports and spending time with her family and friends.
Teaching
At the graduate level, Assistant Professor Way is an instructor in Functional Anatomy and Professional Issues. At the undergraduate level, she is an instructor in Kinesiology and Introduction to Health Science.
Scholarship
Assistant Professor Way is just starting her PhD coursework at Northern Illinois University. Her research interests include pelvic floor physical therapy, caregiver fatigue and outcome measurements for a pro bono clinic.
Service
Jamie currently practices at OSF St Mary Medical Center in Galesburg, IL. She maintains professional membership in the American Physical Therapy Association, Illinois Physical Therapy Association and Section of Women's Health.