Jamie Way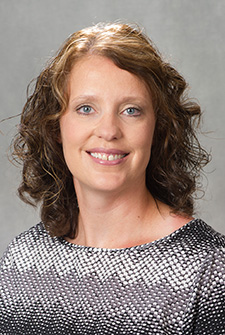 Assistant Professor in Residence
Olin Hall 347
(309) 677-4534
jway@bradley.edu
Ph.D., in Health Science ABD Northern Illinois University 2022
D.P.T., Bradley University 2008
B.H.S., Bradley University 2005
A.S., Physical Therapist Assistant Illinois Central College 2001
Biography
After completing the Doctorate of Physical Therapy degree in 2008, I began a career working in an outpatient setting treating orthopedics, pediatric, and pelvic floor patients. I received a certification in treatment of pelvic floor dysfunction through the American Physical Therapy Association (APTA) in 2012 and a certification in early intervention treating children birth to three years old through the state of Illinois.I began my teaching duties at Bradley University in 2017 following 16 years of clinical practice. I currently still practice as a physical therapist at OSF St. Mary Medical Center.
Teaching
Human Development Throughout the Lifespan

Physical Therapy Administration and Professional Issues

Introduction to Health Science

Measurement in Physical Activity
I teach courses in the Doctorate of Physical Therapy program and the undergraduate Health Science program. I love to see when students are able to take knowledge learned in the classroom and apply it during experiential learning activities.
Scholarship
"Medical Billing for Doctor of Physical Therapy Students"

-

Pro Bono Network

Conference 2020

Medical Billing and Coding for Doctor of Physical Therapy Students Across Two

Midwest Universities

-

Article (Work in

Progress)

Physical Therapists as Resources for Health and Wellness

-

Article (Work in Progress)

Impact of Physical Therapy on Caregiver Burden

-

Article (Work in Progress)

A Systematic Review to Examine the Relationship Between Race and Quality of Life

Outco

mes of Older Advance Heart Failure Patients Who Received Surgical Therapies

-

Article (Work in Progress)
Service
Department of Physical Therapy & Health Science Admissions Committee

Department of Physical Therapy & Health Science Student Academic Progress

Committee

Department of Physical Therapy & Health Science Curriculum Committee

Department of Physical Therapy & Health Science Marketing and Alumni Committee

Bradley University Senate

Executive

Committee Member

Knoxville High School Booster Club

Member

Works as a clinical physical therapist at OSF St. Mary Medical Center
Licensures and Certifications
Licensed Physical Therapist

-

Illinois

Pelvic Floor Certification

-

American Physical Therapy

Association

Early Intervention Certification

-

State of Illinois