Nancy Amos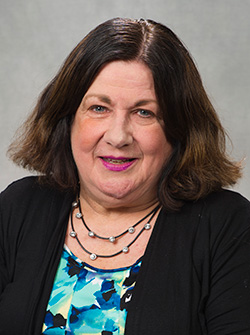 Assistant Professor of Social Work
Bradley Hall 105
(309) 677-3614
amos@bradley.edu
Ph.D. Candidate, Social Work, Case Western Reserve University
M.S.W., Clinical Social Work, George Warren Brown School of Social Work
Biography
Nancy has worked as a social worker for many years, primarily in child welfare. She has also taught at the University of Illinois College of Medicine and has worked with older adults. She taught at Bradley as a part-time instructor before joining the faculty full-time in 1998. Nancy is a Licensed Clinical Social Worker in the state of Illinois and a member of the Academy of Certified Social Workers. She has completed the training from the National Office of Victims Assistance and has been involved in providing crisis counseling in situations of school violence and national disasters.
Teaching
Nancy's primary responsibility at Bradley is the coordination of the Field Work Program. She teaches the Integrated Field Work seminar each semester. She also teaches Foundations of Practice, Work with Groups, and Child Welfare at times in the curriculum.
Scholarship
Nancy's dissertation topic is a study of postpartum depression in adolescent mothers. Her other research interests are depression in women, group process, social work education, and military veterans and their families.
Service
Nancy maintains a private clinical practice and she is a Clinical Consultant for the Veterans' Administration. She has presented papers at national and regional meetings and has also been an invited speaker to meetings at both levels. She has done training in topics such as conducting groups for many organizations including the Social Security Administration and the Veterans Administration.
Nancy is a current member of the Child and Family Advisory Committee for the Peoria City/County Health Department. She is a past Illinois state president of the National Association of Social Workers (NASW) and has served NASW as a district chair twice and a three-time delegate to the national delegate assembly. She is a past winner of the Social Worker of the Year for the Peoria District. She is a member of the Association for the Advancement of Social Work with Groups and the Baccalaureate Program Directors' Association as well as NASW and has served a number of other social work organizations in leadership positions.