Fae Chubin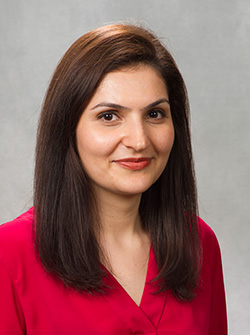 Assistant Professor of Sociology
Bradley Hall 103
(309) 677-4787
fbahreini@bradley.edu
Ph.D., Sociology, University of South Florida
M.A., Women's and Gender Studies, University of South Florida
B.A., Sociology, University of Tehran
Biography
Fae Chubin joined Bradley University in 2017 after completing her doctoral studies in Sociology at University of South Florida, where she had previously received her Master's degree in Women's and Gender Studies.
Dr. Chubin's research expertise includes gender, race, class, intersectionality, postcolonial feminism, globalization, transnational women's movements, and identity politics. Her research explores resistance and activism in the Middle East while focusing on the experiences of globally marginalized women. She is a qualitative researcher and has conducted international ethnographic studies.
Teaching
Dr. Chubin has taught a variety of courses on topics that explore social problems and social activism in both Western and non-Western societies. These courses include gender and social movements; gender and society, Middle Eastern societies, sociology of families, sociology of globalization, social problems, and introduction to sociology.
Scholarship
Dr. Chubin's research focuses on the reproduction of neocolonial discourses within Western-oriented women's empowerment initiatives that aim to empower marginalized Middle Eastern women. Her research explores the gender, class and ethnic dimensions of advocacy practices, and the ways by which local, national and global relations of power define and limit the parameters of identity politics in postcolonial contexts such as Iran. She also studies U.S.'s racialized "war on terror" and its relation to the racial ideologies that define non-white immigrants as threats to national security.
Service
Dr. Chubin serves as the faculty advisor for Sociology Club. She also serves on the Women's and Gender Studies Committee.