Carmen Keist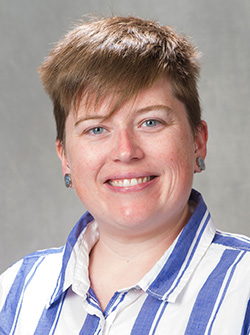 Associate Professor
Westlake Hall 245
(309) 677-3202
ckeist@fsmail.bradley.edu
Ph.D., Apparel Merchandising and Design, Iowa State University
M.S., Textiles and Clothing, Iowa State University
B.A., Family and Consumer Sciences: Apparel Merchandising and Design, Illinois State University
Biography
Prior to working at Bradley University, Dr. Keist worked and received tenure from Western Illinois University. She earned her Doctorate from Iowa State University where she worked as a Graduate Assistant in the Textiles and Clothing Museum on campus. Before starting at Iowa State University, she interned at The McLean County Museum of History in Bloomington, Illinois.
Teaching
Dr. Keist teaches classes in retail merchandising. Her specialties include fashion history, textiles, and apparel product development.
Scholarship
Her research interests include 20th century dress history specifically exploring plus sized women's ready-to-wear fashions.
Service
Dr. Keist is actively involved in the Costume Society of America. She is currently the President of the Midwestern Region and Vice President of Internal Relations on the National Board.