Jessica Nigg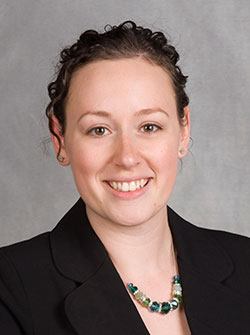 Director of Didactic Program in Dietetics, Assistant Professor
Westlake Hall 235
(309) 677-3737
jnigg@bradley.edu
PhD, Hospitality Management, Iowa State University
M.S., Family and Consumer Sciences - Dietetics, Eastern Illinois University
B.S., Family and Consumer Sciences - Dietetics, Eastern Illinois University
Biography
Jessica Nigg is a Registered Dietitian (RD) with previous work experience in long-term care. She joined the FCS department in 2013. She is the director of the Didactic Program in Dietetics.
Teaching
Dr. Nigg teaches a variety of courses in dietetics and the FCS core curriculum. Courses include Food & World Culture, Medical Nutrition Therapy, Consumer Issues, and Food Resource Management.
Scholarship
Dr. Nigg's research interests include the intersection of hospitality and healthcare, older adult nutrition, long-term care foodservice, and food preparation skills.
Nigg, J.K & Arendt, S. W. (2020). Hospitality and tourism research from an FCS perspective: A 10-year review. Journal of Family & Consumer Sciences, 112(2), 7-16. doi: 10.14307/JFCS112.2.7.
Nigg, J. K., Vollmer, R., Drake, T. (2021). "It just feels like I'm a kid back at home, with dinner made for me and the snack cabinet full": College Students' Reflections on Food-related Experiences during the Pandemic. Journal of Family & Consumer Sciences, 113(3), 44-52. doi: 10.14307/JFCS113.3.44
Service
She has held leadership positions in both the Central Illinois and Illinois Academy of Nutrition & Dietetics.
She is the faculty advisor for the Dietetic Student Association and serves on departmental committees.