What's on Stage?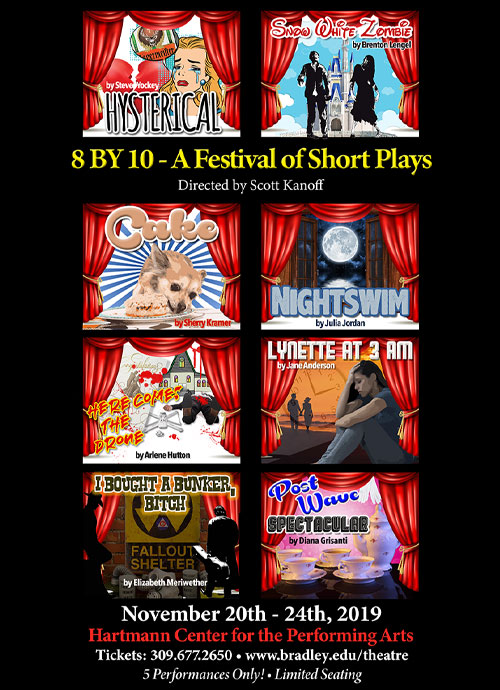 Upcoming: 8 BY 10
Directed by Scott Kanoff
November 20 - 25, 2019
Thursday-Saturday 7:30 pm, Sunday 2:00 pm
The Hartmann Center for the Performing Arts
1423 St. James, Peoria, IL 61625
"The ten-minute play has become a rite of passage for young playwrights and remained a challenging vehicle for experienced dramatists, too," notes Theatre Arts chair and BU Theatre artistic director, Scott Kanoff, who directs the production. "This is a curated selection of eight plays, representing some of the best short-form dramatic writing in the country," Performed and designed by an ensemble of new and seasoned BU theatre students, these entertaining plays address a dizzying range of love-related scenarios, including the travails of the amorously addicted, battle-weary Prince Charming of Brenton Lengel's Snow White Zombie; the path to revenge forged by trio of women jilted by the same clueless cad in Diana Grisanti's Post Wave Spectacular; and the surprising epiphany of a bride whose wedding has been ruined by an unintended high-tech intrusion in Arlene Hutton's Here Comes the Drone.
Buy Tickets
Coming Soon
The Wolves
by Sarah DeLappe
February 27 - March 8, 2020
Thursday-Saturday 7:30 pm, Sunday 2:00 pm
A Pulitzer Prize finalist, this exhilarating play is perfectly timed to honor the recent World Cup victory by the U.S. Women's Soccer team. Between matches, the members of a teen girls' soccer club warm up, cool down, stretch, lunge, and reach, to navigate life as young women warriors. Outrageous dialogue, razor-sharp characterizations, and deep insight distinguish this acclaimed play. A dynamic, all-female cast is led by visiting director, Ginna Hoben.
A Midsummer Night's Dream
by William Shakespeare
April 23 - May 3, 2020
Wednesday-Saturday 7:30 pm, Sunday 2:00 pm
One of the most transcendent plays of all time, in a sparkling new production from director Dan Matisa (Picnic; Sense and Sensibility). Passionate young lovers lost in an Athenian forest; mistaken identity and colossal practical jokes; Faerie royalty and the side-splitting Mechanicals (the original community theater troupe); and, of course, Robin Goodfellow, a.k.a. Puck, presiding over the joy and mayhem. Plus, weddings!