What's on Stage?
Health and Safety Notice to Patrons
BRADLEY UNIVERSITY THEATRE is thrilled to welcome you back to the Hartmann Center for our live theatre productions. In accordance with the latest State of Illinois and Bradley University Covid-19 directives, all audience members are required to wear masks inside the Hartmann Center and its theatre spaces. We appreciate your cooperation.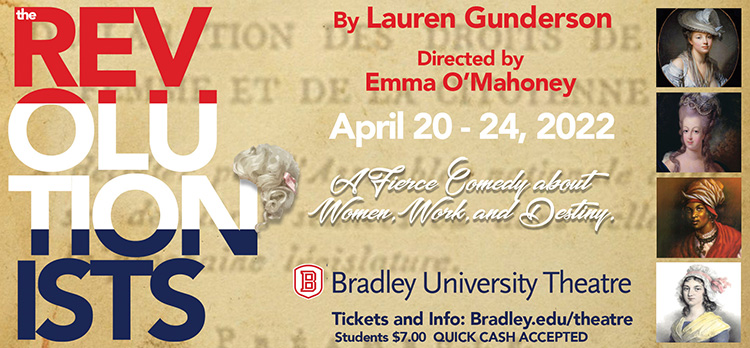 THE REVOLUTIONISTS
By Lauren Gunderson
Directed by Emma O'Mahoney, BU '22
Performances April 20-24, 2022
Four badass women lose their heads in this irreverent, surreal comedy from Lauren Gunderson, one of the most produced playwrights in America (and author of BU Theatre's 2019 Silent Sky). During the French Revolution's Reign of Terror. playwright Olympe de Gouges, assassin Charlotte Corday, former queen (and fan of ribbons) Marie Antoinette, and Haitian rebel Marianne Angelle, hang out, try to beat back the extremist insanity of 1793 Paris, and fulfill their destinies. This fever dream of a play is about violence and legacy, art and activism, feminism and terrorism, compatriots and chosen sisters, and how we go about changing the world. It's all true. Or total fiction. Or a play about a play. Or a raucous resurrection. You decide.
Buy Tickets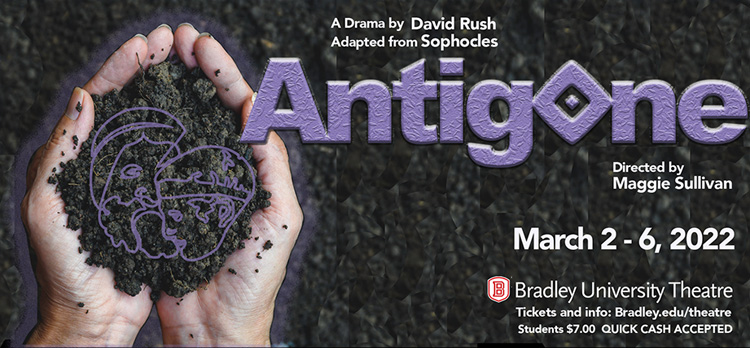 ANTIGONE
By Sophocles
Directed by Maggie Sullivan, BU '22
Performances March 2-6, 2022
A dynamic contemporary take on the final play of Sophocles' Theban trilogy. Following the civil war in which her brothers killed each other, Antigone, daughter of Oedipus, insists on burying her slain sibling Polynices according to divine law. But the new king, her uncle Creon, has forbidden the burial of this rebel, and Antigone's knowing violation of his order sets in motion a chain of inevitabilities pitting sister against sister, son against father, wife against husband, and civil law against the demands of the gods. A pillar of the Western tradition, this timeless play poses questions about individual responsibility, the common good, the nature of power, the rights of women, and the bonds of blood.
Buy Tickets
OUR TOWN
by Thornton Wilder
Directed by Scott Kanoff
Performances Wed-Sun, November 3 - 7, 2021
Bradley Theatre returns to the stage with one of the great American plays, from 3-time Pulitzer Prize winning playwright and novelist Thornton Wilder. Boldly experimental when first produced in 1938, it has remained in production, somewhere in the world, every day since. As astute, emotionally resonant and theatrical as ever, it depicts and celebrates daily life in a small New Hampshire town, in order to ask the most fundamental questions of human existence: Why are we here? How do we live, love, and make community? And, in the vastness of the cosmos, what about us is eternal? In our volatile national climate, as we cautiously emerge from the grip of Covid-19, Our Town offers a timely, and sometimes tough, reminder of all that we share.