What's on Stage? The 2022-2023 Season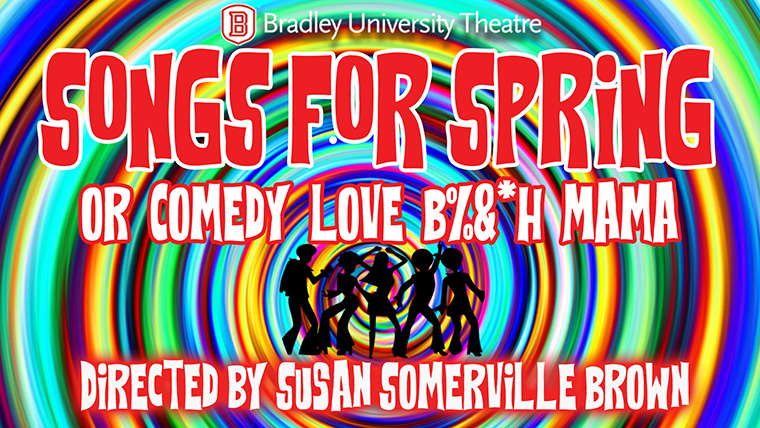 Songs For Spring
Performances April 27 – 30, 2023
A wacky, touching cabaret of songs from all over the musical theatre canon, featuring numbers from hit shows and films old and new, including Singin' In The Rain, Spring Awakening, A Funny Thing Happened on the Way to the Forum, The Secret Garden, Purple Rain, The Fantasticks, In the Heights, The Muppet Movie, and more.

A seasonal treat for all, devised by Peoria favorite, Susan Somerville Brown, in collaboration with 12 dynamic Bradley performers.
Buy Tickets
The Mousetrap
by Agatha Christie
Performances April 12 – 16, 2023
The mother of all murder mysteries and the longest running play of all time- still going strong in the UK after 70 years! As news spreads of a murder in London, a group of strangers find themselves snowed in at a stately countryside guest house. A police sergeant arrives and informs the guests, to their horror, that a killer is in their midst. Who is the murderer? And who will be the next victim? The original stage mystery that started an entire genre.
Buy Tickets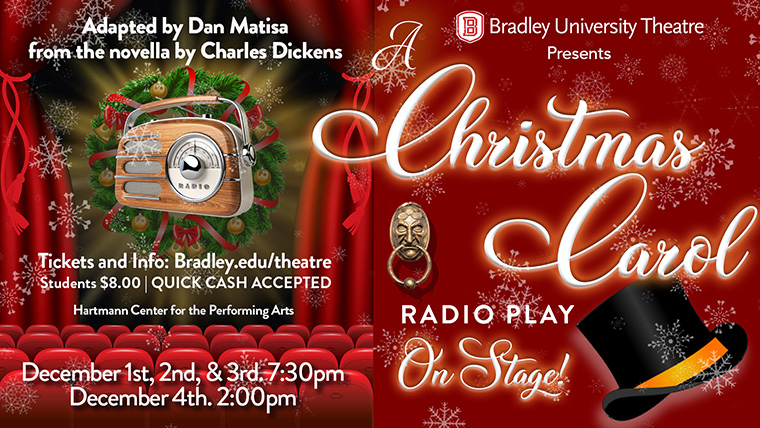 A Christmas Carol Radio Play – Onstage!
Adapted by Dan Matisa
Performances December 1 – 4, 2022
A Peoria radio tradition since 2019, Dan Matisa's sparkling, family-friendly adaptation of the Dickens classic turns the Hartmann stage into a live broadcast studio, with delightful music and Foley sound effects, nimble actors in multiple roles, and treasured characters Scrooge, Marley, Bob and the Cratchits, those Christmas spirits, and of course the beloved Tiny Tim. A new holiday experience for the community!
Buy Tickets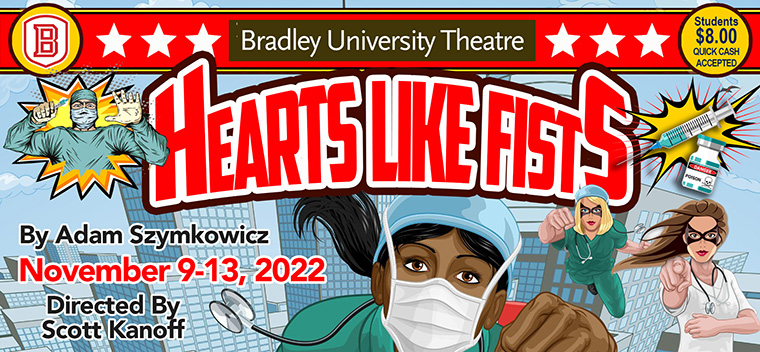 Hearts Like Fists
Adam Szymkowicz
Performances November 9 – 13, 2022
The city's heart beats with fear, as the evil Doctor X sneaks into apartments to inject sleeping lovers with lethal poison. Can Sally, Jasmine, and Nina – nurses by day, superheroes by night– stop him? Can former heartbreaker, Lisa, find a life of meaning as a crime stopper? And, can the tormented surgeon, Peter, ever repair his own wounded heart? An acrobatic adventure that's part film noir, part comic book, and all romance.
Buy Tickets
Voices From Ukraine
Performances September 16 & 17, 2022
7:30 p.m.
Admission Free. No ticket required.
BU Theatre joins some 200 theatres worldwide to present readings of plays by Ukrainian dramatists - written during the ongoing invasion of their country. This is art of the utmost immediacy, presented free of charge as a benefit supporting relief efforts for displaced Ukrainian civilians. Audience members wishing to donate will be guided to a selection of approved relief organizations.
Health and Safety Notice to Patrons
BRADLEY UNIVERSITY THEATRE is thrilled to welcome you to the Hartmann Center for our live theatre productions. In order to best protect the health of our patrons, performers, students and staff, we strongly recommend that all audience members wear masks inside the Hartmann Center and its theatre spaces. We appreciate your cooperation.