What's on Stage?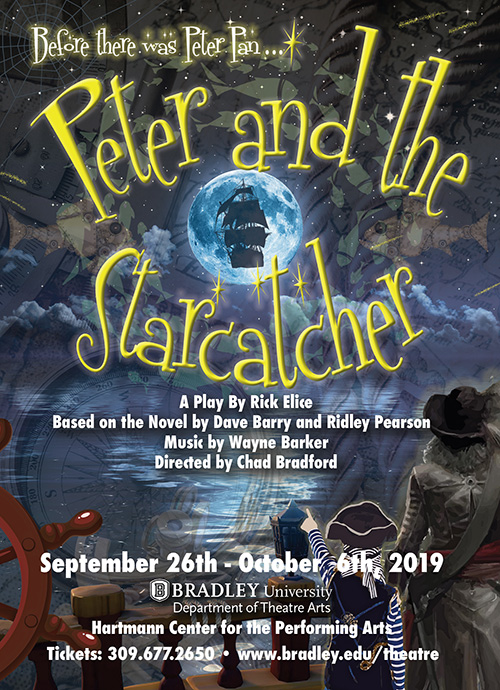 Upcoming: Peter and the Starcatcher
By Rick Elice; Music by Wayne Barker
September 26 - October 6, 2019
Thursday-Saturday 7:30 pm, Sunday 2:00 pm
The Hartmann Center for the Performing Arts
1423 St. James, Peoria, IL 61625
This Tony-Award-winning "prequel" to Peter Pan is a high-energy voyage of music, magic, and spellbinding theater. On a sea journey to the land of Rundoon, a fearless young girl joins forces with an orphan boy and his friends to protect a powerful secret from the dastardly (and very Hook-like) pirate, Black Stache. Singing mermaids, evil crustaceans, a ship called The Neverland, and a mysterious substance called Starstuff spark this acclaimed musical play, directed and choreographed by returning guest artist Chad Bradford (Little Women).
Buy Tickets
Coming Soon
Eight by Ten: A Festival of Short Plays
November 20-24, 2019
Wednesday-Saturday 7:30 pm, Sunday 2:00 pm
Five performances only.
The ten-minute play has become a rite of passage for young playwrights, and this curated evening offers eight of the best from some of America's most ingenious masters of the form. Performed and produced by an ensemble of Bradley's newest theater students, these entertaining, short pieces offer whimsy, suspense, insight, and surprising depth.
The Wolves
by Sarah DeLappe
February 27 - March 8, 2020
Thursday-Saturday 7:30 pm, Sunday 2:00 pm
A Pulitzer Prize finalist, this exhilarating play is perfectly timed to honor the recent World Cup victory by the U.S. Women's Soccer team. Between matches, the members of a teen girls' soccer club warm up, cool down, stretch, lunge, and reach, to navigate life as young women warriors. Outrageous dialogue, razor-sharp characterizations, and deep insight distinguish this acclaimed play. Guest director Quetta Carpenter (University of Texas; Illinois Shakespeare Festival) joins us.
A Midsummer Night's Dream
by William Shakespeare
April 23 - May 3, 2020
Wednesday-Saturday 7:30 pm, Sunday 2:00 pm
One of the most transcendent plays of all time, in a sparkling new production from director Dan Matisa (Picnic; Sense and Sensibility). Passionate young lovers lost in an Athenian forest; mistaken identity and colossal practical jokes; Faerie royalty and the side-splitting Mechanicals (the original community theater troupe); and, of course, Robin Goodfellow, a.k.a. Puck, presiding over the joy and mayhem. Plus, weddings!