Deborah Kessler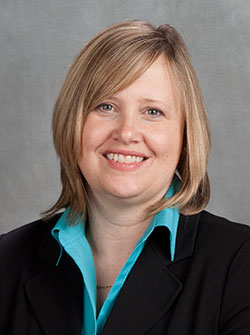 Assistant Professor of Spanish
Bradley Hall 303
(309) 677-2483
dkessler@bradley.edu
Ph.D., Hispanic Languages and Literatures, University of Pittsburgh
M.A., Spanish, Middlebury College
B.A., Spanish, Bloomsburg University of Pennsylvania
Teaching
Dr. Kessler has been teaching Spanish for over 20 years at different institutions. She has taught a variety of courses including elementary Spanish, intermediate Spanish, conversation, composition, introduction to Hispanic literature, Spanish civilization, Latin American civilization, foreign language methodology and business Spanish. In addition to teaching at the university level, Dr. Kessler also has experience in teaching Spanish in elementary schools and in supervising student teachers of Spanish. Currently, Dr. Kessler advises all of the Spanish secondary education majors.
Scholarship
Dr. Kessler earned her doctorate in Spanish Applied Linguistics and Methodology from the University of Pittsburgh in 1995. Other areas of extensive study and interest include 20th Century Latin American literature, sociolinguistics, FLES and secondary education teacher preparation. Her most recent paper was entitled Second Language Acquisition in the Age of Globalization and was presented at the annual meeting of the Global Awareness Society International in Seoul, Korea.
Service
Dr. Kessler founded the Mesa Hispánica and holds weekly meetings in the Student Center for students to practice conversational Spanish. She has led Bradley University students to Querétaro, Mexico, for summer study abroad. Dr. Kessler also serves on the Sherry Endowment for Collaborative Student/Faculty Projects Committee and the PAFIS (Peoria Area Friends of International Students) board. Currently, she is also serving a three-year term as the Regional Director of the Illinois Council on the Teaching of Foreign Languages. In addition, Dr. Kessler provides translation services. Most recently she has translated for the Tazewell County Health Department and the Global Awareness Society International.