Andrea Botero-Moriarty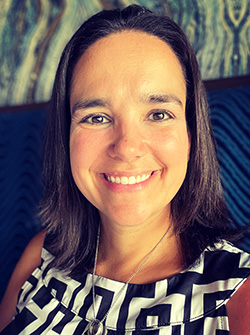 Affiliate Faculty of Spanish
Bradley Hall 313
(309) 677-4105
aboteromoriarty@bradley.edu
M.A., Hispanic Linguistics, University of Illinois at Chicago (UIC)
B.A., Health Sciences and Spanish, Benedictine University
Teaching
Andrea has been teaching for over 10 years and has enjoyed doing so at multiple proficiency levels. From introductory lessons for "mommy and me", into the elementary and high school classrooms, and all the way to college students and adult learners. She also had the opportunity to teach English to our local Hispanic baseball players with the Peoria Chiefs.
At the college level, she has taught elementary and intermediate Spanish classes as well as advanced conversation and basic writing in hybrid and online only models. She designed a Spanish for Medical class.
She is excited to reunite with the Bradley World Language department this academic year.
Scholarship
Andrea had the opportunity to present her published Master Thesis, "Simultaneous attention to form and meaning in written second language input" at the Second Language Research Forum Conference (SLRF), and at the Bilingualism Forum at UIC.
As an active member of the Illinois Council for the Teaching of Foreign Languages, Andrea has also been a conference presenter multiple years. Other invited talks include sessions in raising bilingual children and methodologies for language teaching.
Service
She dedicates her spare time to associations like ICTFL where she serves as co-direction for our region. Translation services are also a field that she enjoys and has worked in helping local fair housing projects. Other interests include helping with course development at the college and elementary levels.
In the non-academic world, Andrea loves coaching soccer and being outside with her family and friends.