Sandra Keller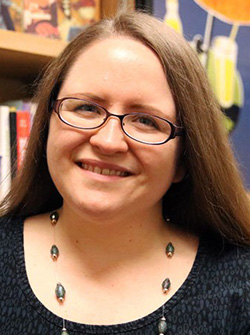 Affiliate Faculty of Linguistics
Bradley Hall
slkeller@bradley.edu
Ph.D., Linguistics, University of South Carolina
M.A., French, University of South Carolina
B.A., Psychology and French, Rhodes College
Teaching
Dr. Keller is joining Bradley for the Spring 2022 semester from Illinois State University, where she is Instructional Assistant Professor of French in the department of Languages, Literatures and Cultures. At her current and previous institutions, Dr. Keller has taught general linguistics and sociolinguistics courses; French linguistics courses; and French language and culture courses.
Scholarship
Dr. Keller is a sociolinguist who studies the relationship between language ideologies, verbal art, and everyday meaning-making. She has conducted ethnographic fieldwork in Brittany, France, working with performers, advocates, teachers and learners of Gallo, a minority Romance language spoken in the region. She explores the discursive and symbolic strategies through which Gallo users in the classroom, on stage and in everyday conversation make the case for Gallo as a language – and as a rich source of identity and belonging – in contrast to its popular perception as "deformed French." Other areas of interest are French linguistics, intersectional identities in contemporary France, discourse analysis, and narrative.
Selected Publications
Keller, Sandra. (2021). "'I Didn't Know It Was a Language Back Then': The Ideological Value of Recognition among Gallo Advocates in Brittany." In Netta Avineri and Jesse O. Harasta, eds.,

Metalinguistic Communities: Case Studies of Agency, Ideology, and Symbolic Uses of Language

. Palgrave Macmillan. Pp. 183-203.

Eagle, Clarissa, and Sandra Keller. (2020). "Marianne Repensée: Femmes, Culture, Rupture et Représentations." In Michel Gueldry and Armelle Crouzières-Ingenthron, eds., La France Contemporaine : Unité et Diversités, Polarisations et Solidarités. French Review Book Series, AATF Press. Pp. 31-64.
Keller, Sandra. (2019). "The Semiotics of Gallo Dictionaries: Indexing Modern Localness and Distributing Epistemic Authority in Minority Language Advocacy." Journal of Linguistic Anthropology 29(1): 95-118.
Service
Beyond department and university work, Dr. Keller regularly volunteers as a French-English translator for a nonprofit immigration law firm located in Central Illinois.