Tazio Grivetti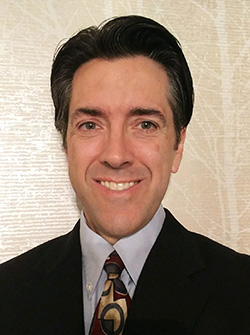 Biography
Tazio Grivetti is an instructor focusing on lean innovation, rapid prototyping and entrepreneurship, teaching his first class at Bradley in 2019. He is a 25-year veteran at Caterpillar, currently serving as the Emerging Technology Program Leader. In this role, he seeks out new innovations and technologies that might be of interest to Caterpillar, establishing connections with over 300 entities since 2014. His connection to Bradley started before teaching in 2019; For years he was the corporate 6 Sigma instructor and coach for the annual Caterpillar/Bradley 6 Sigma Case Competition. In prior roles at Caterpillar he was a 6 Sigma Master Black Belt in both DMAIC (existing processes) and DMEDI (new processes). He was the first Innovation Manager for the Electric Power Division, as well as the only Innovation Viability Manager for the Analytics & Innovation Division. In this role he personally trained over 400 colleagues in the Adobe Kickbox innovation methodology.
Though the course of his time at Caterpillar studying the process of innovation, the completed the Stanford University Startup Garage, the Berkeley (Haas School of Business) Innovation Accelerator, the Deloitte Doblin (10 Types) innovation process, The Innovator's Accelerator™ process, and the Innovator's DNA™ process. All of these experiences helped him and a group of colleagues to synthesize the Caterpillar Lean Innovation process, which he coaches teams on today. Tazio also is one of Caterpillar's primary collegiate capstone project mentors, interacting yearly with teams from Georgia Tech, University of Illinois, University of Michigan, and Virginia Tech – in addition to Bradley University.
In the engineering and product development space, Tazio was the Senior Engineering Supervisor for Intake & Exhaust Components in Caterpillar's Large Power Systems Division. He and his team developed new systems for the Tier 4 emissions engines, ranging from the smallest inline 6 cylinder engines, to the largest (4000 HP) engines. Tazio is also a prolific innovator, submitting over 100 inventions to Caterpillar's legal department for consideration to patent. Over two dozen patents filed, with 10+ granted to date. He also holds an Airline Transport Pilot's license, and is a graduate of Lewis University where he studied both business and aviation.
Tazio has been a member of the board of directors for the Pearce Community Center of Chillicothe for 6 years. He is a 20+ year member of the Knights of Columbus. He is a 20+year volunteer at St. Edward School, serving on the Education Commission, 16 years on the Auction Committee including 5 years as chairman. Sport coaching has included basketball and soccer. Tazio is married to Katie, who teaches kindergarten at St. Edward. They have 5 children, Gino (Quincy University 2018), Maria (Bradley University 2020), Giorgio (ICC 2021), Marco (ICC 2022) and Angelina.