Social Impact Challenge
The Turner School of Entrepreneurship and Innovation's "Social Impact Challenge" is a competition where Bradley University students are challenged to create innovative ideas for sustainable projects that will produce a positive impact on the well-being of communities, families, or individuals.
Social impact ideas can influence either the non-profit or for-profit organizations. Many non-profit entities choose to focus their efforts on solving the world's most pressing issues, while others may dedicate their efforts exclusively to a local challenge. Those with a for-profit organization may decide that by operating in a socially conscious manner, they can still do financially well.
Attend one of these informational sessions to learn how to best prepare for the Social Impact Challenge. All sessions will be held on the second floor of the Library, in The Idea Factory, room #229.
Thursday, September 29, 2022 from 1:00 p.m. to 4:00 p.m.
Wednesday, October 5, 2022 from 11:00 a.m. to 2:00 p.m.
Other information provided by appointment with The Turner School staff: mhashimoto2@bradley.edu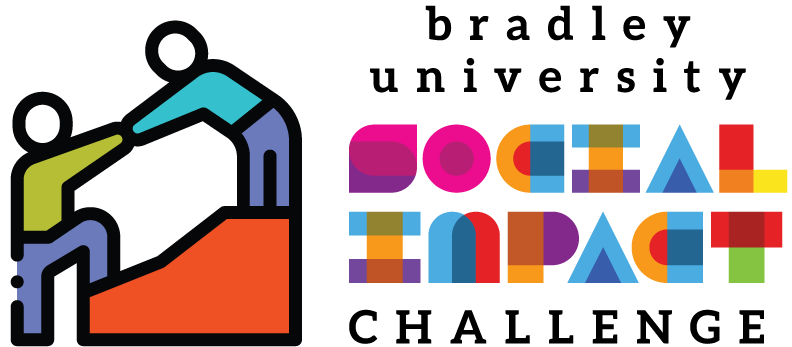 submit your social impact plan here
Final Event
November 7, 2022
4:00 - 6:00 p.m.
Michel Student Center Ballroom on the 2nd Floor
Competition Rules and Eligibility
Teams must comply with the following criteria to be eligible for the competition:
The Social Impact Challenge is limited to teams that include active Bradley University students or alumni as define below:

Bradley University students enrolled either full-time or part-time in degree programs.
Bradley University alumni who have graduated within one year of the deadline for the Preliminary Round.
Describe the problem or challenge as it relates to one of the 17 goals in sustainable development https://sdgs.un.org/goals.
Explain and identify the intended social impact of the solution.

Non-students are allowed as team members, if at least one qualifying Bradley University student or alum on the team.
The team's (minimum of three) professional idea/plan must be developed during the current school year and the Bradley University student/alumnus must have played a major role in creating it. It must include the following:

indicate how the social impact will be measured and evaluated
provide details on how the solution will be implemented and sustained

Working with outside entrepreneurs with existing business/business ideas is permissible, but as noted in #3 above, the student/alumnus must write the business plan if selected as a finalist.
It is acceptable for a competitor to already have earned revenue, however the total company revenues cannot exceed $100k as of the date of the First Round.
In the Final Presentation Round of the competition, only Bradley University students or alumni will be allowed to present.
The Social Impact Challenge reserves the right to make the final determination of the appropriateness of submitted business plans. Not all prizes may be awarded depending on the quality of submissions.
How To Compete in the Social Impact Challenge?
The competition will proceed in a 2-round fashion. For consideration, all submissions must relate to one of the 17 goals in sustainable development https://sdgs.un.org/goals
Preliminary Round:
Competitors submit a 5-page paper (cover page, five-page professional plan, up to six pages of appendix – financial, etc. for a total of 12 pages) describing their idea and addressing a sustainable plan as described in the above. A template will be provided at the information sessions. A panel of judges will score the papers, with the top competitors (7 maximum) advancing to the Final Round. Paper submission deadline: Midnight Sunday, October 16, 2022.
Final Round:
Competitors provide a 10-minute presentation to judges. The scores of the judge panel comprise 70% of the total score, while audience scores provide the remaining 30%. Presentation Date: November 7, 2022.
Prize Package
Cash and in-kind prizes totaling up to $10,000 will be awarded to the top three competitors. Certain restrictions apply.
The 2022 Social Impact Challenge is made possible in part by generous financial support from the Kevin and Lisa Schoeplein Family.
How to Enter
To enter the competition, simply click the APPLY NOW button on this page. You will be submitting a summary of your idea (5-page maximum).
Assistance
To prepare the competitors, mentoring, coaching and application support will be provided throughout the competition and afterwards as well to help students launch their organizations. Watch for upcoming meetings on how to prepare your professional paper, practice sessions on preparing your pitch, and more.
Confidentiality
The Turner School considers all submitted ideas as confidential and treats all team matters as such. Due to the nature of the competition, we cannot guarantee complete confidentiality for proprietary matters. Bradley University, the Turner School of Entrepreneurship and Innovation, and the organizers of the competition are not responsible for any proprietary information and/or intellectual property included in a competition idea or submitted plan. Ultimately, protection of sensitive materials (such as: intellectual property, copyright, or patent confidentiality) is the sole responsibility of the competitors participating. Non-Disclosure Agreements will not be signed by judges, mentors, or any Bradley University staff associated with the competition.
Financial Aid
Students can receive financial aid up to a Budgeted Cost of Attendance (COA), which is the estimated cost to attend Bradley University, including tuition and fees, books and supplies, living expenses, transportation costs, and miscellaneous expenses. Please be aware that if this award exceeds your COA, it may cause other previously issued aid such as loans to be reduced. If aid is impacted by this award, distribution of the award can be delayed until the conclusion of the semester. All awards are taxable to the individual recipients.
For information call (309) 677-3890.