The 54-year plan: Septuagenarian gets his degree
Standing in front of a class of 20-somethings last fall, Marty Suppo opened the floor to questions.
"What are you afraid of?" a student asked him. The question was a surprise for Suppo, 75, whose appearance in class was his final project in Associate Professor Dawn Roberts' Personality and Adjustment class — a project half a century in the making.
"I told them, "Basically, nothing. Use fear to your advantage,'" Suppo recalled. ""Don't be afraid of anything. Feel the fear and move through it. Have fun; enjoy the ride.'"
In a way, as a fellow undergraduate at Bradley, Suppo was their classmate, their peer. But his journey to a college degree was long and winding.
"I was on the 54-year plan," he joked.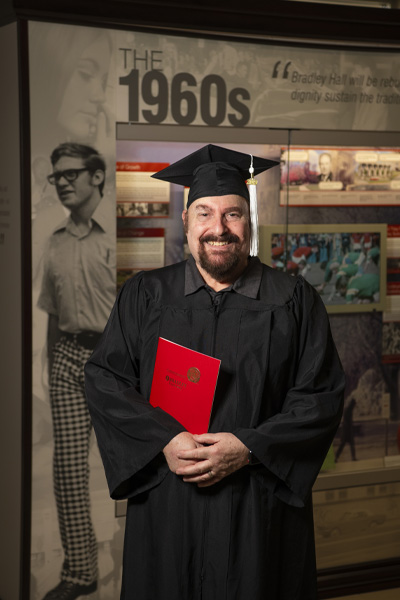 Suppo attended Bradley in the mid-1960s, but left just short of completing his degree because of a programming conflict. Newly married, he returned to Chicago to work for his father. He and his wife, Aviva, soon started a family, which grew to include four children and three grandchildren.
But throughout a long and varied career — he still works full time as a metallurgist, analytical and research chemist — Suppo never forgot Bradley. His time on campus included civil rights marches and reaction to the assassination of President John F. Kennedy. He also witnessed the fire that destroyed Bradley Hall on a frigid night in 1963.
With these indelible memories, Suppo yearned to finish his degree.
So, in the spring of 2018, he connected with Tim Koeltzow, department chair and associate professor of psychology. "I told Tim, 'I've wanted to go back all this time,'" Suppo said. "He was such a sweetheart. He told me, 'You're on probation. Get all As.'"
Koeltzow shepherded Suppo through, letting him enroll in one of his courses and directing him to classes with Roberts and Caterpillar Professor Allen Huffcutt.
Suppo is endlessly grateful for the relationships he forged with the three professors.
"They gave me the opportunity to fulfill my dream," he said. "If it weren't for Tim and Dawn and Allen, I wouldn't have had the chance."
"I don't need the degree at my age. But I've always said if you make a goal, complete it."
"He worked so long for this," noted Suppo's wife Aviva. "He tried so hard."
Suppo encourages others who were short of completing college to give it a try. "These professors went above and beyond. Bradley is willing to work with those who want to come back."
Koeltzow said he and colleagues in the psychology department learned from the experience, too. "I think this affirms the opportunity to make coursework more available to adult learners. Dr. Huffcutt's course was already available for online learning, but the others weren't.
"However, adult learners are different from typical undergraduates. We provided Marty with the learning objectives for the courses and gave him a structure and feedback. We didn't also have to motivate or cajole him. Our experience with Marty is proof that we can embrace adult learners without having to invent a whole new learning model."
Several members of Suppo's family — three generations — traveled to Peoria from all over the country for spring commencement.
"How many grandchildren can say they went to their grandparent's college graduation?" he said.