UPDATE 6/10/19: The American Forensics Association (AFA) has disqualified one of Bradley's Duo Interpretation speeches from the national tournament held in April. In question was a rule violation that prohibits student participants from editing a script. The ruling puts Bradley two points shy of first place. Bradley is returning the first place trophy to the AFA and accepts its second place finish.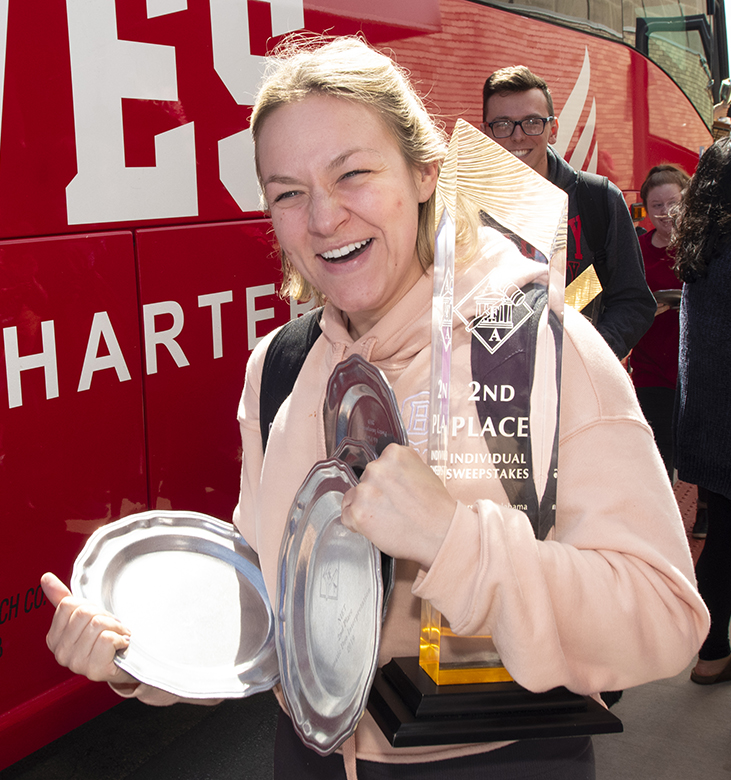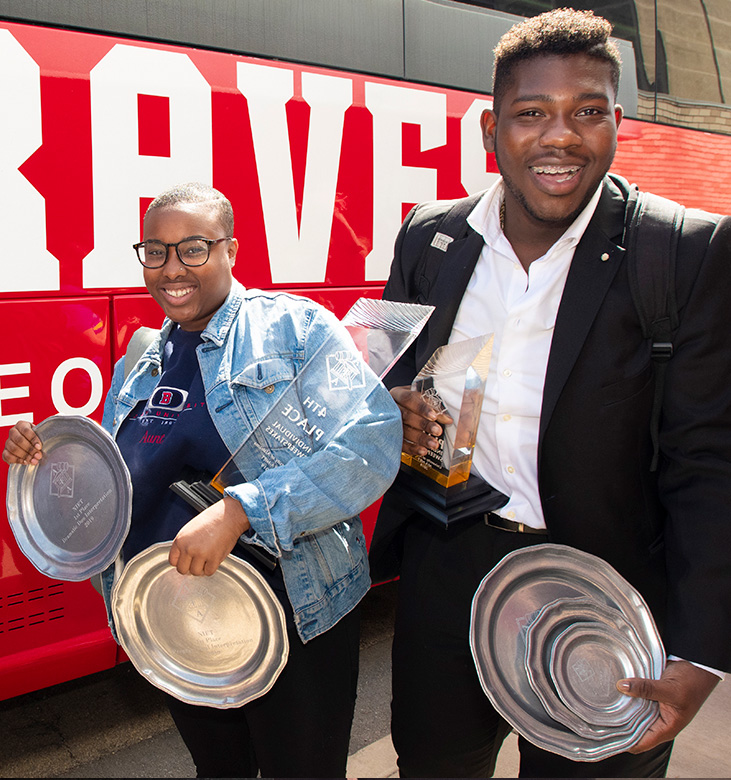 On the day the University of Virginia won its first NCAA basketball championship, Bradley University's speech team rolled off the bus at Michel Student Center holding its own national title trophy — the 42nd overall. This one came from the 2019 American Forensics Association (AFA) national tournament at Tuscaloosa, Ala.
A few days later, the team returned from the National Forensic Association national event in California with its 43rd title.
With those team titles and more than 160 individual national championships, the the Bradley team maintains its status as the most successful program in the country and the most successful collegiate team in any activity, including sports, according to the Associated Press. The team has won at least one forensics national championship in every decade since the 1980s.
"That is more than the top five basketball teams combined," team president Megan Magee '19 said about the team's titles. "It's something we'll talk about with our kids when they apply at Bradley."
Three Bradley students won individual AFA national titles — Emily Trader '21, (persuasive speaking), Trijae Johnson '20 (program oral interpretation) and Joshua Beckles '21 teamed with Johnson (duo interpretation). Magee was second nationally in individual sweepstakes, taking home points in four events. She also was selected an AFA-NIET All-American. Two other team members, Beckles and Greg Huber '19, placed in the top 20 for individual sweepstakes.
At the NFA, Johnson repeated as national champion in program oral interpretation. and was third in poetry speaking. He again teamed with Beckles to take the duo interpretation crown. Other top-three finishers included Magee (third in prose interpretation), Cassie Edlund '20 (third in impromptu speaking and second in duo interpretation along with Beckles) and Trader (third in both persuasive speaking and oral interpretation.).
For individual sweepstakes, given to individuals who amass the most points competing in at least four events, Bradley had five in the top 15. They are Magee third; Edlund fourth; Brenna Fuhr '19 eighth; Jack Ellis '19 12th; and Melissa Fuentes '20 13th.
"It's been great to feel the support of the university behind us. It's unlike anything we could have prepared for," Magee said after the team arrived back on campus to cheers, waving pompoms and an impromptu verse of "We Are The Champions" from some students in the crowd. "We had three underclassmen win national championships — the underclassmen have been spectacular."
— Bob Grimson '81