Taking His Shot
Dwayne Lautier-Ogunleye '19 has had quite the exciting senior year. The men's basketball guard and his teammates clinched the Missouri Valley Conference Tournament in March for the first time in 30 years and earned a spot in the first round of the NCAA's March Madness. Although they fought hard, the Braves lost to Michigan State 76-65.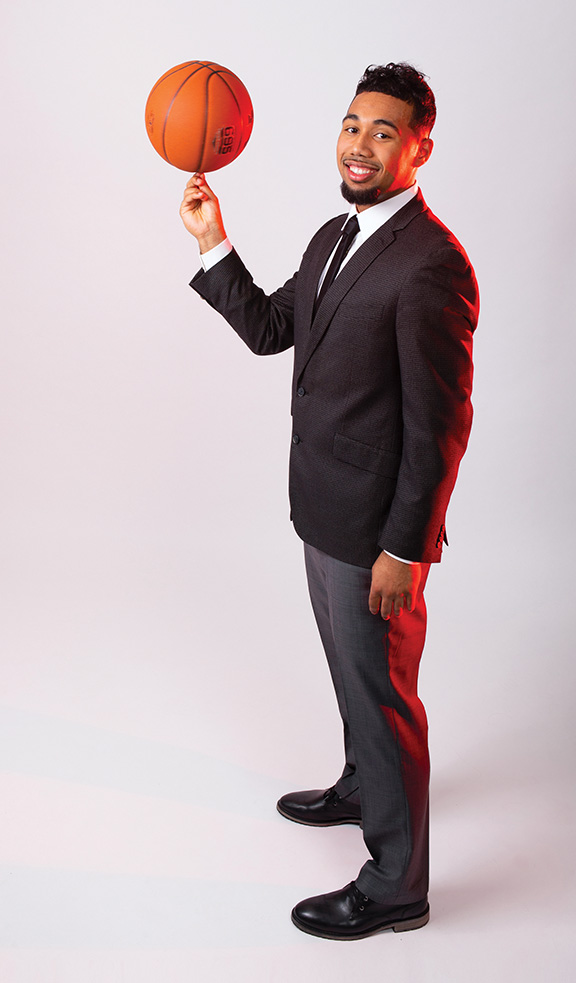 —Duane Zehr
The marketing major and London native always knew he wanted to be a business major, but wasn't sure which path to take until his sophomore year when he settled on marketing.
"I really liked the whole aspect of pitching an idea, working on a presentation (and) speaking my mind," he said. "I thought that marketing was the right avenue for me because I could do all of those and be involved in a company I'm passionate about and allow people to see my vision."
Hard work on the court also led to hard work in the classroom. "If I wasn't doing well in my studies I wouldn't be allowed to play basketball. If I wasn't playing basketball I wouldn't have the opportunity to come to a lovely university like this … My parents always made sure I was up on my studies before I could do anything."
Although he hopes to continue playing basketball on a professional level after graduation, Lautier-Ogunleye said he also plans to look for a position on the business side of a franchise, possibly in social media marketing. "Something where I can do a little bit of everything would be good."
When asked what he'll remember most about his time at Bradley other than winning the conference championship, Lautier-Ogunleye offered gratitude.
"Five years ago, I didn't think I'd ever go to university," he said. "I didn't have an idea of what exactly I wanted to do (and) in England, you're kind of forced to make that choice early and once you do, you can't go back."
"I loved having the freedom of getting any degree I wanted because it helped me find myself ... When I got to my business electives, I was able to take management and leadership, marketing classes, business classes. I didn't think I'd be able to expand my knowledge that far."
"(For) my capstone project, I was able to bring in aspects of different classes and actually use them in real life. Professors always tell you, 'You can use this here; You can use this there,' but until you actually do you don't really think it's possible ... It's a degree that means something."
—S.L. Guthrie
ABOVE: Lautier-Ogunleye hoists the MVC trophy for the Braves' fans back on campus.