"I think growing up as a teenage girl, you're constantly comparing yourself to the images you see. It's not a just a matter of fitting a certain mold of what beauty looks like, because we're all human, and human is beautiful."
That day, Barnhart purchased four underwire-free Aerie-brand bras. Just 60 days after her diagnosis, she underwent a single mastectomy and received a prosthetic breast form. However, she then found herself in a familiar predicament — what bra would she wear with her prosthetic? Barnhart found few products available for women in her age group who chose not to undergo reconstruction, especially those who choose a single mastectomy.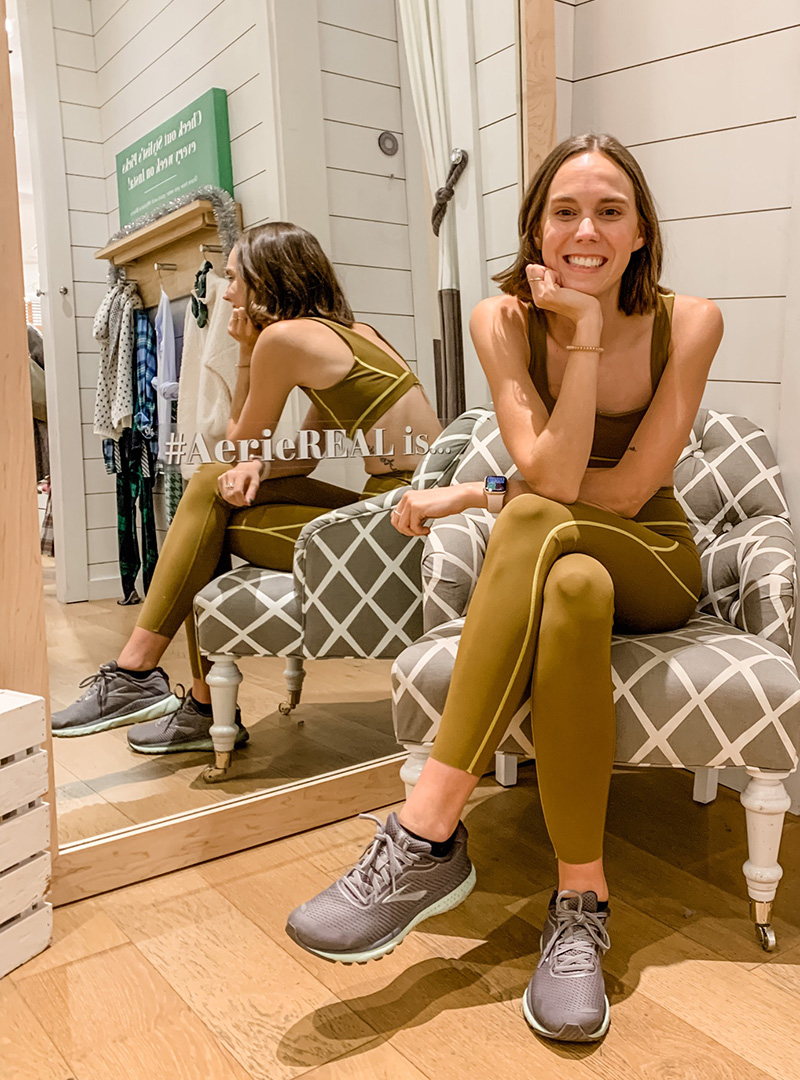 "The products I found were not geared toward people who were 27. All of the ads were women in their 50s and 60s … and that created a sense of loss and sadness in and of itself. Like, 'Where can I go to find things that still make me feel strong and beautiful and confident?'"
Luckily, her Aerie bras were a success with her prosthetic, too, even though it wasn't a mastectomy bra. Barnhart was thrilled at the prospect of wearing something marketed to her demographic.
"That helped me feel like I was still part of the bigger community of the world and not super isolated into this niche group of young breast cancer patients," she said, noting less than 1% of breast cancer diagnoses are people in their 20s and 30s. "It's like, 'No, I'm still part of this bigger community of young adults as a whole.'"
But the more Barnhart healed, the more she felt restless. "I immediately started to turn the gears in my mind to, 'How can this experience be worth something? How can this be used for something?' Because suffering for suffering's sake is incredibly demoralizing and disappointing, but suffering unto something bigger and better than yourself can be incredibly uplifting.
Barnhart wondered if she could write about her experience as a young breast cancer survivor. "Aerie was always kind of in the back of my head, but I always thought it was out of reach until it wasn't."
While poring over the company's blog, Barnhart discovered an open call for their AerieREAL Voices campaign. The deadline for submissions was in just a few days. After throwing things together at a breakneck pace, Barnhart produced a simple 60-second video from her spare bedroom in the hopes of standing out.
"I just explained to them, 'I think you guys have the opportunity to show a very small sector of the population that they are seen and they're not the only ones.' It would've made all the difference for me if I had seen a fellow person in their 20s using an Aerie product with a prosthetic, and I wanted to be able to be that person for them."
Two months later, Barnhart was one of 25 women chosen for an in-house photoshoot and interview at the company's headquarters in Pittsburgh, joined by one of her Cancer Bridesmaids.
"I had done a few photo shoots before, but this one was all video and then they take stills from that video for the actual pictures. So, I didn't know that going in, and all of a sudden, I'm being told to 'Be fluid and show off the product and smile more.' It was intimidating."
Leaning into the support from her friend and the other models, Barnhart took herself aside for a quick internal pep-talk.
"I had a moment, and I just said to myself, 'You're getting to do something that you wanted to do for so long. And no matter how it goes, at the end of the day, the goal is going to get accomplished. Somebody is going to see a breast cancer survivor in an ad in a store. And that's the goal: representation.'"
"I know in a lot of ways I still fit what you do see in a lot of models. I'm white, I'm thin, I'm educated … but the way that I don't fit it is the way that I wanted to show. And being there with the other women who were different ethnicities, have different body types and had scars of their own, each of them, that is what I think we need to see."
This July, the intimate apparel manufacturer featured Barnhart in online video ads for its new Smoothez by AerieTM product line, an anti-shapewear offshoot of intimates. Rolling out in August, she was also proud to appear in the AerieREAL Voices campaign.
Since finishing chemotherapy and radiation, Barnhart has no evidence of cancer, but the lessons of her experience continue to roll in
"Each day is an opportunity to, while it sounds cliché, be honest with yourself about the pain, the suffering that you're experiencing while also giving yourself permission to appreciate the joy that's happening at the same time," she said. "And that's part of why I went to Bradley games during treatment or why I fought so hard to find opportunities to write for organizations or to travel to Pittsburgh to be in this campaign.
"Because I'm still grasping for those moments of joy."