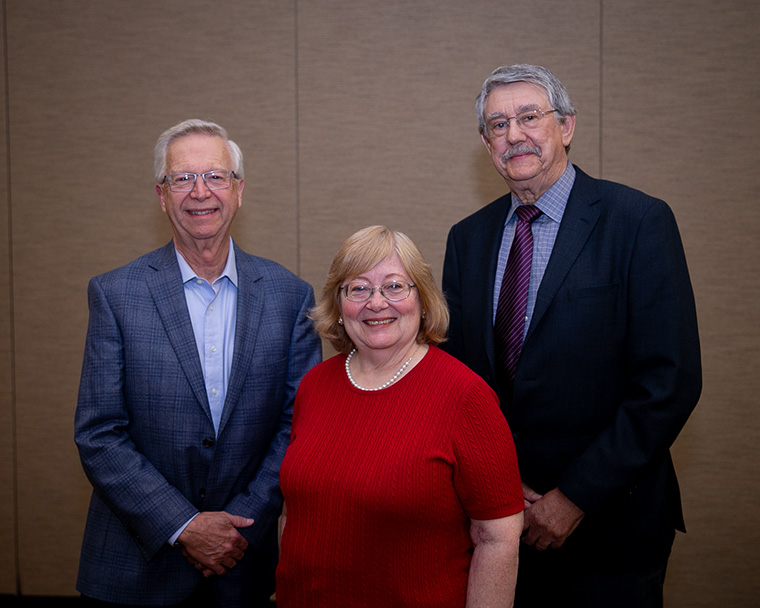 Class of 1971 Left to Right: John Steinwedel, Carolyn Firestone and Karl Manheim
1972
Gwendolyn Brown Kirkland retired in October 2021 after serving as a certified financial planner for 38 years and 800 clients nationwide. She began her career with Dean Witter Reynolds in 1983, followed by 25 years as the owner and managing principal of Kirkland, Turnbo & Associates, located in Matteson, Ill. Gwendolyn is now an ordained minister in the United Church of Christ, where she serves as the administrator of the Brown Endowment.
Robert Korman and his wife, Mary, have been married for 41 years. He has a son and two stepdaughters, six grandchildren and one great grandchild. During his time at Bradley, Robert had daily radio and news programs on WCBU and was the first booth announcer for WTVP. He remembered holding an auction for a local orphanage in December 1971 in the lobby of Harper Hall that raised nearly $1,000.
Bradford Friestedt was Bradley's first environmental science graduate; he earned his MBA in 1975 at the University of Illinois at Urbana-Champaign. He spent his 43-year career in manufacturing companies making parts and products from metal. Bradford and his wife, Betsy, have two children, including, Kyle '13.
David Hardenbrook worked as a research engineer in the aerospace and defense industry. He moved to the San Francisco area after graduation to work at Lockheed, where he stayed for 25 years. During this time, he earned a master's in engineering management from Santa Clara University. He was at BAE Systems until his retirement.
Jolyn Dorick Trzyna earned an MAT from Colgate University and taught briefly before returning to Denver, where she eventually became a flight attendant for American Airlines. She flew for 34 years before retiring in 2007. Jolyn currently choreographs and directs community theater.
John Lichtenheld spent two years in Asmara, Eritrea (formerly Ethiopia) teaching land surveying as a Peace Corps volunteer before becoming an urban planner, a career he held until his retirement in 2015. John and his wife, Connie, live on 40 acres in Wisconsin. His interests include woodworking, making furniture, winemaking and fly fishing. He's served on the local town board for over 30 years and is an active member of his local Unitarian congregation.
Jim Querciagrossa M.A. taught health education, physical education and driver education. He served as the assistant football and head wrestling coach for Peoria's District 150 for 34 years. "Coach Q" retired with a 303-102-6 dual record with five conference and four regional championships. Jim likes hunting, fishing and gardening; he owns Sugar Creek Farms in Knox County, Ill., where he raises Cinnamon Queen Chicks. He and his wife, Janice, have two children.
Steve Tarter held a number of jobs before joining the Peoria Journal Star, where he was a reporter/business editor until his retirement in 2019. Currently, Steve contributes stories to WCBU and writes for Peoria magazine as well as his blog, Read Beat (https://read-beat-and-repeat.onpodium.com). He and his wife, Kristine Boldman Tarter '71, have four children and four grandchildren.
Janet Hajek Butchart MBA '84, was a marketing director at an accounting firm in Peoria and at a marine store in Seattle before her retirement earlier this year. She and her husband, Larry, have two children and five grandchildren.
Cynthia Harris Knox, earned a master's at the University of Wisconsin School of Communication Arts. She and her husband, Daryl, moved to Houston where Cynthia was a teacher for 40-plus years, retiring in 2016. She enjoys volunteering in the community, caring for their grandchildren and traveling.
Allyson "Sonni" Hunt Herget taught lower elementary grades and high school Spanish, along with roles in educational consulting and student teacher supervising. In 1999, she was elected to the West Aurora District 129 Board of Education. After serving five terms, Allyson retired in 2019. She and her husband, Tom, spend their time traveling, gardening and wit their grandchildren.
Judith Carta earned a master's in child development from Purdue University and a doctorate in special education from the University of Kansas. She spent her career at the University of Kansas, primarily as a researcher developing ways to advance the early learning and development of children from birth to age five. Judith and her husband, Charlie Greenwood, live in the Kansas City area for two-thirds of the year and on the Oregon coast for the remaining third. She loves to hike, prepare great meals, run, garden, read and cheer for the NCAA basketball champion Kansas Jayhawks.
Thomas Byker earned an MBA from Illinois State University and worked in the insurance industry. He enjoys baseball, auto racing and classic rock.
Gail Johnson Goldstein is a speech language pathologist. She and her husband, Marc, have one child.
Ted Fleischaker founded an LGBT newspaper that ran for 25 years before he sold it in 2015. He and his husband, Ivan Howard, married at the Indianapolis Hebrew Congregation in 1996, becoming one of the earliest gay marriages recognized by that religion anywhere. They currently live in Portland, Me., where Ted started another newspaper, upportland.com.
James L. Davis earned his doctorate in dentistry at Southern Illinois University; he's currently a dentist at Elite Dental Partners in Peoria. He and his wife, Susan Edwards Davis '73, have two sons, Ryan '03, and Greg '07, and three granddaughters.
1977
William Micheletti retired after a 38-year career in insurance claims, the last 20 spent handling construction defect claims for Kemper Insurance and for Allianz Insurance. He and his wife, Lori, reside in Wauconda, Ill., and hope to travel more as pandemic restrictions ease. Their last vacation was in 2016 to Hawaii where they enjoyed the weather and lovely scenery.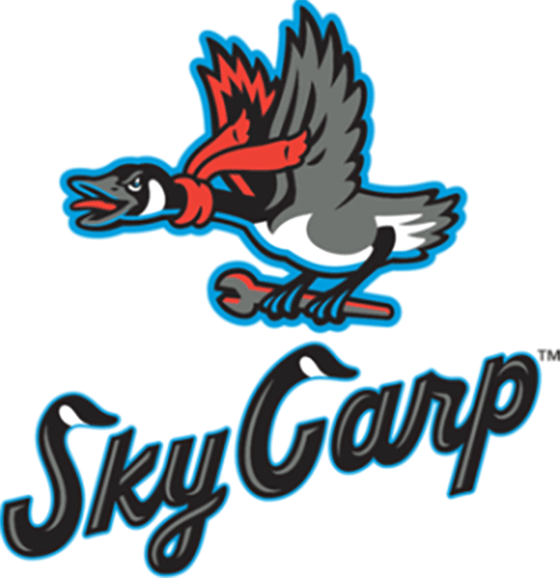 "The thing I've enjoyed most about broadcasting Beloit vs. Peoria games this year is sharing the booth with Cody Schindler, a fellow BU alum and the voice of the Chiefs."
- Larry Larson '22, broadcaster for the Beloit Sky Carp on working games with Peoria Chiefs broadcaster Cody Schindler '19.
1978
Dave Baldridge retired after 43 years in communications, including 22 years as a reporter, photographer, producer, and anchor for the NBC and CBS television affiliates in Peoria and as newsroom manager for NBC television affiliates in Atlanta and St. Louis. Afterward, Dave spent 21 years with PR giant FleishmanHillard at their St. Louis headquarters, finishing his career as a senior vice president in corporate communications. His wife, Sue Sepich Baldridge '79, retired after 25 years as a para-educator with the Francis Howell School District. The couple resides in St. Charles, Mo.
1979
Nancy Brandlein and David Muskat '80 celebrated their 40th wedding anniversary in May. The happy couple met at Bradley, and three of their daughters, Lisa '08, Kelly '13 and Julie '16, are also part of the Muskat legacy at Bradley.
1982
George Flanders MBA 1984 has started cultivating fine bananas and pineapples. He's also turned his attention to saltwater fishing and hosting theme parties. He still skis at Steamboat, Snowmass and Vail, all in Colorado. George is a program manager and systems engineering manager at Lockheed Martin. "I look forward to a reunion with my Bradley engineering and MBA classmates, and Sigma Phi Delta engineering brothers and sisters!"
The American Institute of Professional Geologists (AIPG) has elected Dawn Vanhoorebeke Garcia as national president for 2023. In 2021, she received the Martin Van Couvering Memorial Award for service to the institute. Dawn has worked for over 35 years in environmental permitting and compliance, mine life cycle planning and hydrologic projects located in the U.S. and internationally. She is a senior consultant at Golder Associates.
"Our Bradley connections have allowed us to remain friends for over 50 years." - Carolyn Isert Firestone '71
Front Row l-r: Greg Grygiel BSEE '72, Ron Brunton '71 MSCE '74, Russ Nejdl '71, Bob Firestone Back row l-r: Chris Grygiel, Sue Young Brunton '72 M.S. '73, Anne Macedon Nejdl '72, Carolyn Isert Firestone '71.
1985
John Yotter has retired after 41 years at Caterpillar Inc. He continues to teach process modules in Millikin University's MBA program; John is also the continuous improvement director for Primient, based in Decatur, Ill. His son, Jerry '10, and daughter-in-law Janay Mitchell Yotter '10 are also Bradley graduates.
1987
Tom Higgins is the faculty president at Illinois Central College, where he teaches courses in law enforcement, legal studies and criminal justice.
The U.S. Army Reserve promoted Peter Whalen to the rank of brigadier general.
1988
Rita Macfarlane Klundt's new book, "Real Life. Real Ladies. Short Stories from the Pew," won second place in the annual Selah Awards in the anthology category. Klundt set out to destroy the stereotypes of church ladies portrayed in the media as bossy, judgmental, hypocritical or just plain weird. Rita retired as a clinical research coordinator at OSF Cardiovascular Institute and is enjoying her second career as author and speaker. See Bradley Authors.
1991
"Off the Air," a novel by Christina Estes, has won the 2020 Tony Hillerman Prize for best first mystery novel set in the Southwest. Minotaur Books will publish the debut work in 2023. Christina is an award-winning reporter who lives in Phoenix. "Off the Air" is the story of a local TV news reporter who gets the scoop of a lifetime while investigating the murder of a popular radio talk show host. But the killer is determined to keep her silent.
1998
Erica Mosely is an account executive with LinkedIn's marketing solutions business line. She helps develop marketing strategies that support companies' B2B sales business by advertising on the social media platform.
2000
Lindsay King is the new head of Bowes Art and Architecture Library at Stanford University. Previously, she was a librarian in the Robert B. Haas Family Arts Library at Yale University for 11 years, most recently as associate director for access and research services. Lindsay has also worked at Northwestern University Library and the Art Institute of Chicago.
2001
Danny McLaughlin is now a program manager with the U.S. Army Corps of Engineers Directorate of Military Programs in Washington, D.C. Previously he served as a design manager with the Corps' Middle East District in Winchester, Va.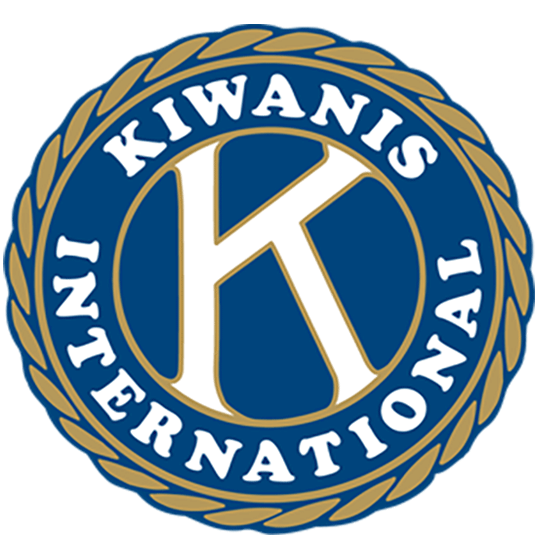 "It was also quite the honor because my coworkers voted for me to win the award. It's just a generally nice feeling to be recognized for something I love doing!"
- Alysen Newton '17, on being named Kiwanis Teacher of the Year at Richwoods H.S.
2004
Chris Kaergard joined the Dirksen Congressional Center in Pekin, Ill., as communications director and associate historian. The center maintains the archives and papers of Sen. Everett M. Dirksen, architect of the 1964 Civil Rights Act, and of Reps. Bob Michel '48 HON '81 and Ray LaHood '71 HON '11.
2006
Ashley Krenelka Chase is on the faculty at Stetson University College of Law as an assistant professor.
2018
Shore Community Services in Skokie, Ill., has promoted Aimée Moy to medical liaison/qualified intellectual disability professional (QIDP).
Savannah Riese earned an MFA in strategic communication from the University of Iowa in May, as well as a certificate in engaging across cultures. She currently serves as an employee content specialist at Dot Foods, where she project manages their internal employee app and writes for internal communications. Savannah lives in Minneapolis.