1969
Rich Albright worked at Bell Laboratories and related companies for 32 years before establishing a consulting firm in 2001. Rich has two children, two grandchildren and lives with his wife, Mary, in Morristown, N.J.
Edmond Augspurger Jr. MSCE '73 worked for the state Environmental Protection Agency for 27 years and played trombone in his church's band. He has two children and six grandchildren and lives with his wife, Carol, in Pekin, Ill.
Pat and Ellen Milnor Barron M.A.'81 celebrated their 50th anniversary last summer. They have one child, three grandchildren and live in West Chester, Pa.
Jeffrey "Bogie" Bogart emembered Bradley giving him a "great communications platform" for his law career. He has seven children, five grandchildren and lives in Atlanta.
Ernest Brantley M.A. worked in various Georgia schools. An Army and Navy veteran, he has two children, two grandchildren and a great-grandchild. He and his wife, Joan, live in Dawsonville, Ga.
Phillip Brown lives in Mokena, Ill., with his wife, Luisa Regalado.
Parry "The Sig" Carlson served with the Army Corps of Engineers and worked with the U.S. State Department. He and his wife, Karen, have one child and live in Alexandria, Va.
Larry Cedarquist MBA worked at Caterpillar Inc. 1966–2002. He and his wife, Nanciann, have three children, five grandchildren and live in Pekin, Ill.
Karen West Constan has two children and six grandchildren.
Michael Cuyjet spent his career in higher education, working in student affairs at Northern Illinois University, the University of Maryland and the University of Louisville before retiring in 2014. He has three children and lives in Louisville, Ky.
Lambert "Jack" Diettrich worked in the medical field and has 12 patents for devices used in surgeries. He lives in Danville, Calif.
Greg Flory served 30 years in the Air Force, retiring as a colonel. Greg and his wife, Janet Siege Flory '71 have two children, a grandchild and live in Montgomery, Ala.
Dick "Dapper" Ford spent 37 years with Sears and seven as a retail consultant. He and his wife, Mary Beth, have four children, nine grandchildren and live in St. Paul, Minn.
Art Foster has two children and lives in Venice, Fla.
Fred Furston has three children and one grandchild.
Al Glasscock worked at Sundstrand Machine Tools and Boeing. He has one stepson and two granddaughters.
Libby Johnson Gozansky has a daughter, two stepchildren, four grandchildren and lives in Atlanta.
Jane Burch Grubb taught for 24 years and now works for Sam's Club and as a caregiver. She lives in Buffalo Grove, Ill.
Judith Bugay Hallgren lives in Sarasota, Fla.
Joan Lorig Janssen has one child and is married to Jay Janssen '59.
T.J. Jesky worked for a pharmaceutical company and is an attorney in Chicago. He has two children and lives in Boulder City, Nev.
Jerry Krause remembers Donald Albanito, professor of business emeritus. Jerry hasthree children, five grandchildren and livesin Princeville, Ill.
Jeanie Taylor Kostecka M.A. taught in rural Illinois and received an outstanding teacheraward. She has four children and fivegrandchildren and lives in Fresno, Calif.
Nancy Bippert Kronthaler owns and manages rental properties and Utah Ski Lodging. She and her husband, Tom, live in Salt Lake City.
Alan Lanser worked 34 years at the USDA National Center for Agricultural Utilization Research in Peoria. He and his wife, Wendy, have three children, including Eric MBA '12, and nine grandchildren.
Gerald Larson MSEE is a Navy veteran and holds more than 40 patents. He andhis wife, Deana, have three children, fivegrandchildren, two great-grandchildren and live in Grand Haven, Mich.
Rod Mauch worked at U.S. Steel for 34 years. He has two children, threegrandchildren and lives in Griffith, Ind.
Perry Miller has one child, two grandchildren and lives in Arlington Heights, Ill.
Marge Kestian Nurski has two stepchildren, two grandchildren and lives in Gaylord, Mich.
Cheryl Parduhn lives in Pullman, Wash.
Frank Radosevich was an anesthesiologist in Peoria for 37 years. He and his wife, Cookie, have seven children, 17 grandchildren and live in Peoria.
Jim Schlegel returned to Bradley after his service in Vietnam and earned an MBA in 1972.
Bill Stroud retired from his optometry practice. He lives in Florida and Virginia.
Paul Suckow is a business fellow andadjunct professor of economics and financeat Villanova University. His wife, Phyllis Morgan Suckow worked in communicationsfor various nonprofits. They have one sonand live in Ardmore, Pa.
Al Thompson had a retail career, first withSears then with a regional HVAC wholesaler. He and his wife, Pat, have one son, twin daughters and live in East Peoria, Ill.
Bill "The Kid" Thorsness has practiced law for 40 years in Oak Brook, Ill. He and hiswife, Marjorie, have four children, fivegrandchildren and live in Hinsdale, Ill.
Todd Toepperstarted a dental lab in Janesville, Wis, and retired after 45 years. He has one son, two granddaughters and lives in Milton, Wis.
Retired Army Col.Chuck Weyhenmeyer worked more than 35 years for the state of Illinois, primarily for the Department of Revenue. Chuck has a son, two step- daughters, three grandsons and two step-granddaughters. Chuck and his wife,Diana, live in Springfield, Ill.
Richard Winter lives in Evanston, Ill.
Nancy Norton-Wohlfeil M.A. '71 taught at the high school and college level. She was ICC's coordinator of disability services and worked in the state's Department of Public Aid. She has two sons, seven grandchildren and lives with her husband, Paul, in Charlotte, N.C.
Armen Zakarian has three children, fivegrandchildren and lives in Cape Coral, Fla.
Zendra Zehner helped isolate the first actingene while working for the National Cancer Institute. A former university professor, she published more than 60 papers and is nowchief scientific officer for two start-upbiotech companies. She and her husband, Walter, have two children, two grandchildren and live in Moraga, Calif.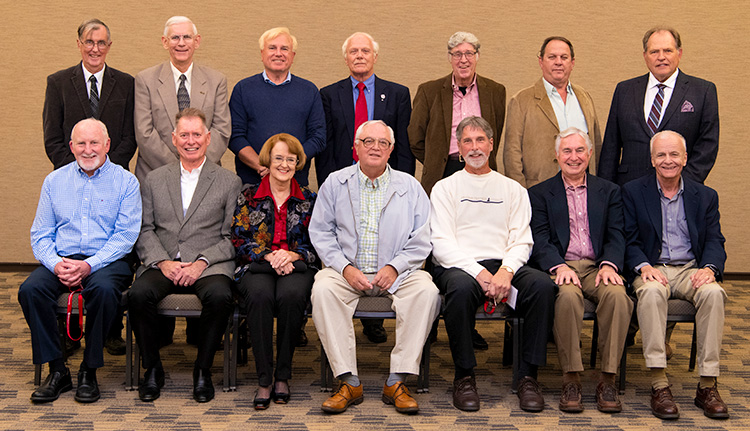 Class of 1969 Reunion Class members gathering included, FRONT Richard Ford, Bradley Everett M.A. '74, Nancy Norton-Wohlfeil M.A. '71, Rodney Mauch, Todd Toepper, Frank Radosevich and John Bowman. BACK Fred Furston, Alvin Thompson, Gary Bergman M.A. '74, Chuck Weyhenmeyer, Richard Winter, Richard Martin and Lee Powers M.A. '73.
1971
The HonorableRay LaHood now chairs the board of the Abraham Lincoln PresidentialLibrary and Museum in Springfield, Ill.
1972
The Best Lawyers in America guide has honoredTimothy Grady,Richard Watters '73 andDan Ball '74.
1973
Peoria lawyerRichard Zuckerman is thefirst person outside the Chicago area to receive the Samuel S. Berger Award from the American Academy of Matrimonial Lawyers' Illinois chapter. The annual award honors integrity, courtesy, legal knowledge and problem-solving skills.
1975
Phil Pritzker completed 30 years on the Wheeling 21 School Board in June, seven of which were as president. In October, the Illinois State Board of Education honored him with a Those Who Excel merit recognition at its annual program. His current term ends April 2021.
1984
Norma Morales Booher earned a master's degree with distinction at DePaul University.
Maureen Raihle is among the 2019 best in-state wealth advisors as noted by Forbes for the second consecutive year. She is a private wealth adviser for Merrill Lynch in Chicago.
Frank Rice teaches 11th grade broadcast journalism at Southland College Prep Charter High School in Richton Park, Ill. He is also head coach of Southland's IHSA Individual Events speech team. He and his wife, Elizabeth, reside in Oak Forest, Ill.
1986

Amy Clyne won the Award for Excellence in Secondary Mathematics Teaching from the Illinois Council of Teachers of Mathematics.
1995
Chris Kummer MLS, joined HansonProfessional Services Inc.'s Peoria officeas a land acquisition specialist. He had worked for Ameren Corp.
1998
Lee Bloome handles projects in several states and Mexico as water and wastewater discipline manager at Hanson Professional Services Inc., where he has worked since 2006.
1999
Lori David MBA graduated from OSF School of Nursing with a doctorate in nursing practice (DNP). She works at the University of North Carolina Medical Center in Chapel Hill, N.C., as an emergency services quality and organization executive leader.
2000
Corinne Hacker Vargas is the new community relations manager for the village of Montgomery, Ill. She worked eightyears for the park district in Plainfield, Ill.
2001
Margaret Matuck Panatera was named to the board of directors at GZA Geo Environmental, Inc., a multidisciplinary engineering company.
2004
Bill Frisbee is director of water resources for the city of Beloit, Wis. He had been the city's storm water engineer since 2005.
2005
Jonathan Spinillo Grzywa completed Mayo School of Health Sciences' clinical pastoral education program and served as a resident chaplain there.
Kelly Kolton is marketing manager at Stout, an international advisory and consultingfirm. A board member for the AlumniAssociation, she oversees marketing for the company's Valuation Advisory business inits Chicago office.
2006
Lindsay Mayer participated in MiamiUniversity's Earth Expedition field coursein the Galapagos islands. She is a graduate student at Miami.
2007
Amy Reiner Mugford was a 2019 40 Under 40 selection as a young business and community leader in Loudoun County, Va. She is communications program manager for the Loudoun Economic Development department.
2009
Steph Van Doren had a showing of herwork, "Shade and Shadow," at the FosterGallery for Christianity and the Fine Arts at Peoria's First United Methodist Church.
2014
Samuel Greifzu earned his professional engineer license in Missouri. He is a structural engineer at Hanson ProfessionalServices Inc.'s regional office in St. Louis.
2016
Shannon Connelly launched Edelweiss Boutique (shopedelweissboutique.com) in 2017 as an online boutique specializing in women's clothing. Since then, she has moved to Nashville, Tenn., and expanded her business to include a fashion truck.
Correction: The summer 2019 issue incorrectly listed Aimée Moy '18 as a developmental trainee assistant. Aimée is a developmental trainer assistant. We sincerely regret the error.