Food Faves
Our question about favorite foods brought lots of happy memories, not all related to eating.
My favorite food when I was a student at Bradley was on Wednesdays in the Student Center Cafeteria. It was always Stuffed Baked Potato Day. I never knew you could put so many toppings on a potato and it was delicious!
— Heidi Maurer Rottier '98, MBA '01 Instructor of Marketing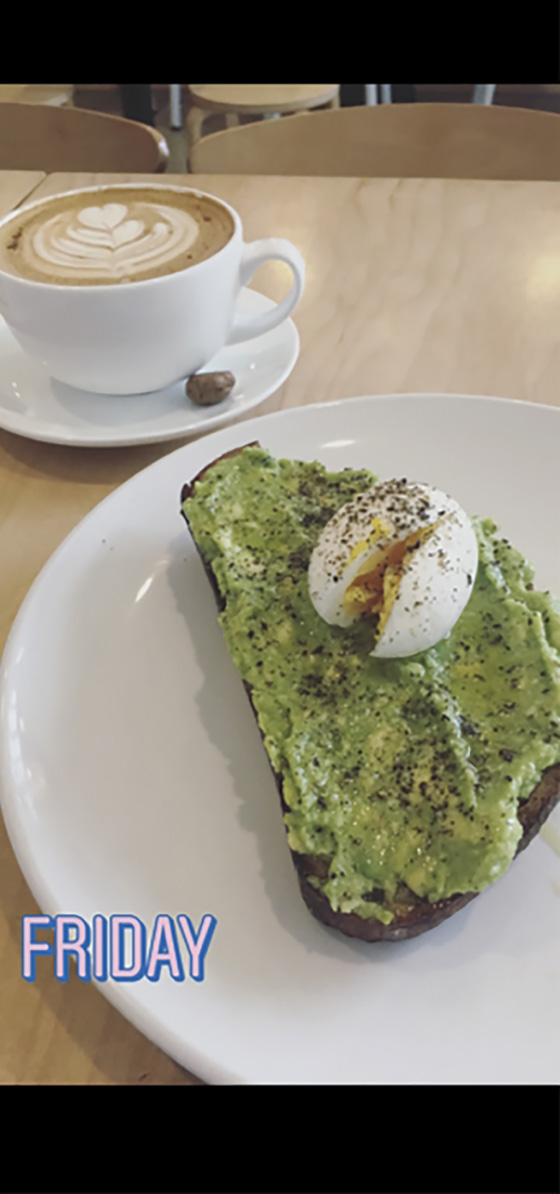 A favorite for me was the avocado toast at Zion Coffee Bar. My friends and I would go there every Friday to study and or have club meetings. The perfect swanky hangout spot!
— Olivia Schoenfeldt '19
When I attended Bradley, the homemade donuts were by far and away my most anticipated food in the dorm cafeterias. They were delicious — hot out of the oil with cinnamon sugar or dripping frosting. I don't think they were available every morning, which is probably a good thing! Off campus, we frequented Avanti's for gondolas and all-you-can-eat spaghetti one night a week. We always make a stop at Avanti's when we're in Peoria.
— Laurinda Cooker '87
As a member of the dorm staff my junior and senior year, I lived on campus all four years. Hands down my favorite food was our weekly steak night. Every Saturday night, the cafeteria would serve steak and baked potatoes. We would line up early and enjoy a great meal with our friends.
— Sharon Bull Bresnahan '74
My favorite food was five-alarm chili at Chili Villa. I think it was free if you could finish an entire bowl. I usually got the three-alarm version.
— Paul Mellican '63
When I enrolled at Bradley in the fall of 1967, I was assigned to live in Williams Hall. Williams was a new dorm, complete with air-conditioning and a dining hall right on the premises. I loved living there. I thought the food was really good, but there was one entrée my friends and I especially liked called Russian Tomato Soup. It just was so delicious for lunch on a cold winter's day. Made up of ground beef and tomato sauce with chunks of tomatoes, diced onion, celery and chili spices, it wasn't the same as chili, but it was outstanding.
After several years at Williams Hall, I decided I wanted the recipe for Russian Tomato Soup to take with me when I graduated, so I asked the head cook in the cafeteria if she could write out the recipe for me. She laughed and said, "Well, I will have to cut it down somewhat, since we use fifty pounds of ground beef, ten gallons of crushed tomatoes, etc., but I will try." Not long after, she handed me a recipe that was proportioned just right to make a large pot of soup. I thanked her and told her this recipe would be a keeper for me.
Now, more than 50 years later, I still make Russian Tomato Soup for my husband and family in my 52-year-old electric saucepan given to us as a wedding present. I think of Bradley, Williams Hall and that great dorm cook every time I make it.
Russian Tomato Soup
Brown and cook together in a large pot or saucepan:
1 to 2 pounds ground round
2 cups chopped onion
2 cups chopped celery
When the meat is browned, drain the grease. Then add these ingredients:
1 (12 oz.) can tomato paste
1 (28 oz.) can or diced or crushed tomatoes (cut up a bit)
1 or 2 (8 oz.) cans tomato sauce (optional)
1 large (46 oz.) can tomato juice
several tablespoons chili powder
10 shakes or more of Tabasco sauce
1/4 cup or more of Worcestershire sauce
Use the seasonings to your taste. This makes a huge pot, so I really like a lot of the seasonings. Simmer for at least an hour — more time is better. This soup keeps well in the refrigerator for days and freezes well.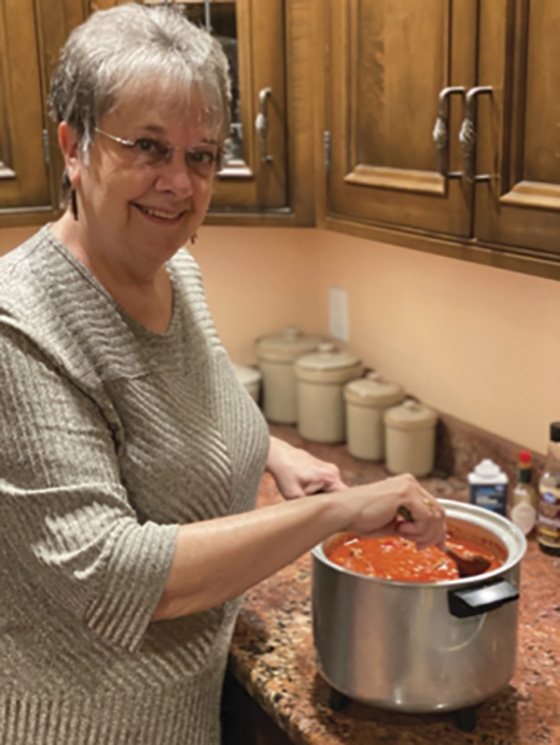 — Claudie Glick Huey '70
Not including Avanti's, my favorite thing to eat at Bradley was the tuna fish in the cafeteria. While at Bradley, I learned Catholics don't eat meat on Fridays. Every Friday, they served tuna fish in the cafeteria for lunch and dinner. It was very creamy. I would eat it "religiously" each week for both meals.
— Michelle Marcus '97
There were two restaurants my friends and I liked to go to most of the time. One was LaHood's Pizza and the other was Hunt's Restaurant. Hunt's had a breaded, fried sandwich that overflowed the bun. It was called something special but I forget the name. My friend Greg Florey '69 ate there EVERY day. It was a habit, just like buying a new Buick every year was for him. Greg was in Air Force ROTC just like I was. I retired as a Lt. Colonel in 1992 and I'm sure he did, too. Hunt's was across or up a short distance on a street at the bottom of the hill across from the College Inn where we used to sit and drink our Cokes (Ha Ha). However, when our parents came to town we ate at Vonachen's Junction or the Pere Marquette Hotel or Downtown Steak House where we used to see Richard Pryor! What great memories. I haven't been back since 1995. I'm sure the place has really changed. Who thought we'd be eating sushi?
— Ed Staley '70
People are going to say I'm crazy, but my favorite food while I was at Bradley was the dining hall food. I mean really, you don't have to shop for it, plan the meal, cook it and/or clean up the dishes. It doesn't get any better than that. Well ... maybe. Better was when I moved off campus with three friends to "The Bug House." There we had to do it all, except when someone would lend us their meal ticket and we could go back to the dining hall and get all the benefits for free! Of course, going to Happy Joes with six to eight friends and scarfing down their ice cream treat known as "The Trough" was pretty awesome.
— Steve Comeau '75
Smokey Dog with cheese, Lardano's pizza and Phone a Feast.
— Burt Raabe '69 M.A. '96 M.A. '10
On Sunday evenings, there was no food service so we students had to find other offerings. My favorite was the Avanti's Italian Beef Gondola. Avanti's at that time was right across from my dorm, Williams Hall. It was a perfect place to go for that sandwich. I think they also had an awesome frozen custard, but I might not be remembering that correctly.
— Carolyn Isert Firestone '71
The cafeteria at University Hall often served a wedge of iceberg lettuce smothered in French dressing. It wasn't something I had at home; but I've seen it in salad bars lately. I don't remember any other cafeteria foods except may be French toast. If the cafeteria was closed on the weekend, I usually had dinner at L-Sundry's, likely a hamburger.
I moved off campus and rented a bedroom on College Street near North Bourland Ave. My landlady worked the breakfast and lunch shifts in the Michel Student Center cafeteria, so I always ate lunch there. Sometimes, I ate dinner there before my night classes. My favorite meal was the chicken pot pie (a serving was four biscuits and everything underneath). I always had an Eskimo Pie for dessert rather than a healthier glass of milk (both 10 cents in 1966). I'd eat it while watching TV for 10 minutes in the student lounge before afternoon or evening classes.
Two blocks from campus, there used to be a Kentucky Roast Beef Restaurant, which was a copycat of Arby's that offered shaved roast beef sandwiches. It didn't do well financially, so several months later it changed to Kentucky Fried Chicken. Being thrifty, I'd stop there every Saturday night and buy a nine-piece bucket of Original Recipe; later I switched to Crispy. I'd eat the four largest pieces Saturday night hot, wrap the remainder in wax paper, place them in the refrigerator, then eat them for Sunday lunch before heading to the Cullom-Davis Library to study all day Sunday.
In addition to an old movie theater on University Ave. and several restaurants, there were three other mainstays where I'd stop on the walk home: an A&P grocery store where I'd buy a weekly half-gallon carton of milk and sometimes cookies or canned soup; a laundromat that I'd visit, usually Saturday evening (when it was empty) and study between laundry loads; and Earl's Barber shop. During my first year, I had my haircuts at Bradley Barber right across from campus, but Earl's was a friendlier shop. During my first two years, he was the owner (first chair) and worked solo. During my last two years, he'd sold the shop and became second chair to the new owner. Earl always tipped me 25 cents for a candy bar since he liked students.
Beginning sophomore year, I spent time between classes in the study carrels in the library or in one of the small rooms with my study group after our Differential Equation class. When I got bored studying, I'd roam the shelves and read books. Two of my favorites included one by a former British artillery officer about his time in the French Foreign Legion; the other was about a man who joined a group of Romani before World War I. I would love to buy them if the library hasn't already sold them as used books.
— Ralph Dellar '71
As I was flipping through the winter/spring 2021 issue of Bradley magazine, I couldn't help but notice your question asking us what was our favorite food at BU. For me, this was an easy answer: stir-fry! Let me elaborate.
During breaks from school when I would return home to Chicagoland, either my sister would take me out to BD's Mongolian Grill, or my college buddies and I would indulge in some Stir Crazy. Both restaurants heightened my appreciation for stir-fry and Asian-fusion cuisine. When Williams Hall converted their west kitchen into a food court in the fall of '99 — my first senior year! — a portion of the new food court was dedicated to daily specials. Some days, those specials would include stuff like chicken wraps. But whenever they had stir-fry, I made sure not to miss it. And what made the stir-fry at the Williams food court so great was the Szechuan sauce. I've always liked hot and spicy food, so Szechuan sauce was totally up my alley. And hot wings too, but we're talking about stir-fry here.
Other times on break, I was totally craving a Szechuan sauce flavored stir-fry just like what they served at school. I decided to take things into my own hands and try to replicate the Williams Hall recipe. Now, more than two decades and several ingredient modifications and omissions later, my interpretation of that stir-fry is part of my family's recipe collection.
Unfortunately, the aforementioned Stir Crazy chain recently went out of business due to the effects of COVID-19 on the restaurant business. But in another Bradley related footnote, I was able to have one final stir-fry dinner at their suburban St. Louis location during the 2020 Arch Madness weekend. So it was like things coming full circle. And I thank the Williams Hall chefs for that.
— Joel Pasternak '01
More Roommate Stories
Most of the men on my floor at University Hall used to go home (or to each other's houses) every weekend. This left just me and Bobby Foster '69 on the floor. Bobby was a physical education major and Air Force ROTC student. He was always polishing his boots and practicing throwing his rifle for the drill team when I'd drop by; he talked about becoming an astronaut one day. I spent my weekend nights doing my drafting homework.
My second year, I moved off-campus, and my landlady announced she had been given a dog by her daughter. Over the next four years Korkie — a German Shepherd-miniature Collie mix — and I became fast friends.
— Ralph Dellar '71
My first year, I lived on Heitz Four in the smallest room on the floor, due to its being by the stairwell. I spent many evenings studying organic chemistry with Dr. Kolb while my roommate, who will remain nameless, even though the statute of limitations is up, was smoking hash. I will admit the second-hand smoke really made those benzene rings come alive!
— Gregg Wells '80
Significant Other and A Life Lesson
My wife, Ellen Milnor Barron M.A. '81, was in Angel Fight, a service sorority aligned with the Air Force ROTC. One of the ways the girls raised money was to polish our shoes, a big deal in the military, for one dollar. I got up the nerve to break the ice by asking her to polish my shoes, and the rest is history, as they say. Later, an AFROTC friend and I bumped into Ellen and one of her friends somewhere on campus. Afterward, she told me her friend wanted my friend to call her. I dutifully passed along the request, but he didn't call her for several days. Ellen kept asking me to tell my friend to call her. Finally, as a favor to me, he did. Again, the rest is history. We all have been married for 50 years. By the way, that was the first, last and only time my soon-to-be wife polished my shoes. In fact, I have polished her shoes ever since. There's a lesson there that isn't taught in the classroom.
— Patrick Barron '69
Be sure to share your memories and photos with our next Big Question:
What made you choose Bradley?