Helping Hometown Students Achieve a Dream
Eight Peoria Public Schools students moved closer to their dream of higher education as they received full-tuition scholarships from the university through the Hometown Scholars program in March.
Announced in 2020, this is the second group from the four public high schools in the city to receive the award. The program aims to strengthen the partnership between Bradley and Peoria schools and help local students succeed.
Students must have been admitted to Bradley, have financial need, graduate from one of the city's public schools and be part of an underrepresented population at the university. This year's recipients will major in art, journalism, engineering, education and business management and leadership, among others.
President Stephen Standifird and Kaboom! handed out the awards to the unsuspecting students at their schools.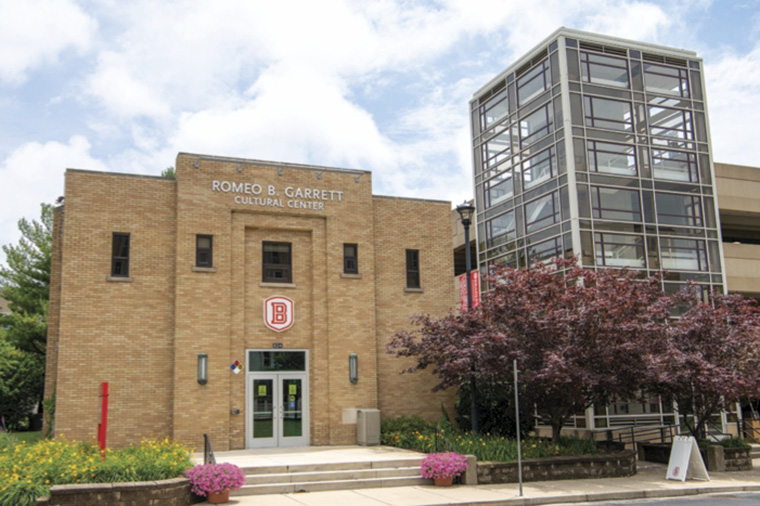 Garrett Center Updates Complete
Phase One of the updates planned for the Romeo B. Garrett Cultural Center have been completed. The cosmetic updates include new front doors, new signage for the exterior, replacing the front sidewalk and sandblasting the exterior brick surface.
The front foyer has a digital monitor and tributes to the building's namesake. Earlier updates provided fresh paint and new carpet and lighting to the auditorium. Phase two is still in the planning stages and will include updates to the second floor.
"I want to see the brotherhood of man. I am a man who loves all people; white, black, young, and old. We must be patient and we must love all people regardless of race."
– Romeo B. Garrett M.A. '47
Lawrence recognized for contributions to space program
Taking his place among the stars, the late Maj. Robert Lawrence Jr. '56 now has an asteroid named for him.
The chemistry graduate and first African American astronaut is among 27 people who gained the honor earlier this year for expanding and inspiring the next generation of space explorers. Lawrence was the only Manned Orbiting Laboratory (MOL) astronaut with a doctorate, which he earned from The Ohio State University in physical chemistry in three years, all while serving in the Air Force.
Located in the asteroid belt between Mars and Jupiter, the asteroid now named 92892 Robertlawrence was discovered in 2000.