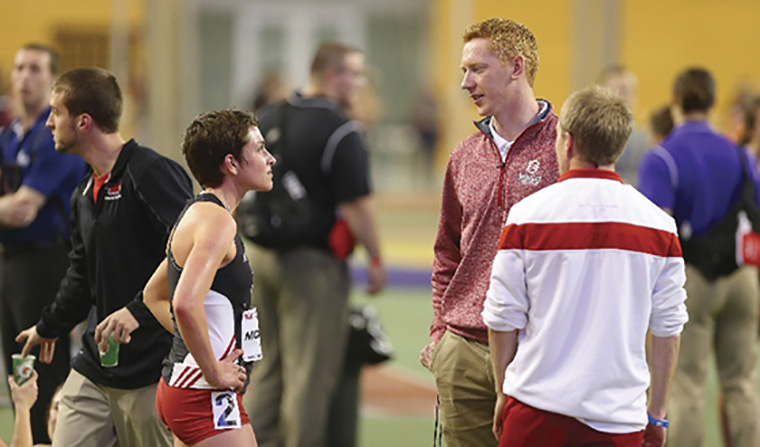 Staying on the Run
Over the past seven years since he arrived at Bradley, Scottish-born track and cross country coach Darren Gauson has seen his share of success. In 2018, the team hosted the NCAA regionals and placed second, earning the school's first trip to the national championship.
The team went on to finish 24th in the nation.
"I just really enjoy seeing people fulfill their potential and growing athletically, academically."
"It was something I'll never forget," said Gauson. "It was the first time I've ever coached a team to a national championship. I didn't think we'd do as well as we did. It was a lot of work, a number of years. I really thought about that when I was out there on the course and had a small moment in myself."
"I don't think anyone saw it, that it was pretty emotional there for a minute. As a coach, I just remember the results coming in. I was standing on the course, where everything sort of hit me of what we did."
Gauson's success at Bradley include eight Missouri Valley Conference cross country titles as well as individual men's and women's titles. Several champions and program benchmarks in track, as well as numerous academic honors for team members round out his accomplishments.
"I'm a very competitive person, really competitive as an athlete, very competitive in everything I do," he said. "I think there's a lot of teaching, a lot of leadership (in coaching). I just really enjoy seeing people fulfill their potential and growing athletically, academically."
---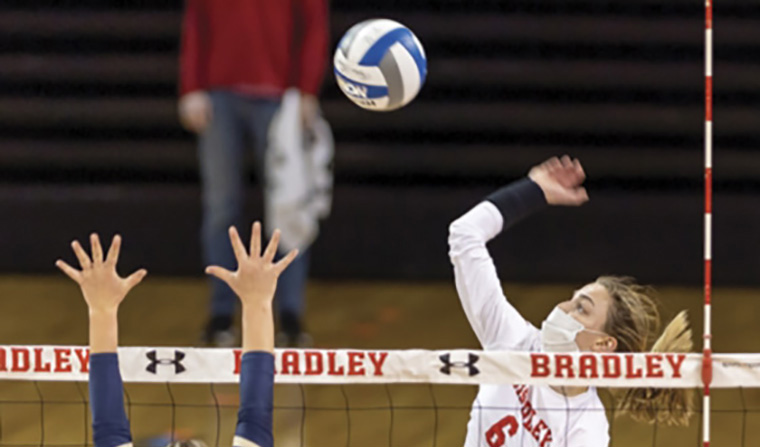 A minor setback
Although senior Hannah Thompson accompanied her mother, a longtime volleyball coach and former college player, to practices and matches as a child, there was a time she thought her love for the sport would have to end.
Thompson was in grade school.
"There's always a way to do something better or do an attack in a different way. It's always different every time you play."
"They had a new rule where the coaches couldn't bring their kids," she said. "I can vividly remember in my head, once they told me that, I just started crying and I was like, 'My volleyball career's over, I'm never going to be able to get better."
But the outside hitter stayed with the sport, even playing with an elite club team. Her star turn came in her first year at Bradley, when the Missouri Valley Conference named her Freshman of the Year and placed Thompson on the all-conference teams.
Currently, she's the career leader in digs along with holding several other spots in the Bradley record book. The health sciences major also excelled academically, earning a spot as a first-team MVC Scholar-Athlete and the conference's Commissioner's Academic Excellence Award.
She describes herself as competitive and likes the emotion and intensity involved in a match.
"I love that feeling, and you don't really get that until you're playing. There's so much strategy to it ... There's always a way to do something better or do an attack in a different way. It's always different every time you play."