BEST ROOMMATE STORY
It was fall 1976 and the place was Room 10 in the Gamma Phi Beta sorority house. If you're familiar with this house, the third floor is dorm-style; you can see two private rooms from the dormers on the outside.
My roommate and I were sleeping and I woke up with EXCRUCIATING pains in my abdomen. No matter how I positioned myself, I couldn't get relief. I was sweating profusely and finally woke up my roommate — the one and only Heidi Rotbart '79 — and I asked her to take me to the ER because I was quite certain I was SICK! She told me, "Oh roll over, you've probably just got gas!" And she proceeded to go back to sleep.
I crawled out of bed and made my way to a sister who was a nursing major and woke her and begged her to take me to the hospital. She jumped right up, threw on some sweats and proceeded to carry me to her car. We arrived safely at St. Francis Hospital just in time to have my appendix removed!
When I awoke in recovery my mother was there (we lived about three hours south of Peoria) and I was IN TROUBLE! My mom had given me money to purchase health insurance and it seems I never purchased it (uh-oh) and probably spent it at Cy's Hitching Post instead (oops.) So to make matters worse, my parents were faced with the bill (yikes.)
To this day, 44 years later, Heidi and I are still great friends, and I love to tease her about blowing me off when my appendix could have ruptured! GAS – right Heidi! LOL!
— Dana Powers King '79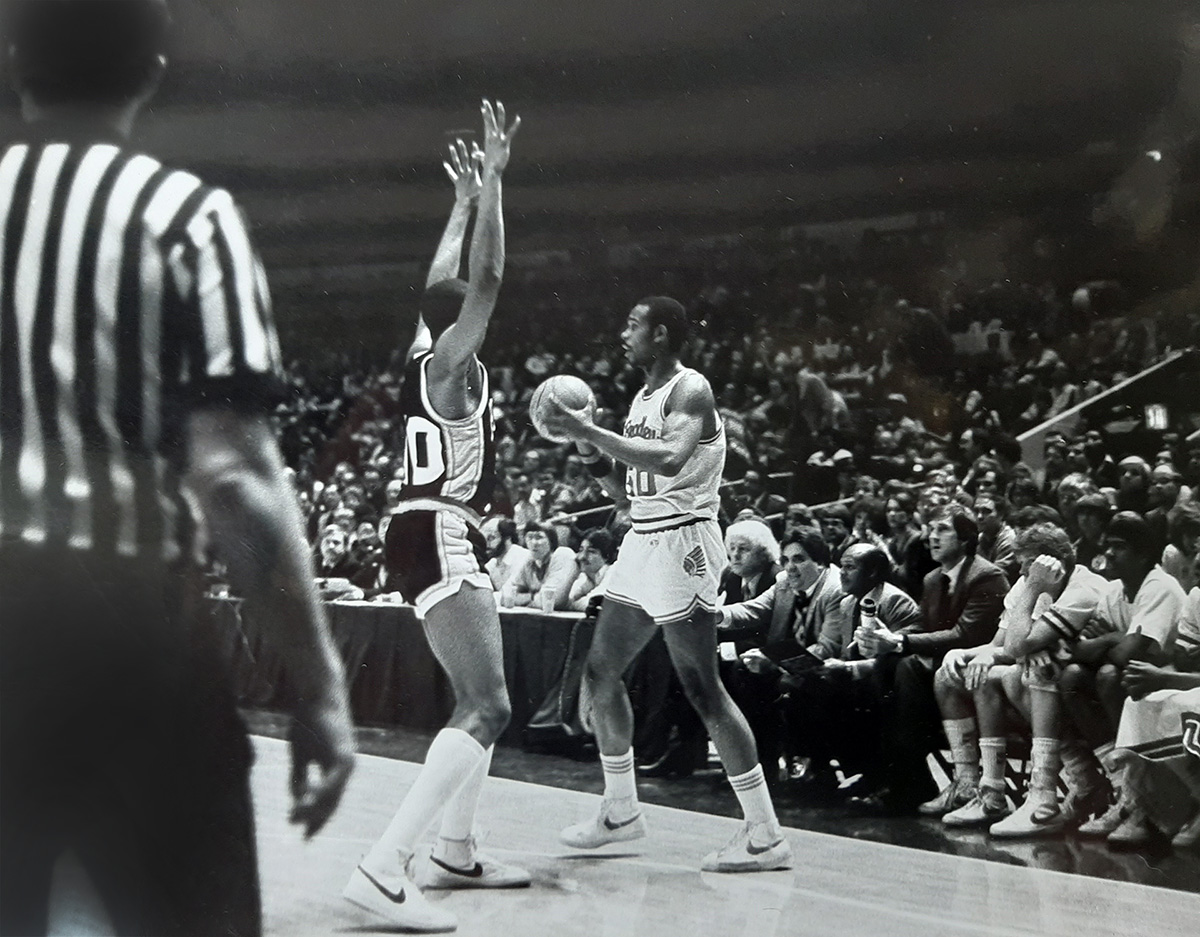 In 1980, Joseph Bembenek '84 and I were the only two students on Wyckoff 2 that did not join a fraternity, so we decided to room together. We were assigned to 8th floor Geisert Hall leading to three years of fantastic memories with a great group, but my favorite memory of just the two of us involves the 1982 National Invitational Tournament.
We attended every home game, including the last men's contest, held at Robertson Memorial Field House. Instead of going on spring break, my father, James Garrott Sr. '59, invited us to go to New York for the NIT semifinal and final games. We stayed in a hotel across the street from Madison Square Garden and enjoyed many of New York's sites during our three-day visit.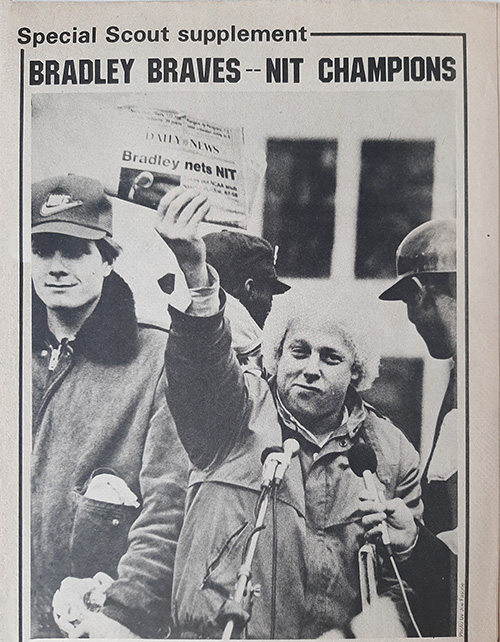 On the night of the championship game, my father had tickets with two of his friends and sent us on our way to get our own tickets. We went to the Bradley room in the hotel where they were selling tickets in the Bradley sections. We arrived 45 minutes before the final tip-off and I recognized a fellow student handling the tickets. He told us we could get tickets, but said to wait for 15 minutes since he would close ticket holds 30 minutes before game time.
We waited patiently and were awarded tickets held for someone else who didn't show up. The two seats ended up being in the front row next to the Bradley bench under the basket. Joe's parents were watching the game on television in Burbank, Ill., and could see us. Bradley won their fourth NIT championship beating Purdue 67-58. We had the best seats in the house and celebrated on the floor with the team, while my father's seats were several levels up. Considering the Braves were snubbed from the NCAA tournament that year, this was our March Madness.
It has been 40 years since we decided to room together and we have enjoyed a lot of memories since then, but this one was a once in a lifetime experience (until they win again)!
— Jim Garrott Jr. '84
We're a group of six 1979 grads who still enjoy the bond we created as roommates and friends over 40 years ago. It's hard to overstate how important our time was at Bradley. We all worked hard, played hard, laughed and learned we can count on each other for life. We all still live in Illinois or Wisconsin and see each other several times a year, as well as for every major family event. We try to take semiannual girls' trips, and the photo above is from the Riverwalk when we traveled to San Antonio, Texas last year.
— Kim Lindaas Dittbenner '79
I transferred to Bradley from the University of New Hampshire (UNH) my junior year. I was originally accepted out of high school, but coming from Connecticut it seemed a bit too far and potentially a cultural shock (East Coast vs. Midwest). However, upon changing my degree at UNH, Bradley was the wise choice as it was one of the pioneers in offering a four-year degree in construction. So, in the fall of 1973, after a long 1000-mile trip, I was happy to check into my room in Williams Hall. Walking into my room was a shock. I knew Williams was a co-ed dorm, but imagine my surprise when I walked into my room and there laying down on one of the beds was a girl. Wow! I was not prepared for that. However, after introducing ourselves and a short conversation, I discovered she was my real roommate's girlfriend. I can't recall now if I was disappointed or relieved. I can say moving into Williams was a great choice as I met the best group of guys you could hope to meet and to this day, 45 years after graduation, we are still friends, stay in touch and get together as often as time and distance allows. Thanks Bradley!
— Steve Comeau '75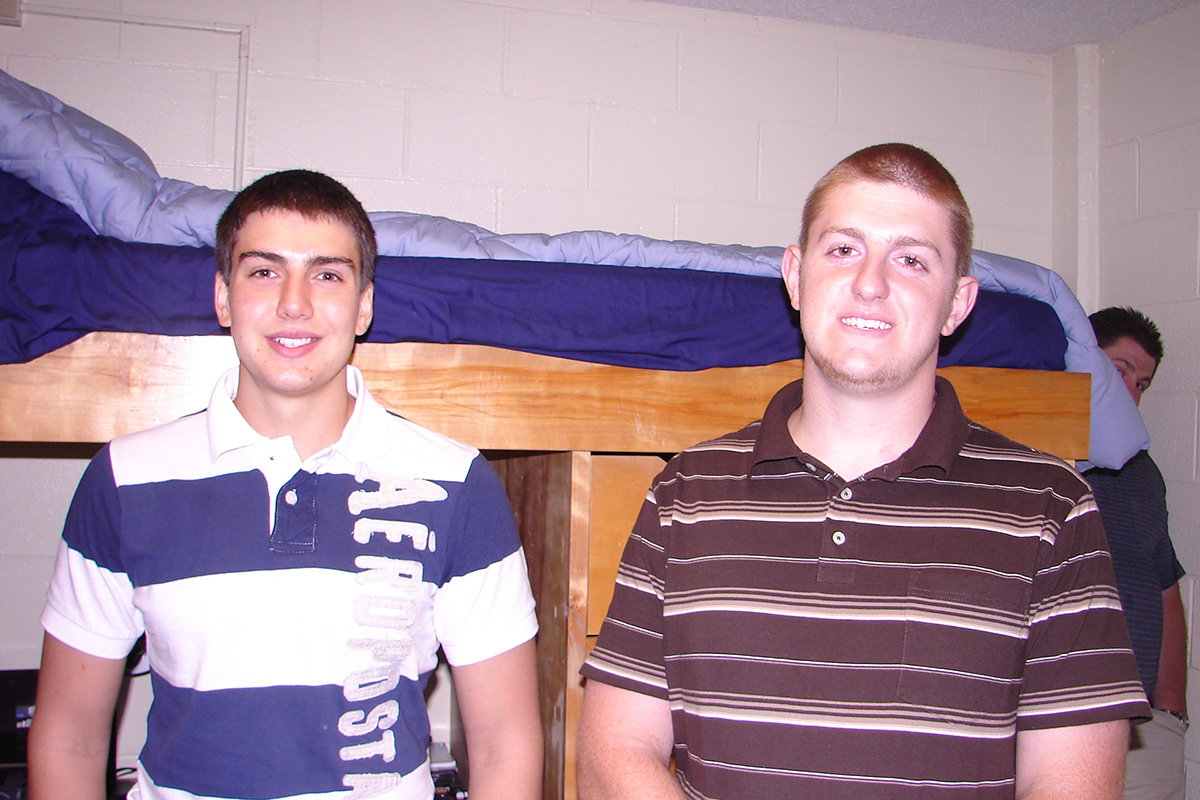 Theo Khayat '15 met Joe Salemi '15 on Move-In Day their first year at Bradley, August of 2011. They have lived together in Wyckoff Hall, the Delta Tau Delta house, Bradley off-campus, another Bradley off-campus. After graduation, they lived together in Humboldt Park in Chicago and then moved into the Loop in Chicago. They are now living apart from each other for the first time in eight years and still remain great friends to this day. Complete opposite temperaments but kindred spirits for life, thanks to Bradley University!
Submitted by Theo's mom, Debbi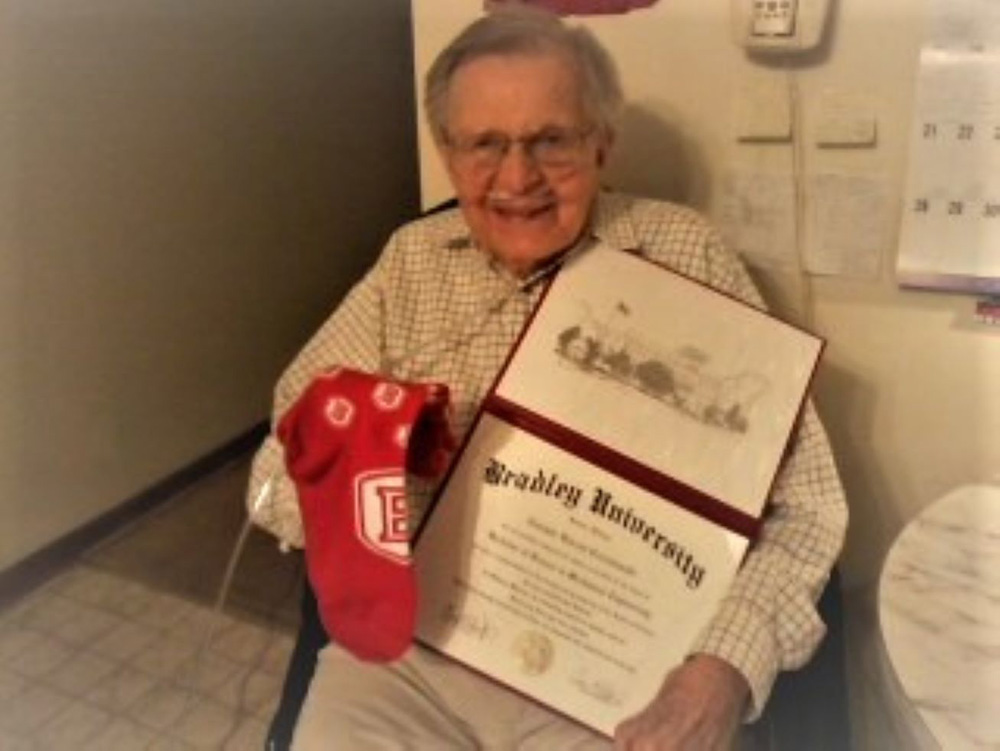 After World War II ended, my dad, Casey Cherner '49, and my "Uncle" Charlie Jahn '49 (a term he used for close friends) applied for the GI Bill, which allowed them to receive financial assistance for a college education. President Roosevelt signed the bill into law June 22, 1944.
In the spring of '46, my dad moved to Peoria and lived in a boarding room for his first semester. He majored in mechanical engineering. His high school friend, Uncle Joe, was living with Uncle Charlie on Main Street in the government-installed housing they called "The Shacks." At the end of that summer, Uncle Joe planned to move to Boulder, Colo., to attend the university there and Uncle Charlie needed a roommate. Uncle Joe held the room for my dad because so many GI's were looking for housing. At the time, the government didn't approve of the more expensive cost of dorm housing. My dad and Uncle Charlie spoke over the phone, and my dad moved in for the fall semester.
Little did either know they would be friends for life; more like brothers for over 50 years. Uncle Charlie majored in industrial engineering. He and my dad studied together. They played jokes and pranks on each other throughout their time as roommates. The guys would ask Uncle Charlie why he wasn't married since he was older, and his response was always because no one had asked him. Uncle Charlie was nicknamed "The Old Lady" because he placed curtains and rugs in the room, and he was always late to class.
After graduation, my dad and Uncle Charlie returned to Chicago to find jobs. Uncle Charlie moved in with Uncle Joe at his parents' home. My dad lived at home with his father. Uncle Charlie met his wife, Leona, and they married in 1950. Afterwards, they moved to southern California with a job offer, and raised three children: Greg, Donna Lee and Stephen. My dad met his wife, another Leona, and they married in 1952. They remained in Chicago, and raised two children: my brother Tom and me.
Over 50 years, my dad, Uncle Charlie and our families vacationed, visited and enjoyed each other's company. Exchange of yearly Christmas cards from The Charles Jahn Family was always filled with a long letter of the past year's news. In 1999, the 50-year Reunion at Bradley was loads of fun for all.
A Chicago visit in the summer of 2001 was the last time my dad saw Uncle Charlie, as he boarded the train for the airport. Uncle Charlie died in January 2002. My mother, Leona Cherner died in 2007. Leona Lee Jahn died in 2015.
In April 2019, my dad received an original copy of his Bradley diploma since the one he received at graduation in 1949 was destroyed in the flood of 1969. For my dad, Uncle Charlie and Uncle Joe, attending Bradley on the GI Bill in the late 1940's was a special time. It was a time full of pride and numerous, fond and unforgotten memories.
Submitted by Julie Cherner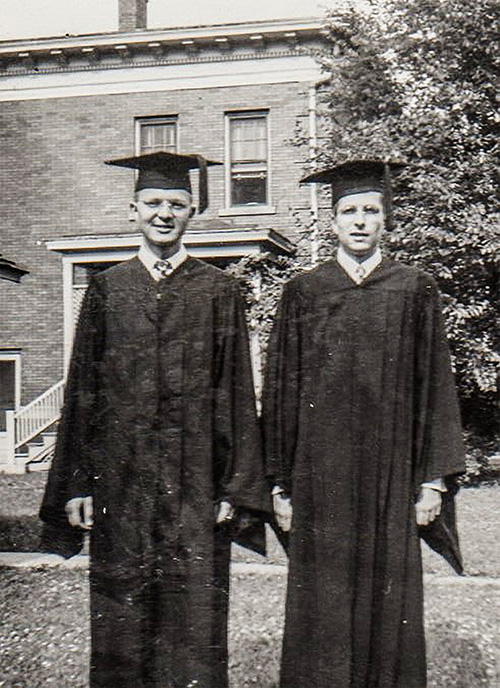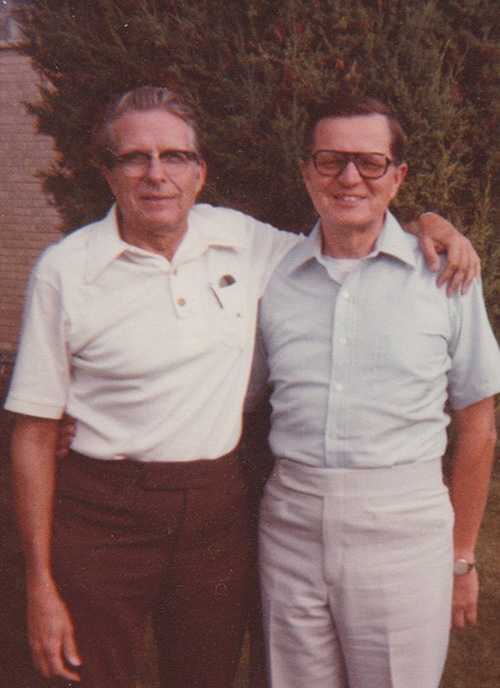 The good old days: In 1962 nine Arlington High grads headed to Bradley University. Kathy Metz Lemke '66 and I had decided to be roommates. She fell in love with Chuck Lemke '65. He would pick her up in the early mornings, so they could study undisturbed. The dorm was still locked at that time. Chuck had no way to wake Kathy and she'd miss their meetings.
We decided to tie a string around her big toe and dangle it out the window so it woke Kathy up when Chuck tugged it. This was a success until Kathy caught a bad cold from leaving the window cracked. However, it didn't deter us from many successful future adventures or them from getting married. Today we share some of these stories with our grandkids.
— Vohny Woods Moehling '67
At mid-year during my firsy year, my roommate transferred to another school. So, I asked another first-year student friend if she would like to move into my dorm room. I had just started the habit of smoking, since it seemed the thing to do. My friend, whom I asked if she wanted to move to my room said, "I'd like to move into your room, but only if you don't smoke." Since I had just taken up smoking, I said "No problem, the cigarettes go!" Thanks to my roommate — who was my roommate through my bachelor's and master's degrees — I never picked up smoking again. I am so thankful I gave up smoking before it became a habit!
— Jean Heisner Penwell '71