New Programs and Academic Achievements
Bradley has launched several new programs to serve students and the marketplace better.
Dietetics 4+1 Degree Program
To anticipate the changing requirements to become a registered dietician (RD), a new dietetics 4+1 degree program began last fall. This means you'll be able to complete both your bachelor's and master's degree in five years and won't miss a beat in pursuing your RD accreditation.
Computer Science
Want to pursue a master's in computer science? Now you have the option of studying in-person on-campus or virtually fully online — completely up to you.
Adult-Gerontology Nursing
Nursing has also expanded its popular asynchronous online programs for advanced degrees with specialty concentrations in adult-gerontology nursing. Fast-track your career with one of the options to become a nurse practitioner in this high-demand specialty for either acute or primary care settings.
Nonprofit Leadership
If you're interested in pursuing a master's degree in nonprofit leadership but don't want to interrupt your career, the master's program has moved entirely online so you can continue in your career while earning this degree.
Craft of Songwriting
And finally, Bradley's new Craft of Songwriting certificate program will help turn you into that budding songwriter you've always wanted to become. Using a self-paced online course taught by Bradley professionals, you'll learn how to build a musical idea into a completed product, from the songwriting process to the technical and legal aspects of the craft.
Speech Team Continues its Dominance with New Title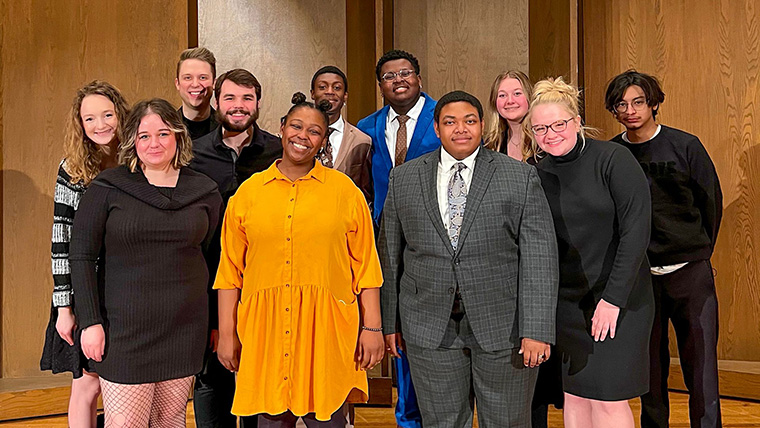 The Bradley University Speech Team has won the 2022 National Speech Championship (NSC) for the second year in a row. This national tournament allows teams to enter a maximum of 22 entries with only two students per event. Bradley had a very strong showing with 14 of its entries making it into the final rounds, along with one national champion. Bradley took first place overall, edging out second- and third-place teams Lewis & Clark College and Illinois State University.
"I'm very proud of the work our students have been doing all year," said Andrew Eilola, the director of forensics at Bradley. "Winning NSC is an incredible start to our 2022 nationals' season."
Bradley's Sales Team Wins Back-to- Back Titles
Bradley successfully defended its title in March at the National Collegiate Sales Competition, which brought a field of over 65 teams from across the country. Since first participating in 2004, Bradley's team has won the event three times; the win is their 43rd national championship.
In addition, senior Pooja Chafekar became the first two-time winner of the individual competition, joining in the repeat feat.
"I couldn't be prouder of this team; they came in and bought in from day one, dedicated themselves to improvement, and put in the hard work necessary to succeed," said the team's coach and marketing instructor Brad Eskridge. "They're objectively the most successful group of sales competition students Bradley University has ever had, and we've had so many incredible people come through our program."